I am the mother of a 9-year old that struggles with reading. He always has and it can be heartbreaking, frustrating, and requires daily effort to help him be a better reader.
Over the past year, he has made great strides and a lot of that has to do with finding things he actually enjoys reading.
That, and making reading super fun with themed treats like Zombie Goldfish Cupcakes that I made for today's sponsored post with Macmillan Children's Publishing Group! (As always any opinions and ideas are 100% my own.)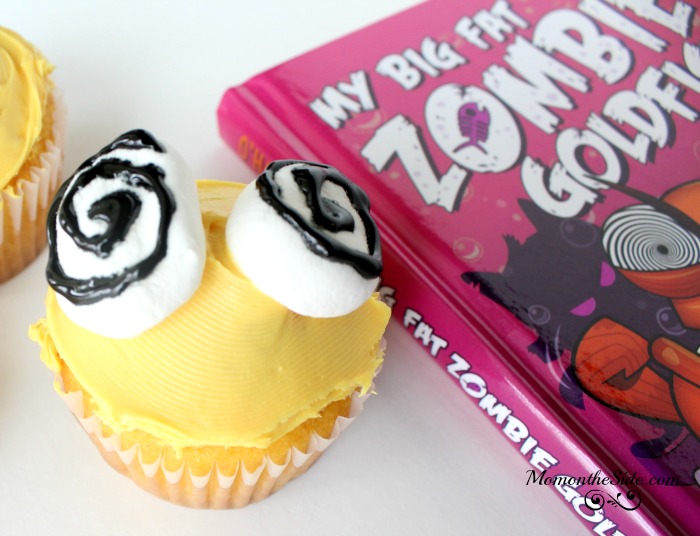 Let's go back to that part about finding things our kids actually like to read. That alone made it less of a struggle to get my son to pick up a book. I asked him what things he liked to read and learn about.
One of those things was zombies. While there aren't a lot of zombie books out there for young children, there are some great zombie goldfish books!
My son has been reading My Big Fat Zombie Goldfish books for months now and loves them. At first, he said "really mom, this isn't zombies…" but then a few pages in he said, "okay mom, this is pretty cool!" Score one for mom!
Are your kids familiar with Zombie Goldfish? If not, you should definitely check it out. If they are, you're going to love that there are NEW Big Fat Zombie Goldfish books out for big kids and little kids!
The adventures of Zombie Goldfish come alive through colorful pictures and engaging stories in a series of children's books for boys and girls by Mo O'Hara. When Tom rescued Frankie the goldfish from his older brother's evil science experiment by zapping him back to life with a battery, he never expected his pet to become a BIG FAT ZOMBIE GOLDFISH with incredible hypnotic powers.
Any Fin Is Possible is the 4th book in the My Big Fat Zombie Goldfish series and is for readers aged 7-10. As you can see, my son dove right into the pages.
One of the things I love about My Big Fat Zombie Goldfish books is that I also enjoy reading them. The stories are entertaining and it can be hard to put it down because you just want to know what happens next!
When it comes to the little kids, the new picture book Fintastic Fishsitter is written for children aged 5-7 years old. This is the perfect way to introduce early readers to the My Zombie Goldfish Series and even the twins, who are three, were interested in the book! Colorful pages and a short storyline that engages are what make this a great book!
Having fun stories on the bookshelf for the whole family, really does help encourage kids to WANT to read. When you pair that with a dessert like Zombie Goldfish Cupcakes it's hard for them to resist. Plus, they are super easy to make so it doesn't cut into any of that reading time.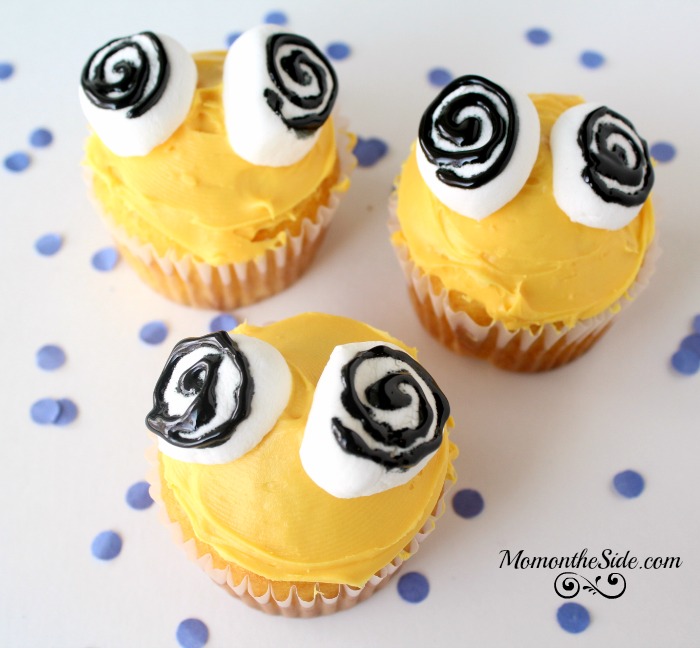 All you need to do is whip up some orange (or Tropical Mango) cupcakes with frosting. Then cut the ends off a marshmallow and use black writing icing to draw zombie swirled eyes. Place the marshmallows on top of the cupcakes and you have yourself Zombie Goldfish Cupcakes!
You can purchase My Big Zombie Goldfish Books, as well as download coloring pages and more, at ZombieGoldfishBooks.com!