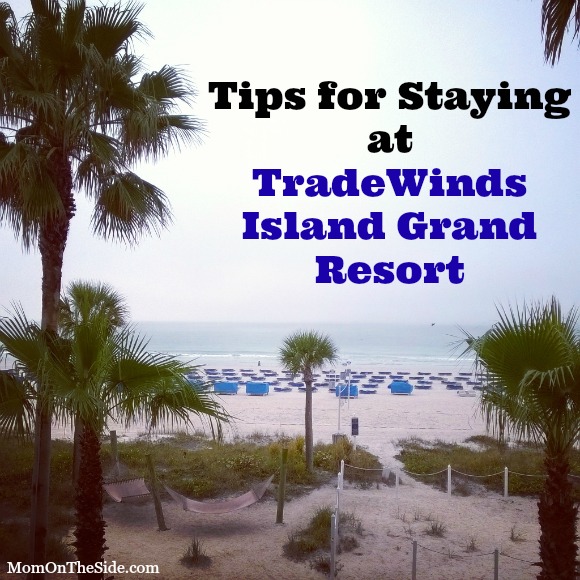 What do you do when work, life, and motherhood get overwhelming? You hop on a plane with a girlfriend and head to St. Petersburg, Florida for a Girlfriends Getaway! That's just what I did with one of my best friends of over 10 years.
She is a Trip Advisor Junkie, so after checking out the resorts in the area, we found the perfect one. Based on location, amenities, and beach access, we booked TradeWinds Island Grand Resort!
Tips for Staying at TradeWinds Island Grand Resort
I gotta tell ya, we couldn't have been more pleased with our Girlfriends Getaway at TradeWinds Island Grand Resort. We had booked a standard room but upon check in, learned we received a complimentary upgrade to a Suite.
We payed a small fee to switch to an Ocean Front Suite and let me just say, if you go, an ocean front suite is a must! The balcony opened to the ocean and we sat there each morning and night to soak it all in. We even left the doors open one night so we could hear the ocean in the room. Amazing.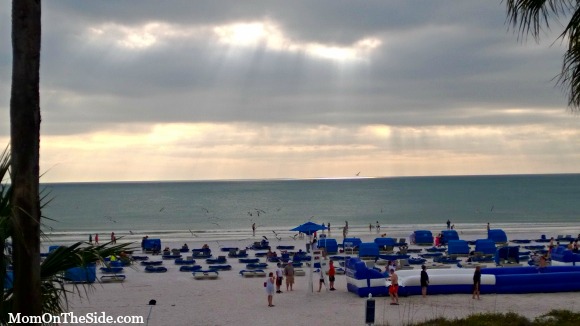 The ocean front suite at TradeWinds Island Grand Resort was spacious and offered everything you could want in a suite. Two beds, a dresser, nightstand, chair, and flat screen TV are situated in the first room.
A nice sized bathroom with tub, shower, toilet, and plenty of counter space sits between the sleeping area and living area. The living area itself is a very nice size and includes a couch, table and chairs, sitting chair, balcony access, and a kitchen space with refrigerator, stovetop, sink, coffeepot, cupboards, dishes, and more.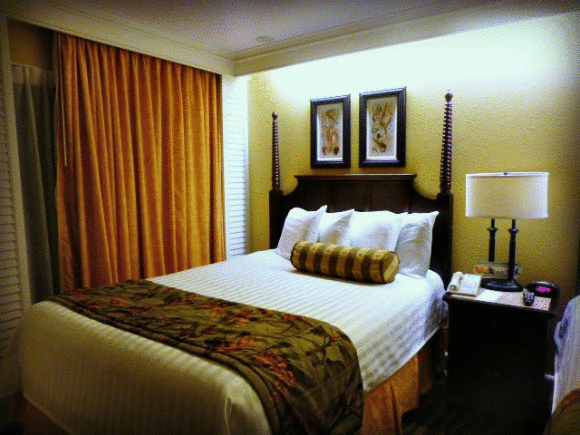 You really could make a quick stop at a store on the way to the resort (we passed several) and grab what you need. Then, there is really no reason to leave the resort once you check in. Just relax and enjoy!
Oh, but as soon as you get there, I highly recommend a stop by Beef O' Brady's! That was the first place we went and the place we picked up our TradeWinds Souvenir Cup and began our Passport Bar Crawl!
TradeWinds Souvenir Cup: For $17.00 you get your souvenir cup filled with two drinks. For the remainder of your stay you can fill it up with soda for $1.50!
TradeWinds Passport Bar Crawl: Grab a passport at any of the restaurants or bars when you check in. Then, enjoy a drink or appetizer at each location listed and pick up a free t-shirt before you check out!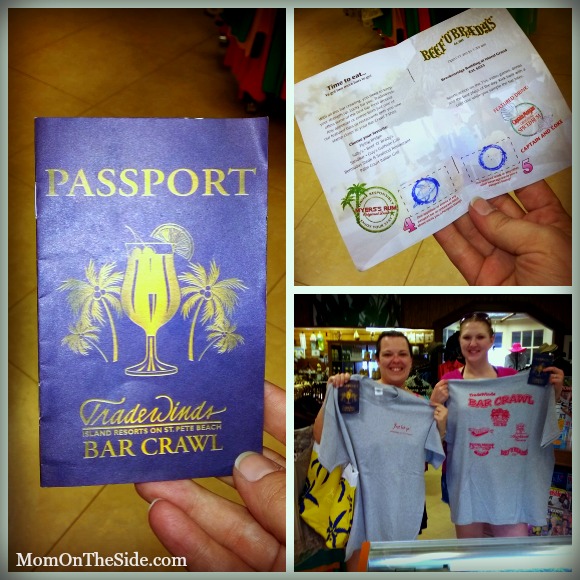 Seriously, the TradeWinds Passport Bar Crawl is a must! Not only was it fun, but it encouraged us to check out the different places on the resort. Each bar or restaurant has its own unique feel and I'm glad we experienced almost all of them.
We sat outside, listened to live music, and snacked on a giant club sandwich at The Sandbar. We sat on the patio and enjoyed Fish Tacos and Shrimp at Flying Bridge, and we enjoyed a drink at Sharktooth Tavern – which we called the "Man's Bar" in case any guys or dads are looking to sneak away while at the resort.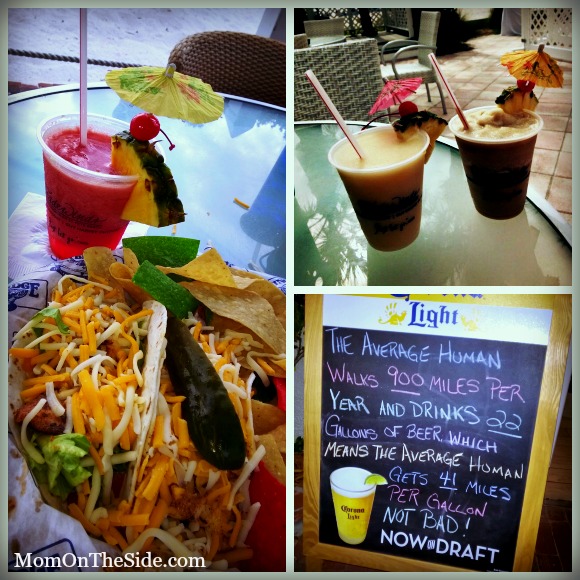 We also stopped for breakfast at RumFish Grill on the TradeWinds Guy Harvey Outpost! When you stay at one resort, you get access to both resorts!
If you don't have an aquarium or giant fish tank in your town, stop by and check out the 33,500 Gallon Tank that was built by the guys on the show "Tanked" on Animal Planet.
Okay, enough with the drinking and eating. Time to talk about the awesome amenities at TradeWinds Island Grand Resort! When you check-in, you are given a wristband that gives you access to a lot of amenities included in your resort fee. Things like:
Paddleboats
5 Heated Pools and 2 Hot Tubs
Beach Cabanas – the only charge is $15 to reserve a cabana in the front row. We opted for this option and I'm really glad we did.
Waterslide
Floating Water Park in the Ocean!
Fitness Center
and more!
Like I mentioned above, your wristband also gives you access to TradeWinds Guy Harvey Outpost, another TradeWinds Resort, that is about 200 flip-flops away. Per the website as I didn't count because I was on the sand so my flip-flops were in my hand.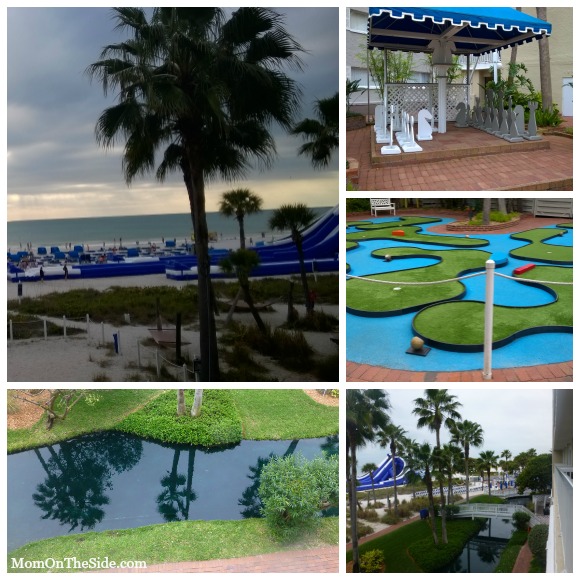 Do you have dogs? TradeWinds Island Grand Resort is so pet-friendly, they have a dog park! It was the neatest thing we had seen at a resort, and it made me want to bring our dog along next time.
Thankfully I found a list of the best airline approved carriers for each major airline (because obviously rules can't be the same across all brands, ugh) so I can do just that.
Other amenities available for an extra charge include:
Parasailing
Jet Ski Rental
JetLev
Bucky the Shark
Massage & Spa Services
Braids & Corn Rows – we both got braids and you can't beat not having to mess with your hair on vacation. In the humidity. We wore them for almost 3 straight days and loved every minute of it.
and more!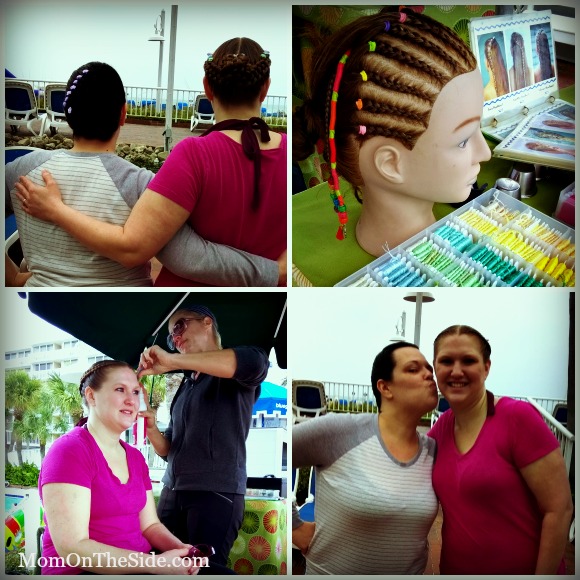 The access to the beach and the view of the ocean are beyond amazing! It was literally minutes from our room to the beach. (It is a public beach area along the resorts, but was never over crowded, and amenities can't be accessed by those not staying at the individual resorts with a wristband.)
The ocean. My friend had recently been to an all-inclusive in Jamaica and said the view from our room was as good, if not better, than what they had in Jamaica. I was shocked as I have never been out of the country and now know I don't need to in order to find an amazing view.
To sum things up, here are the most important Tips for Staying at TradeWinds Island Grand Resort
Get a TradeWinds Souvenir Cup (and start with a Rum Runner but don't blame me)
Get a TradeWinds Passport and love your free t-shirt like I do
Lay in a hammock in the sand, with your drink, and choose the ones near the Flying Bridge so Tammi can give you pushes.
Take a Shelling & Dolphin Cruise and capture video so you can come back and share it with me.
Get an Ocean Front Suite and know that it is okay to spend as much time as you want taking in the view. Take video too so when you get home and back to reality, you can listen to it on your phone and go back whenever you want.
Finally, just check-in, relax, enjoy, and JUST LET GO while you are at TradeWinds Island Grand Resort!
TradeWinds Island Resorts Facebook Page