Thirteen years ago I became a mother to an amazing girl. An amazing girl who is now a teenager.
Having a teenager does things to your heart and mind that you never thought were possible. Real boundaries are tested, self esteems are built up or crushed down, and that diaper wearing toddler is now a makeup wearing, boyfriend having, dream striving teenager.
A teenager that we think we know but, throws us through a loop at least once a week…
I had my daughter sit down, possibly with the help of her best friend, and shed some light into being a teenage girl and what they want their parents to know.
She came up with 10 things your teenage daughter wants you to know, from her perspective of course. Hopefully this gives you a little peek inside your teenage daughter's mind as well.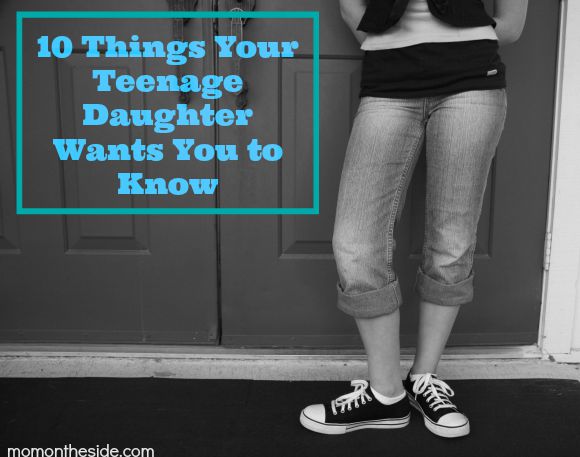 10 Things Your Teenage Daughter Wants You to Know
1) Sometime we just need someone to listen.
2) Don't judge us.
3) We want you to take our opinion seriously.
4) We want to relate to someone, especially our parents.
5) Sometimes we do want family time.
6) We change constantly, don't be surprised by anything.
7) Don't explain to us what we did wrong when we mess up. We probably already know.
8) We like to spend time alone.
9) We get scared still.
10) Our self esteem damages easily.
Now it's your turn.
Ask your teenager daughter what she wants you to know!