(This post on super fun things to do in inflatable pools contains affiliate links.)
A few weeks ago we got out our inflatable pool and the top ring had gotten a hole. On the 4th of July we ran out and grabbed a new $25 inflatable pool and the kids haven't gotten out of it.
Okay, they have but they've been in it everyday since. I'm glad we picked up a new one and it's the best $25 spent in a long time.
In case they tire of swimming around in a 10ft by 6ft space, I'm ready with some super fun things to do in inflatable pools, beyond swimming!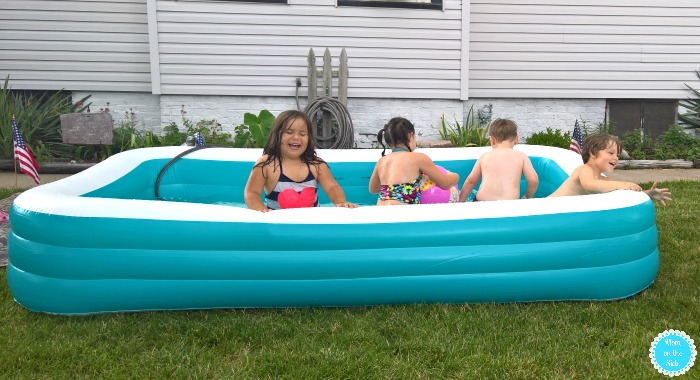 While our inflatable pool isn't big enough for pool floats and diving games, there are still plenty of ways to enjoy the water. If you have small-medium size inflatable pool, these games and things to do are perfect for it! If your kids have a something fun they play in their pool, drop a comment below.
10+ Super Fun Things To Do
in Inflatable Pools
Marco Polo
Create a Whirlpool
Pool Basketball (using a small hoop on the outside of the pool)
Rubber Duck Races (using your hands to make the water move the duck across the pool, without touching it)
S.H.A.R.K. (a mix between PIG and Simon Says where the one person calls out an action for the others to do and if they can't, they get a letter)
Red Light Green Light
Fill pool with water balloons and let the kids jump in!
Add a slide if you have a plastic kids slide in the backyard – our kids love this!
Dodge Ball with Beach Balls
Squirt Gun Fight
Grab buckets or bowls, fill them up, and dump them on each other.
Shopping for a new inflatable pool like I was? I'm kind of wishing I'd seen this Awesome Inflatable Family Pool before I bought our new one.
It comes with a built in bench and cup holders. Maybe next year, and then I'll make it all fancy like those horse tanks recently!
Pin these fun ideas for the pool to use later!