I received compensation from Aleve to write this post. All opinions are entirely my own. #NeverBackDown #Aleve #CollectiveBias #advertisement
Four kids at three different schools, after-school activities every day, dance lessons, various appointments, errands, work, clean house, and the list goes on. I'm busy, to say the least, just like most if not all of you moms who will read this. Like the hokey pokey, we have to put our whole selves into each day if we plan on tackling the schedule and to-do list.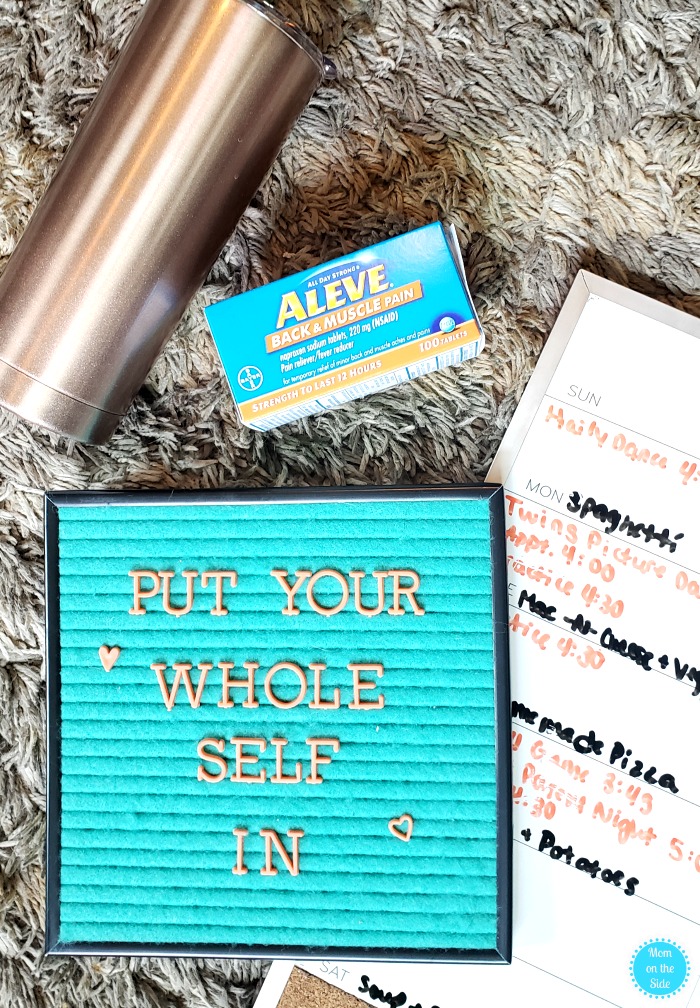 Things I Do So I Can Put My Whole Self Into Each Day
Making sure I get enough sleep most nights makes a big difference in my ability to function. I'll be honest that I don't get to bed at a regular hour every night but at least 4 nights out of the week I make sure to clock at least 7 hours of sleep.
One of the reasons I stay up late some nights is to get in some me time. Being able to put my whole self into each day means time to unwind for me. Too much peopling and busyness and I shut down for recharging. Do you get that way too?
Making sure I don't overload my schedule is one way to avoid draining my battery. When the schedule is at a manageable level it's easier to tackle each day with a smile and motivation. We have a calendar but I also like having a whiteboard for our weekly schedule. Every Sunday night I fill it out and prepare to take on the week.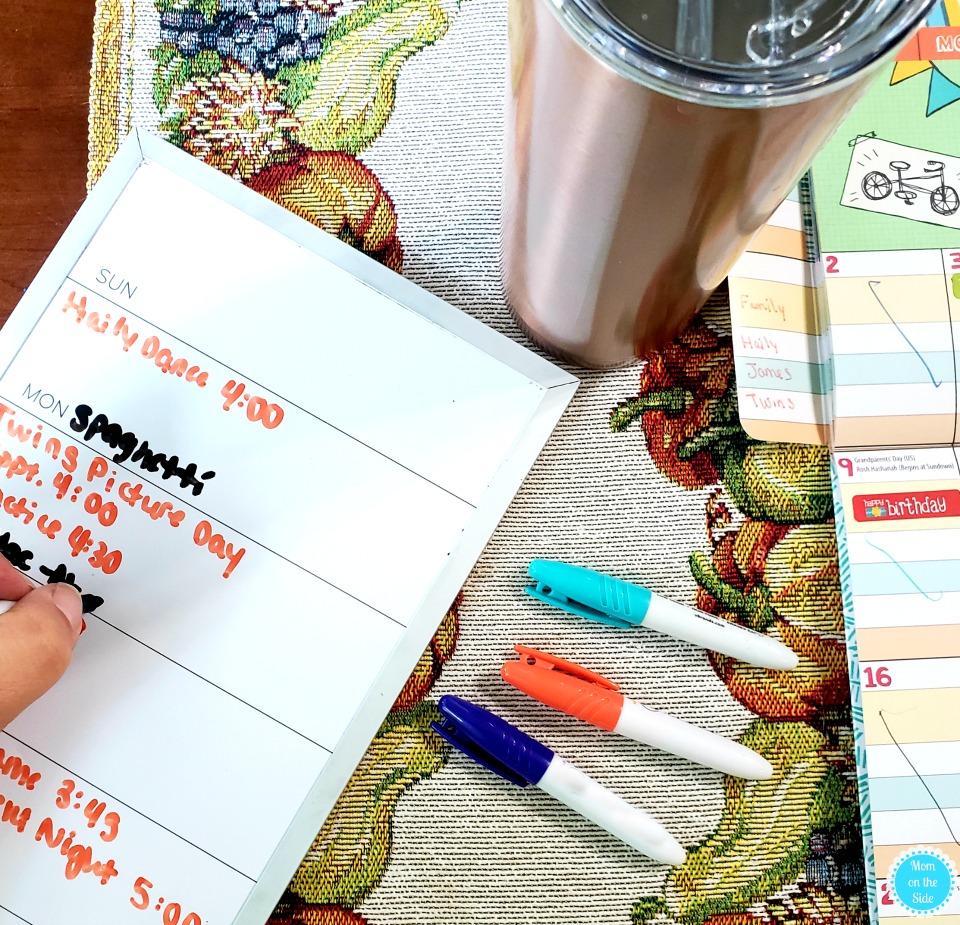 Taking on the week means always having Aleve Back & Muscle Pain at the ready if I need it. In my purse and in the medicine cabinet to help power through the day.
A kinked up back, achy joints, and even tension headaches can't stop me from getting things done because life still goes on and piles up if I let it.
I want to get the most out of life and won't let back and muscle pain get in the way. Moms, we can get ALL DAY pain relief with Aleve so we can put our whole self into each day. Stock up right now at Walmart and put some money back in your pocket with an Aleve Rebate!
The Aleve Rebate is available through October 31st, 2018 and when you share an inspiring post highlighting your #neverbackdown moment you'll be entered for a chance to WIN a trip to meet Kyrie Irving*!
To claim rebate: purchase two (2) Aleve products (80ct or larger) at any retailer between 9/15/18-10/31/18 on a single receipt, and text ALEVE to 555888 to receive submission instructions. Rebate: one (1) $5 Walmart eGift Card. Rebate offer valid 9/15/18-10/31/18, while supplies last. Limit one rebate per person. Allow 6-8 weeks for delivery. eGift Card subject to printed terms. Reply STOP to unsubscribe or HELP for help. 4 messages per month. Msg & Data rates may apply.
Another thing I do so I can put my whole self into each day without back pain is comfortable footwear. I'm not a high heels kinda girl. I'd rather run around in comfortable sneakers or adorable flats. They keep me going without thinking about squished aching toes or a blistered heel because ouch, and so not worth it.
I may not be a sucker for a cute pair of stilettos but awesome water bottles do get my attention. I have a few different ones that I love and they make me look forward to filling them up each day to stay hydrated. That's one of the easiest things I do to keep going all day because drinking enough water helps me stay alert and focused.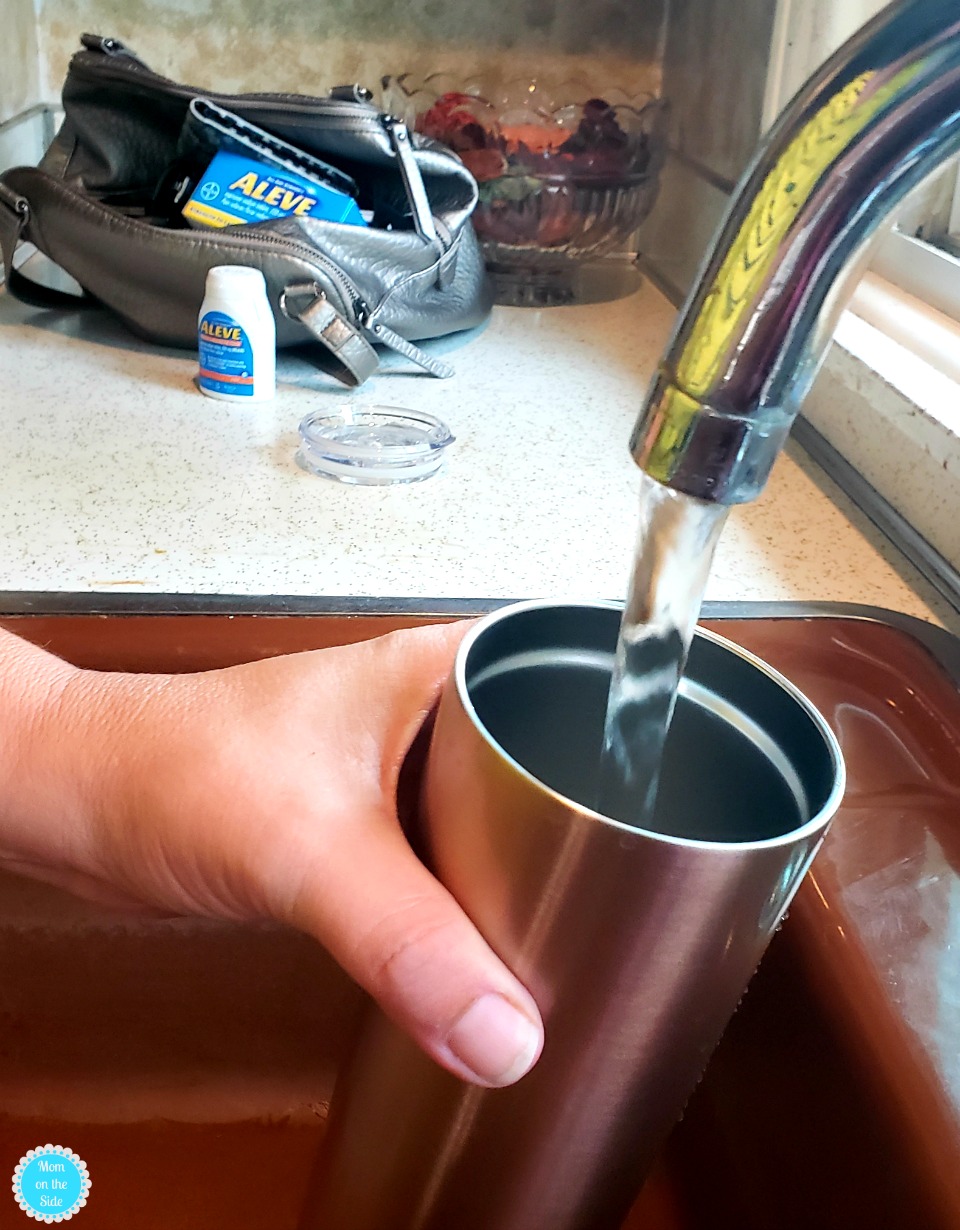 Finally, I turn off notifications on my smartphone to help me put my whole self into each day. The only notifications I receive are text messages from family. It helps me stay focused on what needs done and be present in the day instead of feeling the need to check in on each little ding from every single app.
What do you do to so you can put your whole self into each day?
Add Aleve to the list so pain doesn't get in the way!
Aleve Back & Muscle Pain is now available at Walmart. Only Aleve offers up to 12 hours of pain relief in just 1 pill*. All Day Strong, All Day long. *Among leading OTC brands, based on minimum labeled dosing. Use as Directed.
*NO PURCHASE NECESSARY. Sweepstakes starts on 9/15/18 and ends 10/31/18, Legal residents of the 50 US/DC 18+. Void where prohibited. See Official Rules https://neverbackdownrules.pgtb.me/6SMMd8. Visit https://neverbackdown.pgtb.me/GRxbhS to enter. Legal residents of 50 US/DC only, 18 years of age or older.