If you have a kid who loves pets and a cat, you are going to love The Click Crusade! I'm lucky enough to have two cats and a kid who loves ALL the animals and she was pretty stoked about this cat training card game.
Teach Your Cat Tricks
with a Cat Training Card Game
The Click Crusade – Cat Training Card Game is full of tips, tricks, and fun activities to help teach cats good behaviors. There are 42 training cards and over 30 tricks to teach cats that will help bonding and training.
No prior training knowledge or experience is needed for this cat training card game, by you or your cat. With easy to understand instructions and visuals, any cat parent can go from beginner to expert.
(I was provided with this products for the 2023 holiday gift guide.)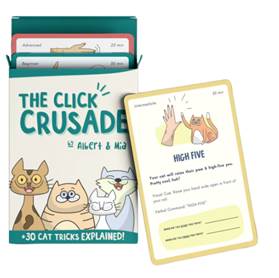 The Click Crusade training program is divided into several parts:
Cat Training Cards (3 blue cards)
Beginner Cat Tricks Cards (11 green cards)
Intermediate Cat Tricks Cards (10 yellow cards)
Advanced Cat Tricks Cards (10 red cards)
The cat training card game includes game instructions, cat trick instructions, and a cat training manual. You'll want to get some type of cat training clicker to help with the tricks and training.
We have ordered a clicker and have several bags of treats on hand to start the training instructions. Patience will be key and it will be interesting to see how each cat does considering we have an older cat and a younger cat.
If you are looking for a fun Christmas gift idea for someone with a cat, The Click Crusade is it!