"Love is the water that makes soil hold roots" said Paul Bettany as he opened up about his role as Vision in Captain America: Civil War. While there is a battle between superheroes going on, there is also personal turmoil with Vision. We chatted about that, and more, in this Paul Bettany Captain America: Civil War Interview.
(Thanks to Disney/Marvel/ABC for this all expenses paid opportunity.)
I have to admit that I paid very little attention to the character Vision until this film. Now? I have this need to learn everything about Vision. There were some scenes in Captain America: Civil War that really caught my attention. Scenes that involved Vision and Wanda. One scene in particular, where Vision makes a terrible mistake, had me wondering if he was falling for her….
I think you find Vision, in this movie, on a sort of personal quest. You know, in the previous movie you see him born. Which I don't expect ever to do on camera again in my career. He is naïve and yet omnipotent in sort of struggling with learning about the world. I think in this movie you find him trying to be more human. We found ways to realize that visually with him wearing human clothes and all of that. Albeit from the 1950s, but human clothes, and the reason I think he's doing that is he's kind of interested in working out how loyalty works. I think that loyalty probably works through love. Logic doesn't really afford for loyalty because if new information comes to light, he might flip, and be on Captain America's side, right? But, love is the water that makes soil hold roots, right? So, I think in order to protect humanity, he needs to understand what love is. He and Wanda both share certain similarities. Which is they don't know the extent of their powers, and that's terrifying. I mean, you've all got kids, right?  When children grow to understand where the walls are, they need boundaries and it's frightening. You see it in every playground that you're in with your own kids, when a parent hasn't given their child boundaries. How mad children are when they think they own the whole world. Do you know what I mean? That they are absolutely at the center of it, and I think that Vision and Wanda are both struggling with that, and it's kind of terrifying them. Vision working out what love is, is gonna to be very important moving forward, in terms of humanity. I think you use that step, with him being distracted and acting in a very non-logical way, and with aggression, and he calls this a massive hurt. He makes a mistake, and that's interesting. Because that is the very double-edged sword of being human. – Paul Bettany
Right before interviewing Paul Bettany, we had interviewed the Russo Brothers (Directors of Captain America: Civil War), and they mentioned how ridiculously how it was filming the airport scene. Just how hot was it?
Yeah. Um, it was — it was hot. You know, you all come out of your air-conditioned trailers in your costume and makeup and everybody's looking rather like superheroes and movie stars. Then about 5 minutes later in 105 Atlanta weather, you look a lot less like a movie star. So, yeah, initially everybody looks so great, and then you just see people kinda like, ugh, you know,. Yeah, it was — it was a lot. Both me and Chadwick have this special suit that goes on underneath, which pumps ice cold water through it. Yes is nice, isn't it? If you can imagine….close your eyes and imagine being inside a gin and tonic. It feels exactly like that. – Paul Bettany
For the most part, Vision is costume, makeup and "some sort of circuitry" as Bettany called it, on his face. It took 2 hours and 25 minutes to get into costume and the only CGI is what continues the lines and circuitry into his eyes. Nope, Vision does not wear contacts. 😉
They stopped short of that. They think, 'oh, we're punishing him enough than to put contacts on him? Poor bastard's in spanks and a muscle suit. How about let's give him some contact lenses?' – Paul Bettany
Did you know that Paul Bettany also directs?! More and more actors are taking both sides of the camera and it's fun to see the creative things hitting the screen because of it. How does Bettany feel about being on the other side of things?
I think more actors should do it. It really gives you much more of a respect for the directors that you work with. I really enjoyed my own period of being an actor and just enjoying my responsibility. You're obviously taking care of a much larger picture as the director, and your day is just filled with a thousand questions. 99% of which are 'what color do you want the red shoes to be?' and then 1% of them being absolutely one of the triple questions that are gonna make you old. You also begin to know when they're actually bullshitting you as well. So it's been amazing and I loved doing it, and will do it again. I'll do a comedy next time.  – Paul Bettany
Don't you feel like you really now Vision now?! I'm telling you, we were just minutes into the interview and I felt like I'd known Paul and Vision for ages! I still want to know more, but for now I will enjoyFor now all the tidbits that Paul Bettany shared. But you can bet when all my kids are in school, I'll be having a Vision Marathon Day filled with comics and movies! 😀
I think that the stories are becoming more and more rich and complex, and I think you see that in this movie. Both in terms of the interpersonal relationships between all of the superheroes, and this movie talks about some of the things that we sometimes want to escape from. Like unilateral intervention from a superpower is really only one level this film talks about, and the need for a strong regulatory body, that's pretty topical stuff. Which is amazing for a movie that's this broad and this much of a popular, you know, a popcorn movie and this much of a popular franchise, I think to touch on those sort of subjects is kind of great. – Paul Bettany
You may remember from my Chris Evans Interview, that Evans crashed our Bettany interview. Lots of laughter happened, and then we wrapped things up with a photo on the balcony, accompanied by a gorgeous LA view!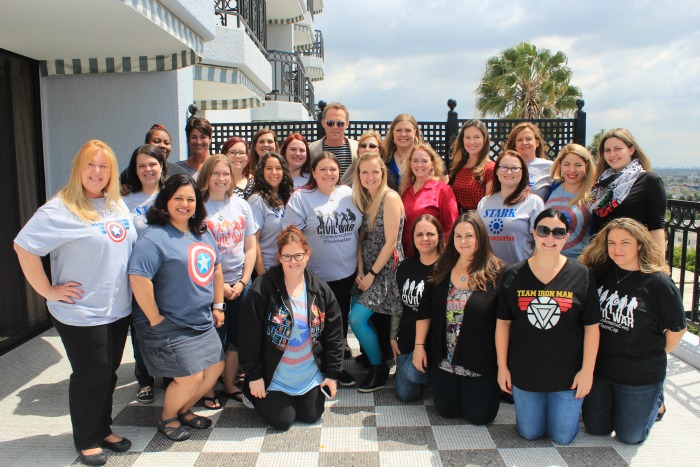 Catch Captain America: Civil War in theaters May 6th and stay tuned for my next exclusive interview with Emily VanCamp, who plays Agent 13, that is coming up on Wednesday, May 4th!
Marvel's "Captain America: Civil War" finds Steve Rogers leading the newly formed team of Avengers in their continued efforts to safeguard humanity. But after another incident involving the Avengers results in collateral damage, political pressure mounts to install a system of accountability, headed by a governing body to oversee and direct the team. The new status quo fractures the Avengers, resulting in two camps—one led by Steve Rogers and his desire for the Avengers to remain free to defend humanity without government interference, and the other following Tony Stark's surprising decision to support government oversight and accountability. 
Captain America Facebook Page | @CaptainAmerica on Twitter