Getting through that first year with twins, with your sanity still intact, is possible. At one point I didn't think it was, but four years in and we're still alive and married!
It hasn't been without challenges, struggles, and LOTS of grey hairs, though. That, and many of these Twin Parenting Hacks for the First Year with Twins saved us time and time again.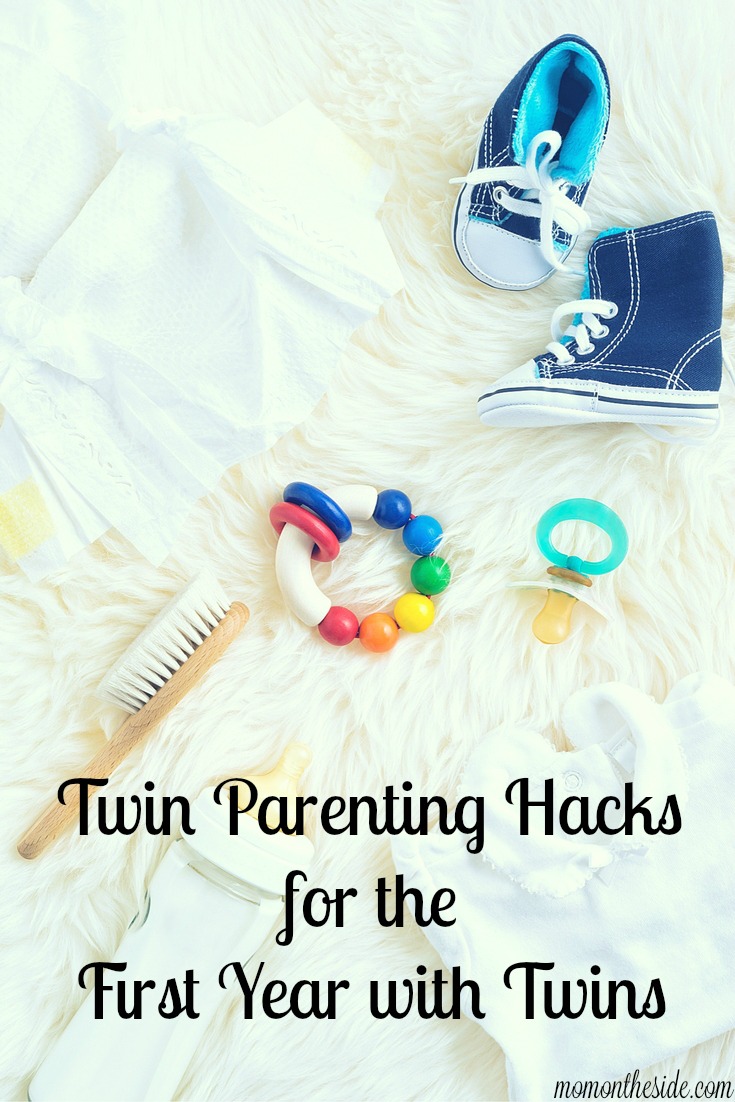 Twin Parenting Hacks for the
First Year with Twins
#1 Always have a diaper bag packed with diapers, wipes, bottles, and a change of clothes. It's much easier to get out the door when there is one less thing to worry about.
#2 Use a calendar to track feedings, diaper changes, and administering medicine.
#3 Plan and prep ahead as much as you can for meals.
#4 Keep lists. To-do lists, shopping lists, and even questions to ask the doctor.
#5 Purge while pregnant, before twins take over every inch of your house.
#6 Simplify where you can. Think about the little things that can make life easier after the twins arrive, like setting up automatic bill pay and discussing best times for appointments with your spouse.
#7 Join a multiples group online or in your community. They are a great resource for advice, venting, and getting out of the house.
#8 Keep a notebook for logging memories and milestones. Those adorable baby books we have every intention of filling out, usually get pushed aside for awhile. Writing things down in a notebook as they happen, are much easier to remember then trying to pull them out of your brain when you fill out the book.
#9 Feed twins together if you can. The TwinZ Pillow makes bottle feeding easier and there are several ways to tandem feed while nursing.
#10 Take monthly milestone pictures, but plan your idea before the first month. I thought of all sorts of fun things to do AFTER I had taken photos for a few months. I never thought to explore all the monthly milestone photography ideas on the web, but I'm telling you early so you can.
#11 Try to have a helping hand when taking the twins anywhere at first. Bring your spouse, ask a friend or grandparent to come along when you leave.
By the time you get the hang of things, they will be toddlers running in different directions…mine just turned four and last week we had the most successful solo parent outing to the store that we've ever had.
#12 A package of pretty colored washcloths is cheaper than bibs, and goes father cleaning up the messes of two.
#13 Set up two changing stations if you can. We didn't have space for two changing tables, but we placed a pad, wipes, and diapers in a cupboard of the TV stand, in case double diaper duty accord.
#14 Stock up or buy in bulk: diapers, wipes, detergent, dish soap, baby soap, baby lotion, and probably wine too.
#15 Tag Team as much as possible with your spouse. Give each other breaks, swap duties, and each of you claim a twin to handle when you leave the house.
#16 Spend a few days, or a week, just relaxing before your due date. Get the nesting out of the way, and then focus on you while you can.
#17 ASK FOR AND ACCEPT HELP!
What are some of your Parenting Hacks for the First Year with Twins?