(This post contains affiliate links to some of our favorite card games for families.)
Over the years we've played a lot of different games for family game night. Today I'm sharing some of our favorite card games for families because I love a great game of cards.
I still remember my original deck of SlapJack Cards, one that I recently spotted on eBay but was gone before I could purchase. I still remember sitting in my room at night playing solitaire and clock solitaire that my grandma taught me.
Around the age of 9 my other grandma invited me to the table to play Sets & Runs which sealed the deal on my love for card games. Sets & Runs is still my card game of choice.
One that I've hooked my husband and older two kids on and kept them up until 3AM playing on New Year's Eve. If you don't know how to play but are interested, let me know in the comments and I'll give you the rules!
In addition to that, here are our favorite card games for families if you are looking for something new.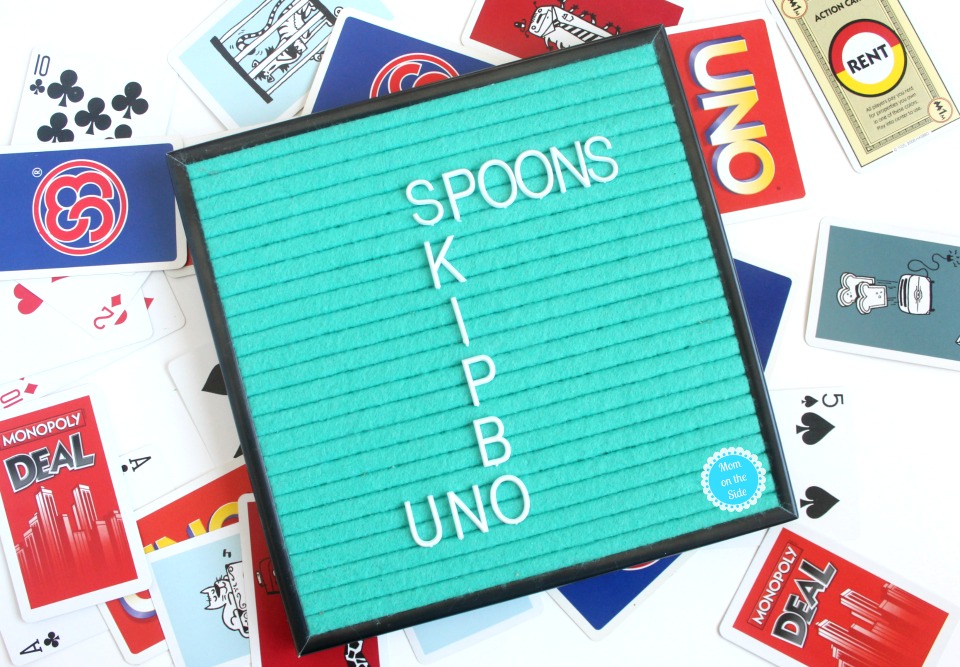 Our Favorite Card Games
for Families
Family Feud Strikeout -We came across this game a few months ago on a road trip and got some great laughs!
Spoons – Did you know they sell a Spoons Case?! We always use a deck of cards and spoons from the drawer but hey, that works too. If you need a reminder here are some great instructions on how to play spoons!
Exploding Kittens – You may laugh and question my judgment but my twins love playing this game with their older sister. Pretty sure it's because there is a farting kitty in the game and farts, poop, and butt are epicly awesome to my twins right now.
"Life is like a game of cards. The hand you are dealt is determinism; the way you play it is free will." ~ Jawaharlal Nehru (Former Prime Minister of India)
What are your favorite card games to play with family?
Pin these ideas for your next family game night!