This shop with Hot and Spicy Beef Cups has been compensated by Collective Bias, Inc. and its advertiser. All opinions are mine alone. #HoopsWithCrunch #CollectiveBias
I knew marrying my husband that I was also marrying basketball. Until kids, he never missed his team on TV. He still plays basketball every Sunday on a local team and enjoys his fantasy basketball teams.
I'm pretty sure basketball is a busier season than football in our house, and that means two things. Easy meals and get-togethers, and these Hot and Spicy Beef Cups and Basketball Party Ideas are a slam dunk.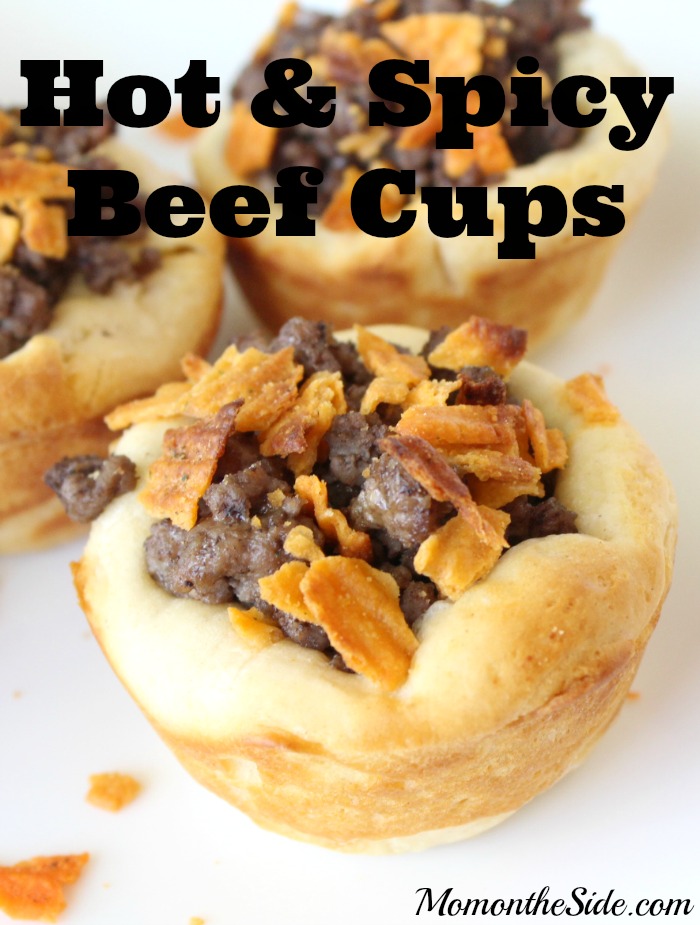 Hot and Spicy Beef Cups
We are going to jump right into making the Hot and Spicy Beef Cups because they are SO good and super easy to make! Great for a party or even an easy family dinner. This recipe makes 10 individual beef cups, but you can double or triple it if you are serving lots of people.
Hot and Spicy Beef Cups
Ingredients
1lb Ground Hamburger
1 Can of Refrigerated Biscuits (10ct)
1/4 Cup Shredded Cheese
1 Cup Crushed Cheez-It Hot & Spicy Grooves – the star of the recipe that gives it just the right amount of crunch and spice!
To make Hot and Spicy Beef Cups, begin by browning your hamburger. While you are cooking the hamburger, flatten each of the biscuits and place them into a muffin tin. Make sure the biscuit goes up the edge a bit to form a cup.
When the hamburger is done cooking, stir in the shredded cheese until it melts. Then, place a spoonful of the hamburger into each biscuit and top with crushed Cheez-It Hot & Spicy Grooves. Bake in the oven at 400 for 8 minutes, or until the edges of the biscuits are turning brown.
Hot and Spicy Beef Cups are perfect for serving at a party, especially one you put together with these easy basketball party ideas! My favorite is taking a basketball net and placing it over an upside down bucket.
You can place a food plate on it and you've easily added a basketball theme to your table! You can also grab this free Printable Concession Stand Menu that I made and fill it out with the food you are serving.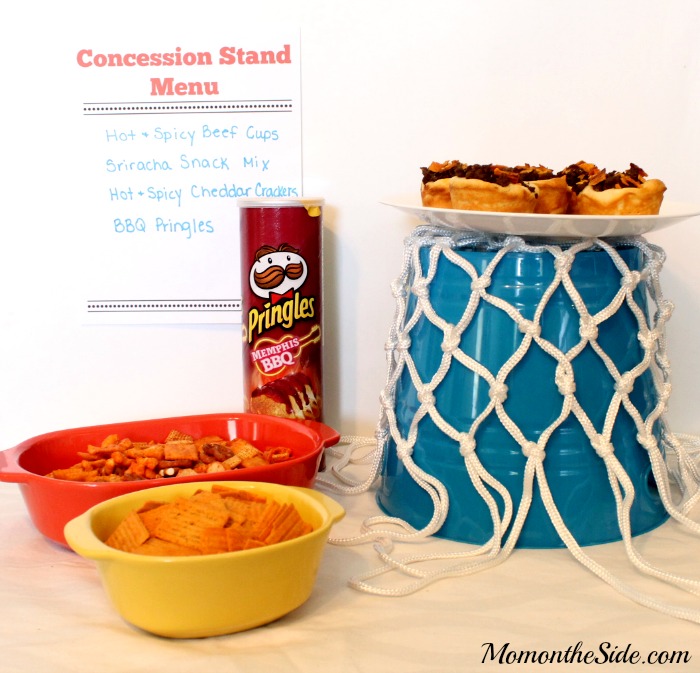 Pringles are a party must have for us too, and I love the variety of flavors to choose from. BBQ is always a go-to, and couldn't let the can go to waste! With a knife and some tape, I turned the Pringles can into a silverware holder!
I cut the Pringles can in half and used scissors to even things up. Then I wrapped it with tape, three times around and one time up and down.
Now I have a silverware holder for my basketball themed party! You could use any color or pattern to make this work for any party theme, or even use it as a pencil holder on your desk.
I didn't just serve those Cheez-It Grooves on top of my Hot and Spicy Beef Cups, because that isn't fair to their deliciousness. They were also a star of the hot and spicy snack line up!
New Cheez-it Sriracha Snack Mix is where it's at though if you want a party food that will have people coming back for more! Have you tried it?!