This recipe post is sponsored by Nutella®, but all ideas are my own.
If you love traditional Hopscotch Crunchies, you're going to love these Hopscotch Crunchy Bars with Nutella® on top! Ever since I can remember, Hopscotch Crunchies have been a significant part of my holidays.
They are my favorite cookie when the month of December hits and something I always look forward to making with my mom. Thinking about dancing around the kitchen making Christmas cookies while singing our favorite songs always makes me smile.
Something else that makes me smile is Nutella® hazelnut spread, who is the sponsor of today's post, and I decided to take my favorite holiday cookies up a notch with these Hopscotch Crunchies with Nutella®!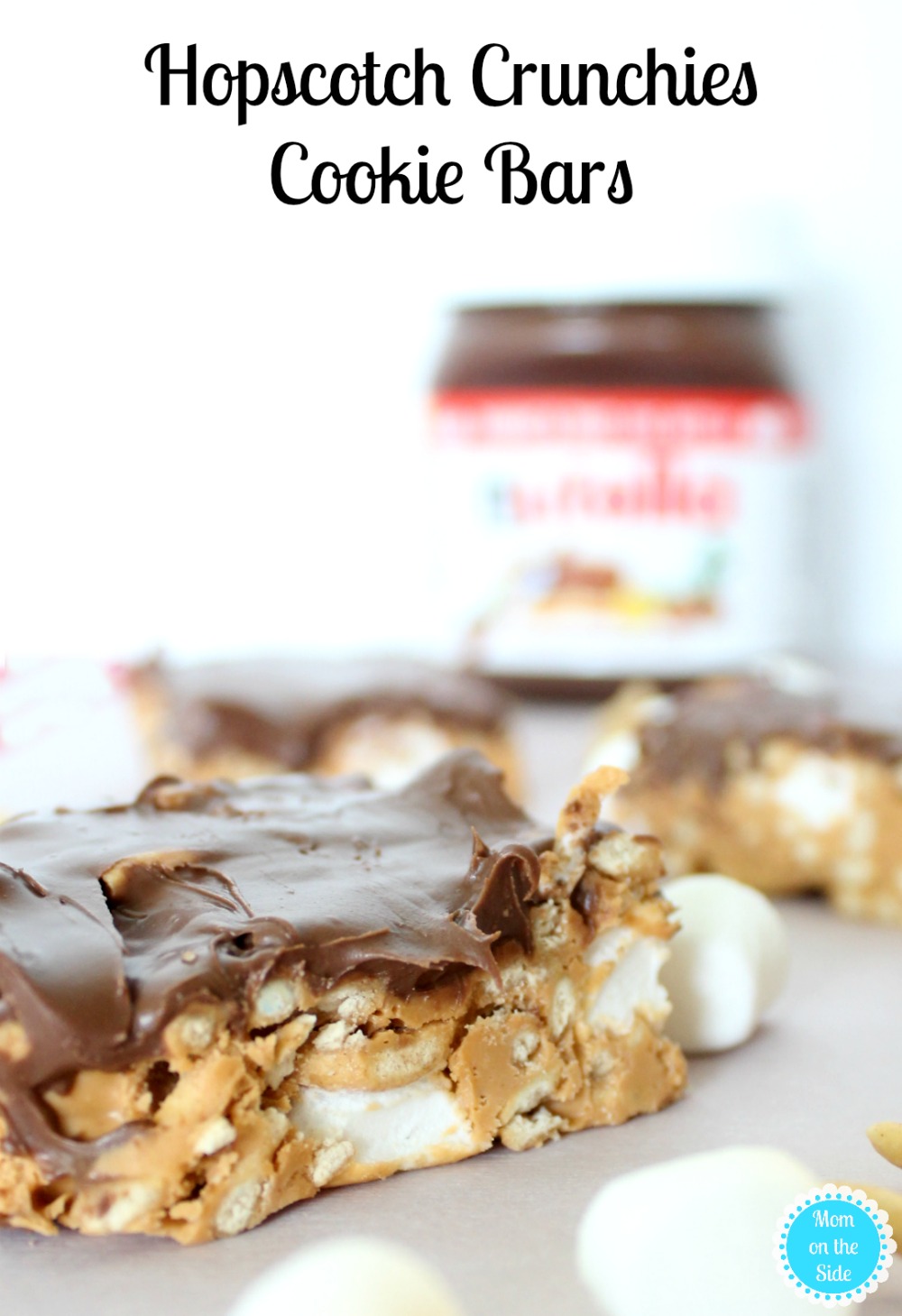 Hopscotch Crunchies with Nutella® Hazelnut Spread
There is just something about the gooey crunchiness of Hopscotch Crunchies. The fact that they don't require an oven is a huge bonus too.
I still remember helping mom mix everything in a bowl and dropping spoonfuls on parchment paper while simultaneously sneaking bites. Then, if it wasn't snowing, we'd set all the pans outside on the deck so that the mix would harden quicker.
Hopscotch Crunchies were a part of our holiday traditions when I was growing up, and I've carried on this tradition with my own kids.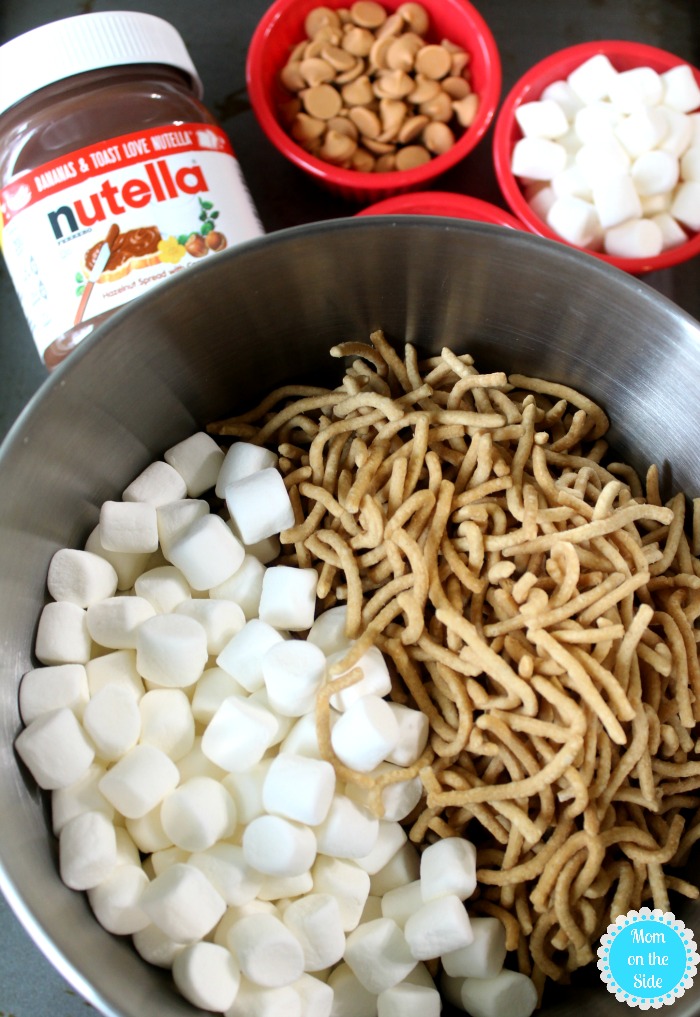 I've been craving holiday cookies for two weeks now and when the idea for Hopscotch Crunchies popped into my head — I couldn't not make them.
While picking up the ingredients, I spotted Nutella® and it made me remember those delicious little sunshine bars they served us in elementary school. Basically, I couldn't get home fast enough to make these crunchies with Nutella®!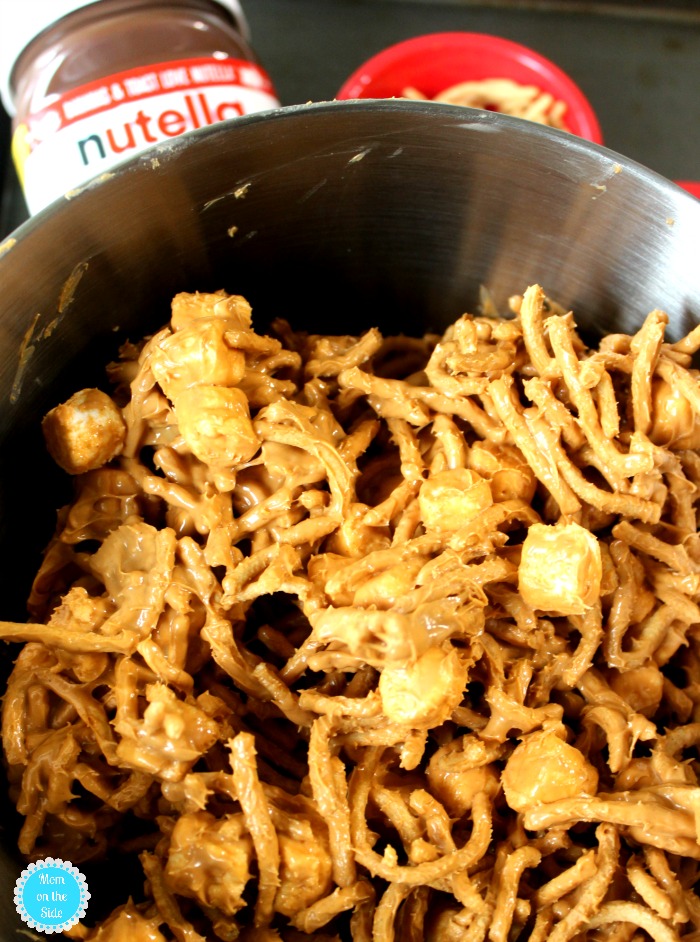 The first time I tried the deliciousness that is Nutella® was back in 1994 while hanging out at a friend's house. Her family was from Germany, and she'd just returned from visiting them.
We were asking her about all kinds of things about her home country, and I remember she mentioned that she'd first had Nutella® there. Then, she pulled it out of the cupboard and I tried it for the first time.
From then on, my life was forever changed in yummy ways because now I can munch on things like these Hopscotch Crunchies with Nutella® spread!
So easy to make that you'll be asking yourself why you didn't try this sooner! Simply mix together all the ingredients like you normally would for Hopscotch Crunchies.
Instead of spooning out individual cookies, just spread the crunchy mixture onto a cookie sheet pan. Use parchment paper underneath and another piece on top to press and smooth into a bar-like cookie shape.
Toss the sheet pan into the refrigerator (or outside in the cold!) to harden the cookie mixture. About 30 minutes should do it.
Once the cookie mixture is hardened, remove from the fridge and spread Nutella® across the top. You can cut and serve the cookie bar pieces right away! Doesn't that look delicious?! Trust me when I tell you it is!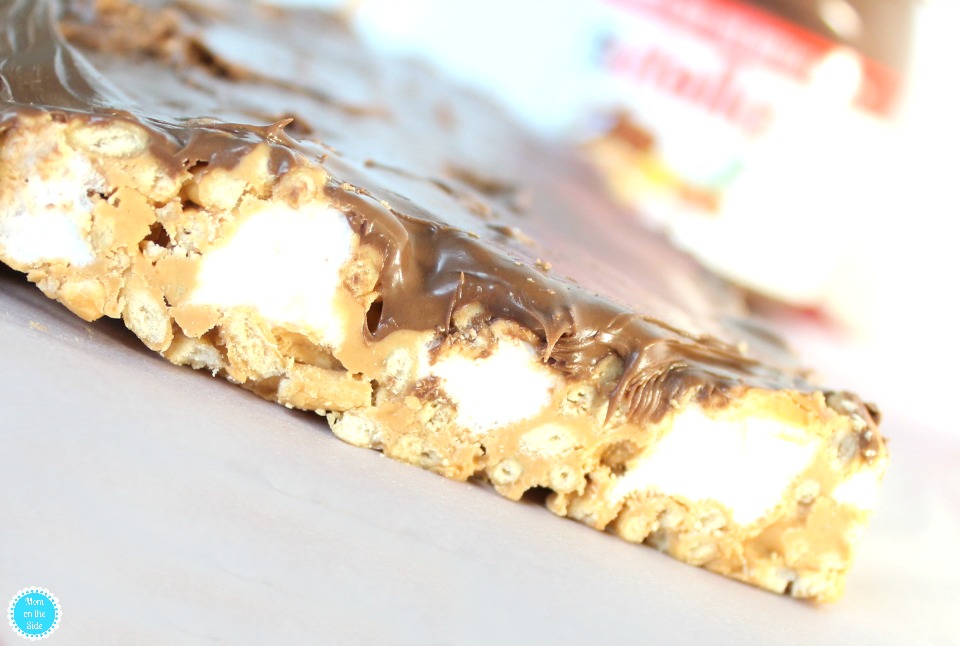 Grab a jar of Nutella® Hazelnut Spread at your local grocer and whip up these Nutella® Hopscotch Crunchies at your holiday parties!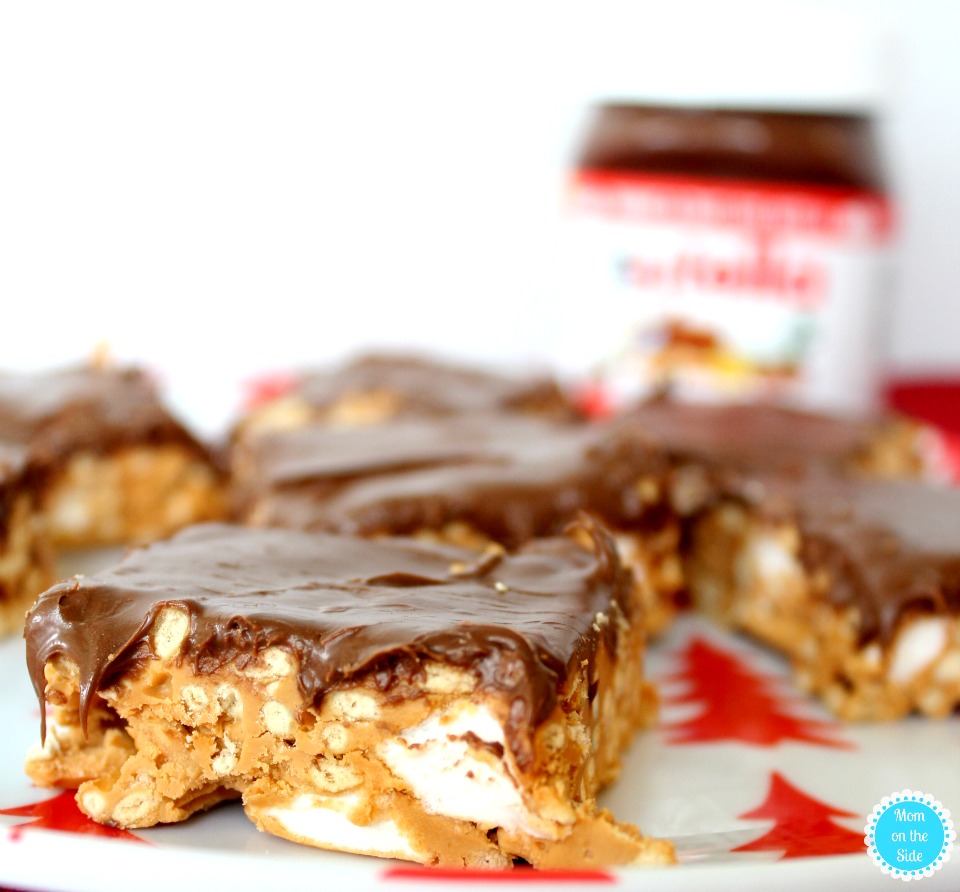 Hopscotch Crunchy Hazelnut Bars Recipe
Ingredients
2 Jars of Nutella – 2 Tablespoons per bar
2 Cups Chow Mein Noodles
2 Cups Miniature Marshmallows
2 Cups of Butterscotch Chips
1 Cup of Peanut Butter
Instructions
Melt Butterscotch Chips and Peanut Butter together.
Mix together with marshmallows and chow mein noodles.
Cover a cookie sheet with parchment paper and spread mixture out to cover the cookie sheet.
Place in fridge or outside in the cold for 30 minutes.
Spread Nutella on top.
Cut and Serve.
Pin Hopscotch Crunchies with Nutella® to your holiday desserts board!