This is my first year joining Houseful of Cookies by Houseful of Nicholes and it won't be the last! I love desserts, especially when the holidays are here and especially of the cookie variety.
Very soon I will be sharing a twist on one of my favorite holiday cookies but today I wanted to share that cookie without the twist. Hopscotch Crunchies are crunchy and gooey and one of the things I love about Christmas time and if you've never had them they are SO easy to make!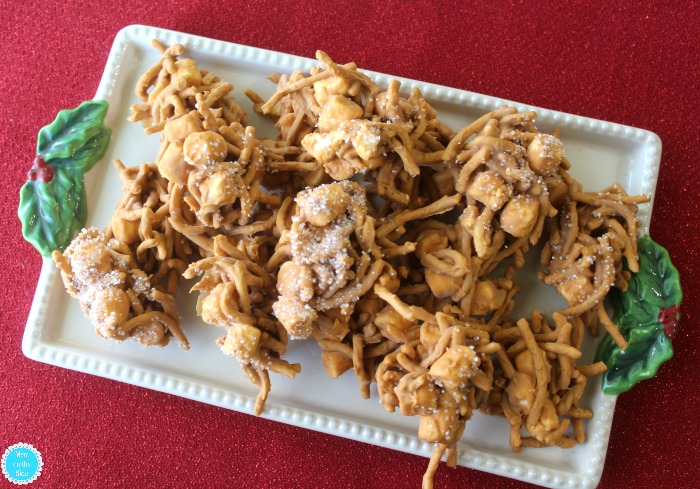 Holiday Hopscotch Crunchies
When you're done drooling over this Hopscotch Crunchies recipe, you'll find 25+ more Christmas cookie recipes at the end of this post! For now let's dive into these easy holiday cookies that only require four ingredients.
I usually make a double batch because they don't last long in our house. The ingredients below will yield about 50 cookies, give or take based on the size you make them.
2 Cups Chow mein Noodles
12oz Butterscotch Chips
2 Cups Mini Marshmallows
1 Cup Peanut Butter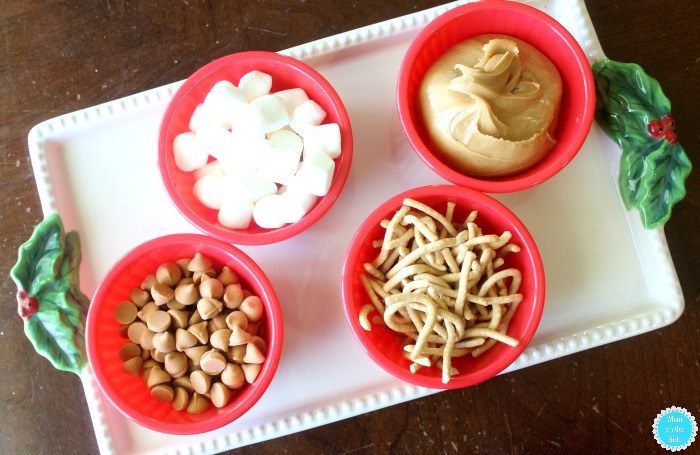 First, pour the chow mein noodles and marshmallows into a large mixing bowl or pot and mix together. Next, melt butterscotch chips and peanut butter in a microwave-safe bowl.
Then, pour the butterscotch mixture into the large pan of chow mein noodles and marshmallows. Mix fast and well so it doesn't start to stick together.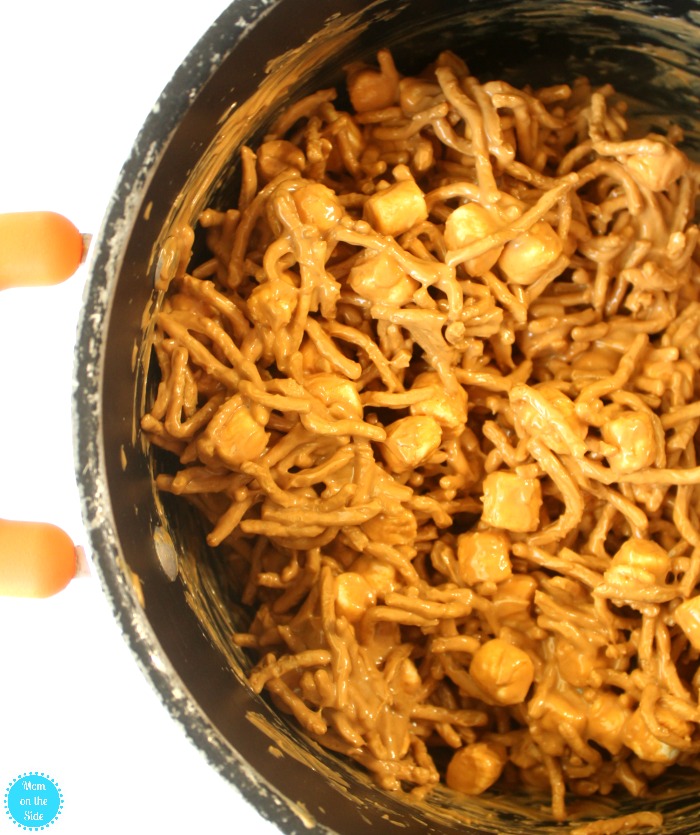 Finally, place spoonfuls of the mixture onto parchment sheets and place in the refrigerator or outside if it's cold enough until they harden.
For the holidays I like to sprinkle on sugar crystals or colored sprinkles. They look like they have a dusting of snow on top!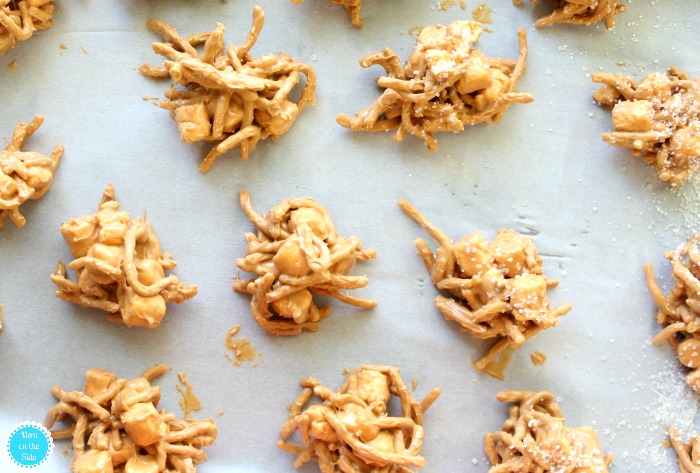 Serve immediately or store in the fridge if you don't want them to get sticky and melty.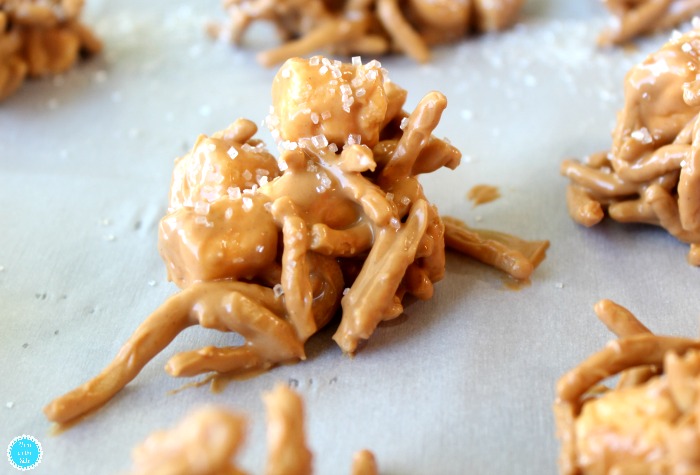 What is your favorite holiday cookie?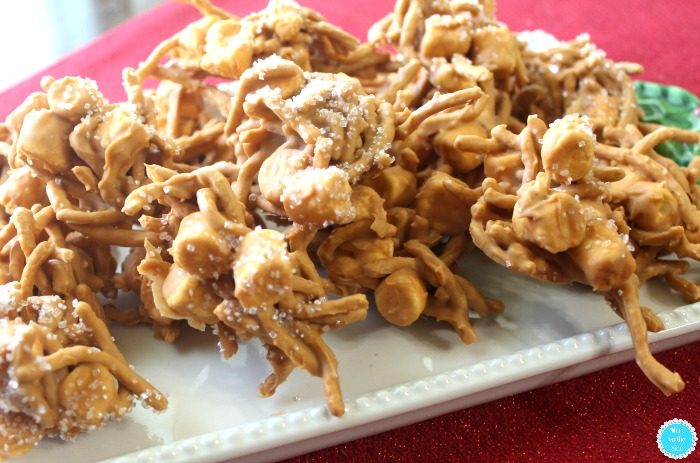 Want more delicious holiday cookies recipes?
Check out the rest of the bloggers picks for Houseful of Cookies 2017!
Houseful Of Nicholes – Slow As Molasses Cookies
A Crafty Spoonful – Chocolate Peanut Butter Crinkle Cookies
A Real Urban Mom – Chocolate Chip Cookies
Dash Of Evans – Cranberry Hootycreeks
Divas With A Purpose – White Chocolate Surprise Cookies
Everyday Party Magazine – Simple Caramel Cream Sugar Cookies Swirls
Fab Haute Mama – Belgian Waffle Cookies
Good Girl Gone Redneck – Perfect Holiday Saltine Toffee Treat
Happily Homegrown – Old Fashioned Hermit Bar Cookies
Her Life On Purpose – Red Velvet Cake Mix Cookies
Honest & Truly! – Triple Chocolate Dipped Cookie
Hysterical Mom – Lemon Sugar Cookies
I am the Maven® – Moldy Mice Cookies
Keep Calm & Teach Fifth Grade – Winter Wonderland Sugar Cookies
Kenya Rae – Pecan White Chocolate Chip Cookies
Kiss My Tulle – Chunky Christmas Cookies
More Than Thursdays – Mint Surprise Sugar Cookies
Mother Of The World – Ultimate Christmas Cookies
Our Crafty Mom – Peanut Butter Chocolate Cookies
Peyton's Momma – Chocolate Covered Christmas Trees
Simplify Live Love – Double Chocolate Pomegranate Cookies
Teachable Mommy – 3 Ingredient Peanut Butter Cookies
The Analytical Mommy – Favorite Lactation Cookie Recipe
The Biswolds – White Chocolate Chip Toffee Cookies
The Olive Blogger – Gingerbread Biscotti
We're Parents – Cranberry Cheesecake Cookies