This shop has been compensated by Collective Bias, Inc. and its advertiser. All opinions are mine alone. #ScrubSeason #CollectiveBias
Scavenger hunts, delicious goodies, and decorating the home. I've shared the reasons I'm excited for the holidays, but, there is one big reason that I am SO excited for the holidays this year.
I get to cook and bake on my brand new glass-top stove! You probably remember me mentioning a few times, that I've wanted a new stove for years.
Other things kept coming up, but we found a hard to resist price during a store closing sale, and well, the kitchen is the place to hang out now! It was fun turning it into a winter wonderland with a few small touches, and I'm sharing them today, along with a few glass-top stove cleaning and scrubbing tips!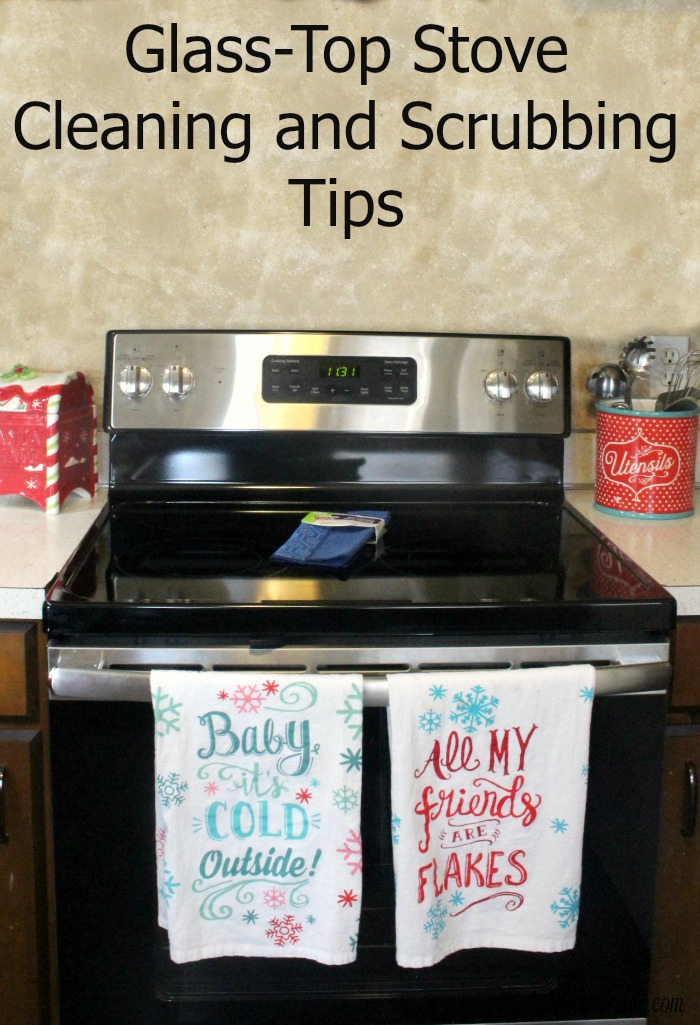 Turning Your Kitchen into a
Winter Wonderland
Next to the bathroom, I find the kitchen the easiest room to decorate for the holidays. Turning your kitchen into a winter wonderland is just a few steps away.
The first thing of course, is a holiday cookie jar! There is a lot of holiday baking going on, so you need somewhere to put all those candies and cookies.
Holiday dishes are one of my favorite things to use for the holiday season. We have our cookie plate for Santa, treat serving trays, and even holiday dishes for dinner time.
I'll admit that it isn't just the kids who get excited about eating off of holiday plates! Christmas trees make cleaning dirty dishes funner too, and it's easier with new Scotch-Brite® Scrubbing Dish Cloths. I'll tell you more about them in a second, with the glass-top stove cleaning and scrubbing tips.
One the holiday touches in the kitchen that got me super excited, was actually getting to hang holiday towels on the stove! The old stove didn't have a handle that allowed anything to be hung on it. Boo. It really is the small things sometimes, and shopping for holiday kitchen towels made me smile this year.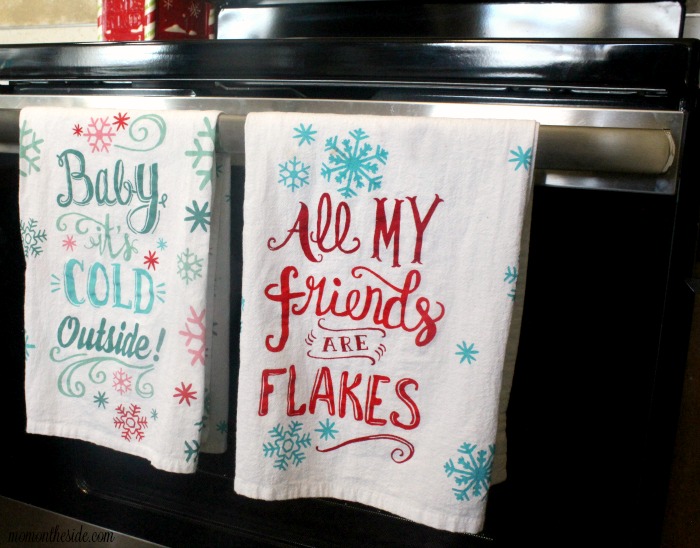 Glass-Top Stove Cleaning Tips
Speaking of the new stove, let's get to those tips! To keep a glass-top stove clean, you have to be on top of your game.
Not only do you have to be aware of the pots and pans you are using, but you also need to clean up spills and messes as soon as they happen. These are key to keeping your cooktop sparkling clean. When a mess happens, here are some glass-top stove cleaning tips to help you out.
#1 Use a Generous Amount of Cleaner
Use a generous amount of cleaner so there is enough to put a good layer over the glass-top. Some stoves come with a cleaner, or you can find sets available at retailers and online. You'll want to quickly spread the cleaner, making sure to cover the messy areas, and let it sit for a minute.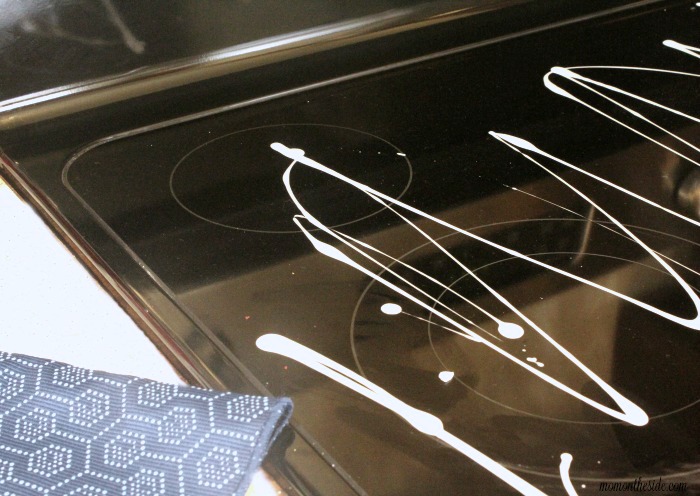 #2 Wipe with a Dry Cloth or Towel
When cleaning a glass-top stove, use a clean, dry cloth or towel to wipe with. Rub with some pressure, but not too hard because the glass can crack.
The new Scotch-Brite Scrubbing Dish Cloths are great for this job because they have a soft side and a scrubbing side. That, and they can be used on both the stove and the dishes.
The Scotch-Brite Scrubbing Dish Cloth is fully washable, reusable and sturdy, all things moms want when it comes to cleaning products. The premium, textured fiber dish cloth features two sides with scrubbing dots technology on one side originating from their stay clean sponges, to help tackle those tough messes on the stove, in the sink, and across a variety of surfaces.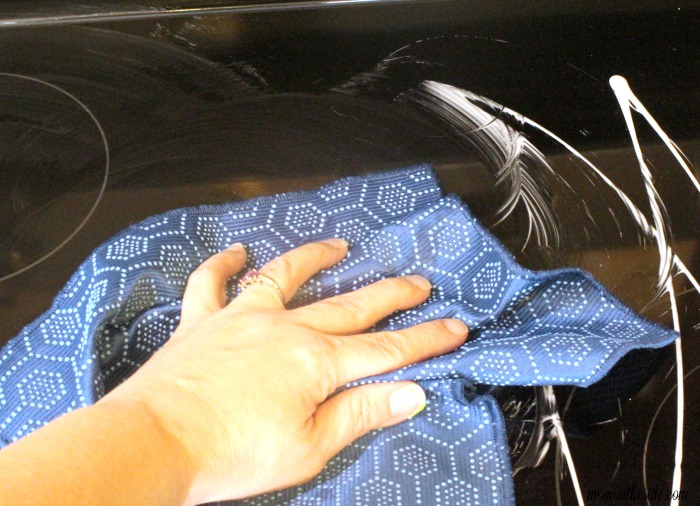 #3 Scrub and Scrap Away Glass-Top Stove Stains
For any stuck-on stains, you'll probably need to scrub or scrap them away. Double check your stoves manual for cleaning recommendations on this step, but, most of the time you can use a razor blade for removing stains.
Never dig the blade into the cookware to remove anything, always scrap it off. You can find glass-top stove cleaning kits, with a scraper included, at retailers and online. Some of those stuck-on stains may even come off with the scrubbing dots side of the Scotch-Brite Scrubbing Dish Cloth and a little elbow grease.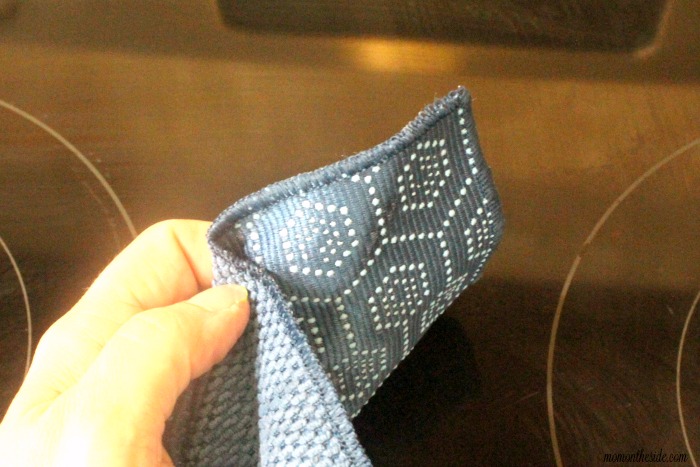 #3 Give it a Final Wipe Down
After you have wiped up all the cleaner and scrubbed off all the stains, take another clean, dry cloth to to it for a final once over. This helps remove any cleaner residue left over, as well as any crumbs from scrubbing stains.
With the New Scotch-Brite Scrubbing Dish Cloth taking cleaning to a whole new level and tackles stuck on messes, so you can do even more, like enjoy your Kitchen Winter Wonderland.