This shop has been compensated by Collective Bias, Inc. and its advertiser. All opinions are mine alone. #GoldfishGameTime #CollectiveBias
A taste of spring recently brought itself our way with temps hitting 60 degrees! If it wasn't for all the wind it would have been a perfect winter day.
We did get together at grandma and grandpa's for the day, while my brother patiently grilled chicken in the wind and the kids went head to head for Game Time with Pepperidge Farm® Goldfish® crackers at Walmart!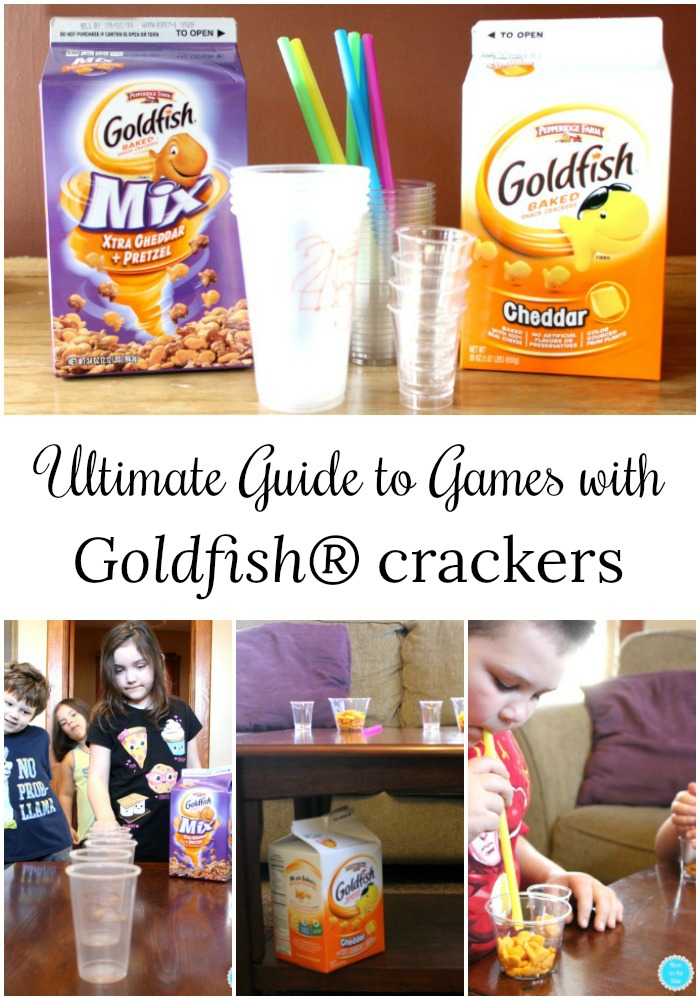 Ultimate Guide to Games with Goldfish cracker Games
Whether it's a gorgeous day to have a backyard family carnival or you need indoor activities for a rainy day, this Ultimate Guide to Games with Goldfish crackers has everything you want to entertain the family.
With a few supplies like straws, cups, and Pepperidge Farm® Goldfish® crackers 30 oz cartons available at Walmart on Rollback for $6.46 right now, in store only! For our games, we purchased Goldfish crackers Cheddar and Mix varieties.
Click over the image below to shop
Goldfish crackers at walmart.com.
Quick and Fun Games with Goldfish crackers
To play, write 5, 10, 15, 20, and 25 on plastic cups. Line them up in a row from smallest to largest. Then, have the players line up and try to toss Goldfish crackers into each cup.
Each person gets one try per cup and the person with the most points wins. In the event of a tie, have players line up farther back and play again.
Goldfish cracker Races was a favorite of the kids. Using straws they got one chance to blow their cracker as far across the table as they could. Whoever's cracker went the farthest advanced onto the next round until there was a final winner.
The straw challenge was a lot of fun to watch! Each player had to use a straw to pick up Goldfish crackers and drop them into a small cup.
The first one to fill their cup wins. My son got a little frustrated because he was blowing through the straw instead of sucking. My daughter finally got the hang of it at the end and the oldest two kids were neck and neck until the very end!
Educational Games with Goldfish crackers
Printable math and numbers worksheets are the perfect way to finish off Game Time with Goldfish crackers. The kids can fill in each space with crackers to make numbers or solve problems by adding by adding up crackers.
The best part? Snacking on them afterward! Grab the printables below and plan some fun that will keep the entire family entertained!
–> PRINT NUMBER WORKSHEET HERE <–
–> PRINT MATH WORKSHEET HERE <–