This shop and family pizza night has been compensated by Collective Bias, Inc. and its advertiser. All opinions are mine alone #FreschettaFresh #CollectiveBias
Pizza night is by far a favorite in this house. They may not agree on toppings, but when pizza is on the menu, the WHOLE family smiles!
During a recent trip to the local library, the play area had been turned into a "pretend" pizza dinner with a section to make your own "pizzas", cashier to order at, and man did the twins have fun.
It gave me an idea to make our family pizza night more fun. Pizza BINGO that the whole family can play while they are munching on Freschetta Naturally Rising Pizza, Family Style Salad, and my special Spicy Breadsticks that I'm showing you how to make. Don't worry, I also included printable Pizza BINGO for your family too!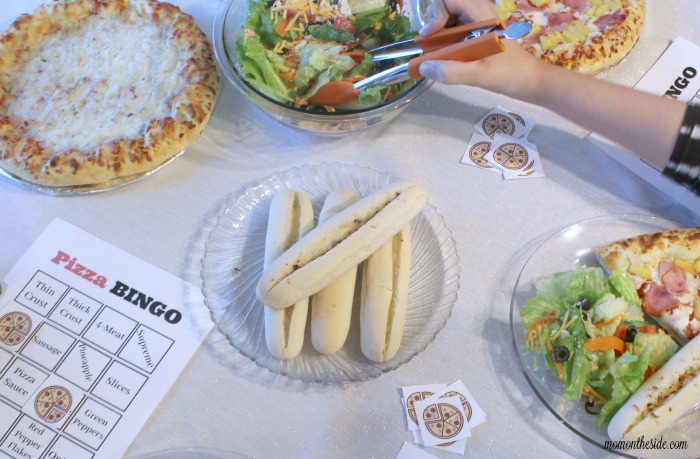 These Spicy Breadsticks are a hit at the dinner table, and a twist on of our now closed, but still favorite local pizza joints. All you need are some regular store-bought breadsticks, a little red pepper flakes, and a lot of mozzarella cheese.
Spicy Breadsticks
Ingredients
1 package of store-bought breadsticks
1 cup mozzarella cheese
1/4 cup red pepper flakes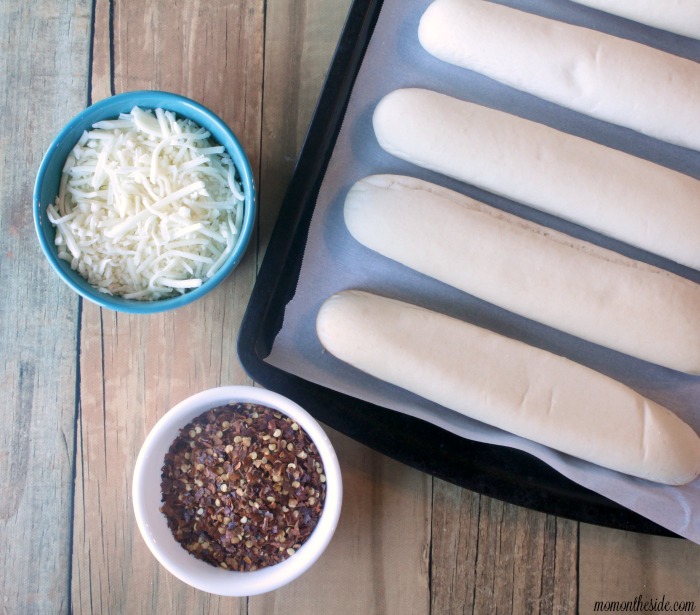 Start by preheating the oven to 450. Then, cut each breadstick down the middle, like a bun, leaving the bottom attached.
Gently pull open the breadsticks just enough to stuff mozzarella cheese inside. Once each breadstick is filled with cheese, sprinkle red pepper flakes across the top.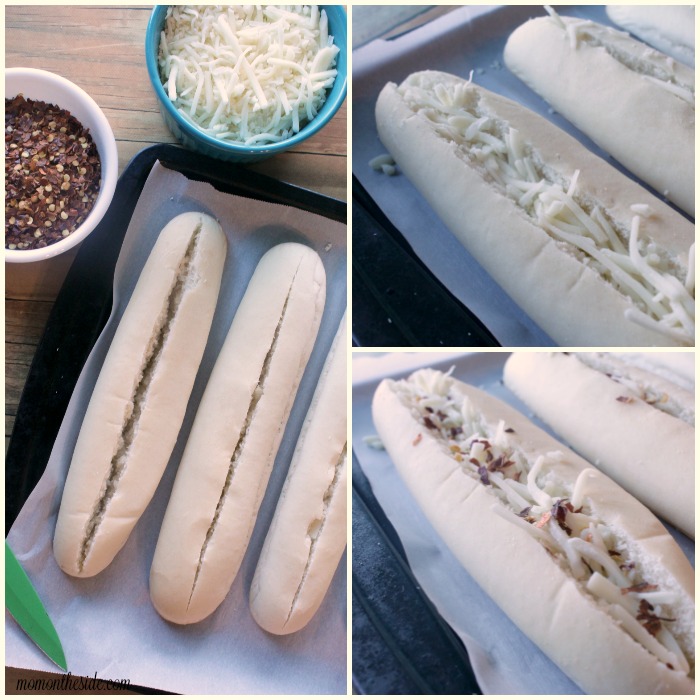 Finally, bake for 4-8 minutes, until the cheese is melted and the breadstick is toasted.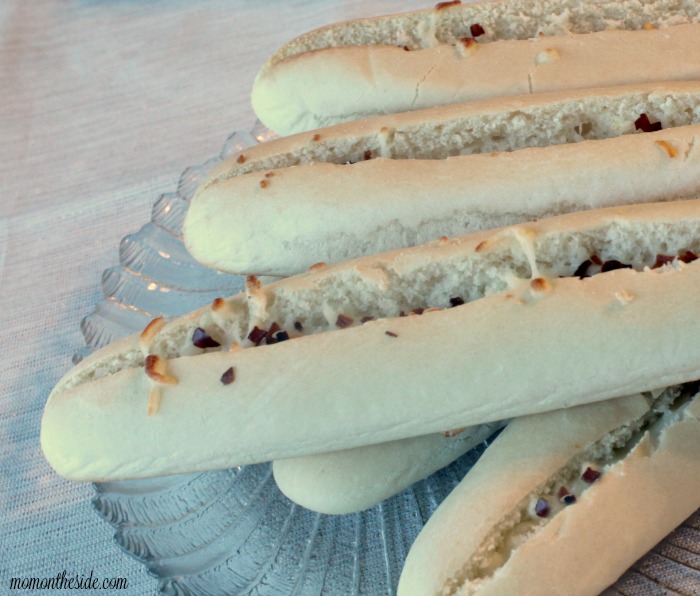 Throwing together a quick Family Style Salad completes a well-rounded family pizza night. Grab a big bowl and fill it with lettuce, shredded carrots, sliced black olives, diced Roma tomatoes, shredded cheese, and crushed crackers. Top it with whatever dressing you want and you're set!
Now all you need are the pizzas to complete your family pizza night, and Freschetta is undeniably the better choice in frozen pizza. Is it just my house or does everyone have different topping preferences in your house?
Some nights we go with simple cheese and pepperoni, but my daughter and I really like Freschetta Naturally Rising Canadian bacon and Pineapple, because it's freshness you can taste When we have an easy night, I make all three because I'm the one cooking and I  can.
Freschetta ingredients are what set this pizza apart from other frozen pizza brands. That, and to me, it is the crust which is one of my favorite parts!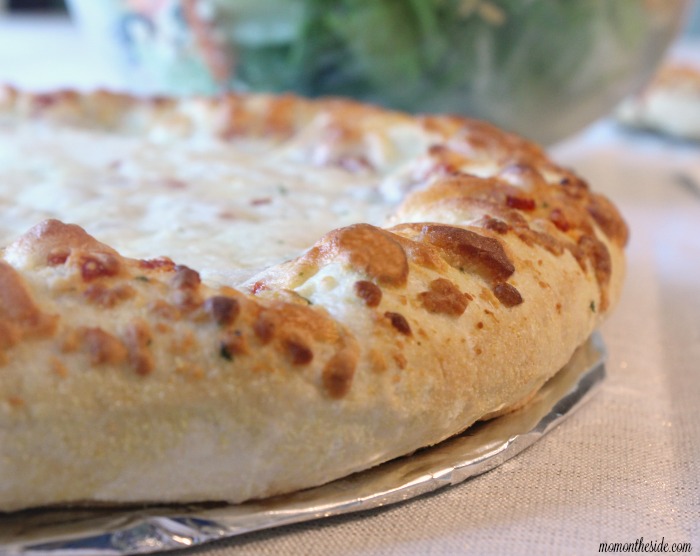 With a perfect blend of 3 grains that are kneaded and rolled for dough that rises naturally, I could sit in front of the oven and watch it bake. Top that with a vine-ripened tomato sauce, and 100% real provolone and mozzarella cheeses, and my family is pretty much in pizza heaven. Once the pizzas are out of the oven, set the table and pass out the Pizza BINGO cards for a dinner full of yum and fun!
You can grab everything you need to plan your game, including printable BINGO cards pizza markers, and calling cards. Plus, find the recipes for those Spicy Breadsticks and Family Style Salad below.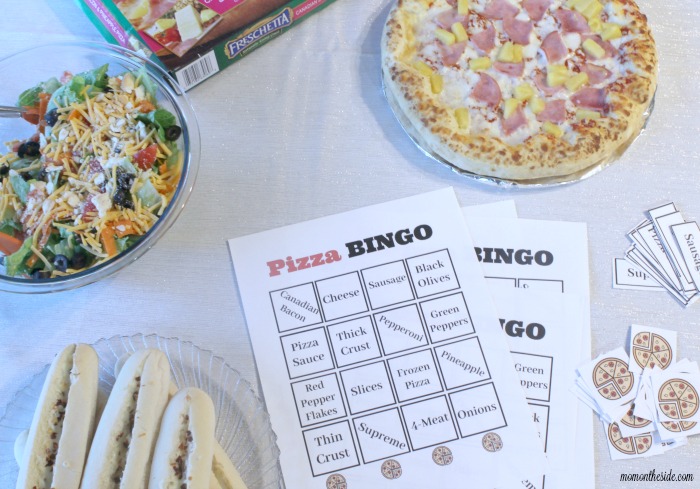 Printable Pizza BINGO Cards