*I was provided with this experience on behalf of Disney/ABC/Marvel. Any opinions are 100% my own. 
Votes have been cast and there are five couples remaining. The Semi-Finals of Dancing with the Stars begin Monday, November 17th at 8 PM ET. Whether you have been cheering on the same couple each week, or fly by the seat of your leotard, it's about to get extra serious as the remaining couples perform two different versions of the same song in the first round of the Semi-Finals. I'm going to tell you all about the Dancing with the Stars Semi-Finals, but first, I have to tell you how AWESOME it is to attend a LIVE TAPING of Dancing with the Stars!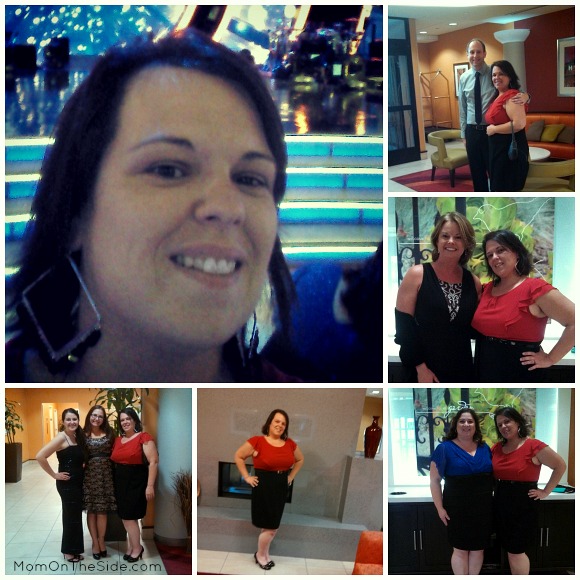 When you get to the dance floor where the show takes place, your mouth with instantly drop open in awe. Everything is so sparkly and shiny and just what you imagine and more. The dance floor is in the center, with the balconies and audience situated around it in a horseshoe shape. The audience is quite large, larger than I expected and while some seats are better than others, there really isn't a bad seat in the house.
Being at the Dancing with the Stars Judges Table was pretty awesome. Julianne Hough, Len Goodman, Bruno Tonioli and Carrie Ann Inaba weren't there when we were on the floor, but being at the place where those little numbers on popsicle sticks go up…yep, awesome. Oh, but we did meet Bruno outside after the show! We bumped into him and he chatted a bit before we boarded the bus to Mixology 101! (more on that in a second)
While at the live taping of Dancing with the Stars we got to see performances by others dancers while you saw commercials, we stood up and st down a lot, and I have never in my life clapped so much and so loudly in my life. It was all SO worth it though to experience Dancing with the Stars in person. Heck, we even got to take a group photo right on the Dancing with the Stars dance floor. How awesome is that?!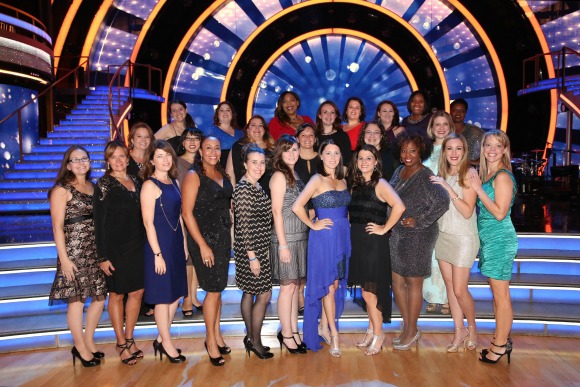 Photo credit: (ABC/Adam Taylor)
Okay, now back to regularly scheduled programming. The first round of Semi-Finals as the couples performing Jazz, Quickstep, Samba, Paso Doble or Argentine Tango to an original or "plugged" version of their selected song. I'm looking forward to the Quickstep myself, what about you?  For the second round of the Dancing with the Stars Semi-Finals, the couples will perform an Argentine Tango, Rumba, or Contemporary routine to an acoustic or "unplugged" version of that same song. I'm a huge fan of "unplugged" versions so I'm really looking forward to those!
For the unplugged versions in the second round, there will be special musical guests that will accompany the unplugged performances. Christina Grimmie will perform "Love Runs Out," Time For Three will perform "Blame," and YouTube sensation Noah Guthrie will perform his cover of "Problem."
Dancing with the Stars Semi-Finals Couples and the Plugged/Unplugged Songs they will be dancing too:
Tommy Chong & Peta Murgatroyd: "Tainted Love" by Soft Cell and "unplugged" version by Hannah Peel

Bethany Mota & Derek Hough: "I Want You Back" by Jackson 5 and "unplugged" version by The Civil Wars

Janel Parrish & Valentin Chmerkovskiy: "Blame" by Calvin Harris, featuring a guest "unplugged" performance by Time For Three

Alfonso Ribeiro & Witney Carson: "Love Runs Out" by One Republic, featuring a guest "unplugged" performance by Christina Grimmie

Sadie Robertson & Mark Ballas: "Problem" by Ariana Grande, featuring guest "unplugged" performance by Noah Guthrie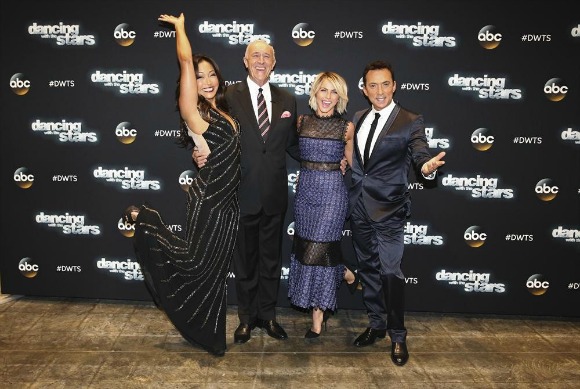 Photo credit: (ABC/Adam Taylor)
#DWTSAllAccess is available to watch every Monday on ABC.com/dancing and offers six live streams from key positions at the show venue, allowing fans to choose views of the Red Room, judges' table, Sky Box, make-up mirror, a wide angle of the dance floor and a feed hosted by Dominic Bowden and DWTS alum Lacey Schwimmer that highlights relevant social media conversations. Viewers on the West coast are able to live chat with Bowden and Schwimmer during the broadcast.
We got the AHmazing chance of meeting Mark Ballas at Mixology 101 after the Live Taping of Dancing with the Stars!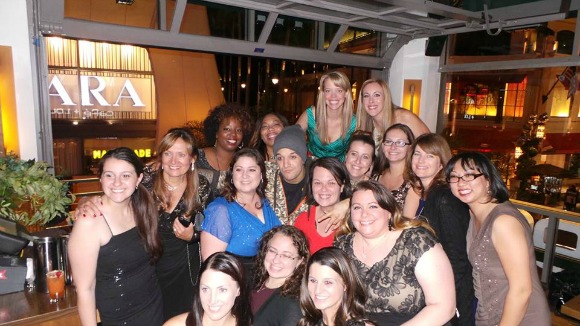 Some other favorites from Dancing with the Stars Season 19 stopped by Mixology 101 as well!  Janel and Val showed and oh my goodness is he a character! He snagged my phone and took some selfies of us that were too fun!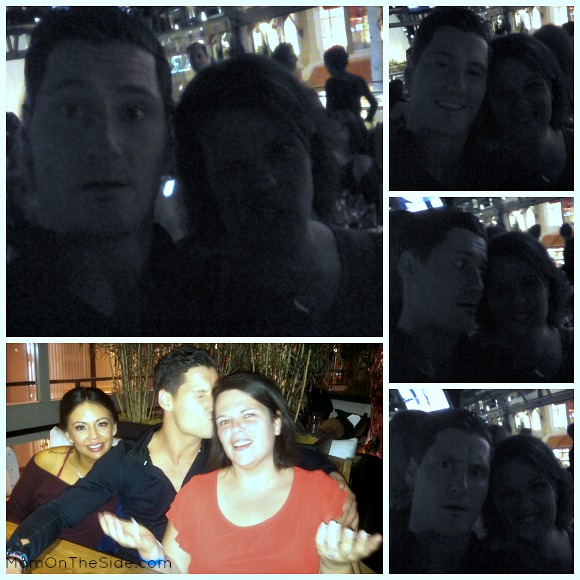 We also chatted with Janelle, and Sadie Robertson, as well as Lea Thompson, who I was super sad to see booted off last week's Dancing with the Stars episode.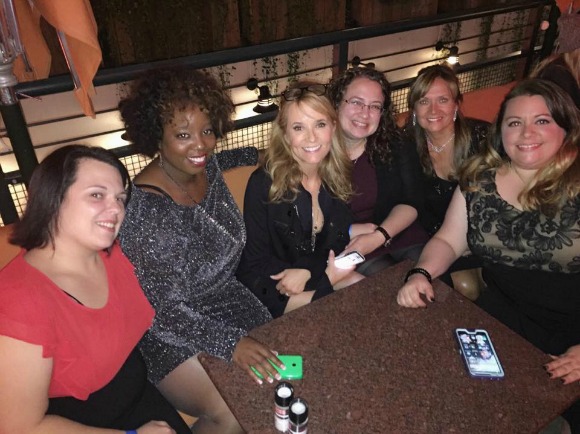 I had spotted Willie Robertson in the audience at the show, but never thought in a million years……..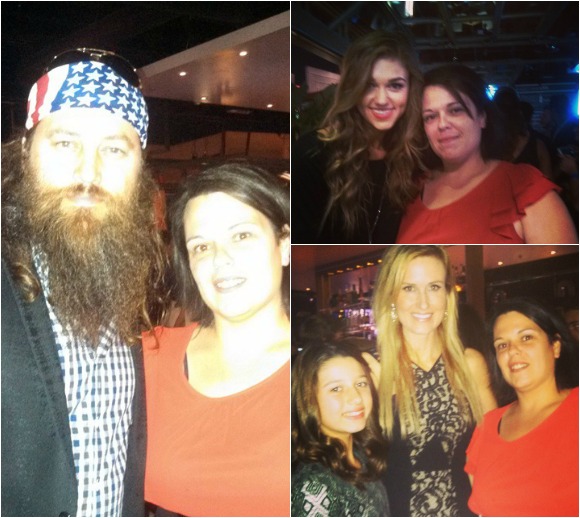 Catch Dancing with the Stars on ABC at 8 PM ET and VOTE for your favorites to make it to the finals! 
Stay up to date on all the Dancing with the Stars happenings: