This is a sponsored post written by me on behalf of Cricut. All opinions are 100% mine.
I recently shared our Virtual School Life Shirts and Personalized School Boxes made with Cricut Joy. Now I have even more fun Cricut Back to School Ideas to personalize the year!
Whether your kids are heading off to the classroom or learning at home, these Cricut Back to School projects will make the year more fun!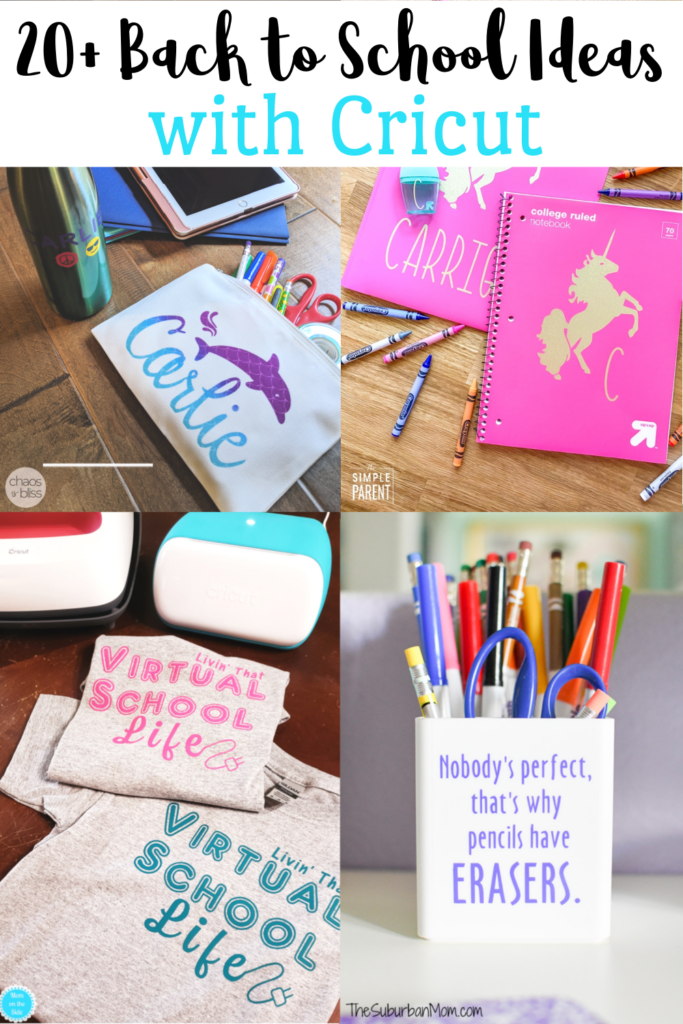 20+ Cricut Back to School Ideas
#1 Personalized headphones and masks from AMomsImpressions.com are fun projects for two items that will be getting a lot of use this year.
#2 Add personalization to folders and backpacks like HalfCrazyMama.com did for her kids!
#3 These easy back to school ideas with Cricut Infusible Ink from ChaosIsBliss.com are so pretty!
#4 Customize pencil pouches, lanyards for holding masks, and more with ideas from HousewifeEclectic.com!
#5 Lunch time is even better with a decorated lunch box like MomsAndCrafters.com whipped up!
#6 Achieve homeschool organization at it's finest with Cricut ideas from SunnyDayFamily.com!
#7 Grab a FREE Tribal Laptop Skin from and personalized laptop bag idea from ApronsandStilletos.com!
#8 Store all those pencils and crayons in personalized school supply bags OneSmileyMonkey.com made with Cricut!
#9 Keep track of your supplies with personalized school folder designs from PrintableCrush.com!
#10 Get organized with printable classroom labels from GingerSnapCrafts.com!
#11 If you snap first day of school photos, check out this DIY Back to School Sign Photo Prop from MommyhoodLife.com!
#12 Create a personalized learning corner with Cricut Joy projects from BeingThisMama.com!
#13 If you are teaching your kids at home you'll love this Homeschool Rules Sign from HelloCreativeFamily.com!
#14 Keep supplies separate with personalized notebooks and name labels like TheSimpleParent.com!
#15 Great for the classroom, check out these designs for Social Distancing Markers and Signs from Inspiration.Cricut.com!
#16 Another idea for first day of school photos is this First Day of School Pennant Flag from AtHomeWithAshley.com!
#17 Send your kids to class with one of these Back to School Teacher Gifts with Cricut Joy from ButFirstJoy.com!
#18 My kids are virtual this year and I can't wait to add some of these Homeschool Room Decor ideas with Cricut from TheSoccerMomBlog.com!
#19 Game on for back to school with this Back to School Gamer Shirt and Backpack with Cricut from TheQuietGrove.com!
#20 Kids will be eager to learn with this Homeschool Desk Personalization set-up from TheSuburbanMom.com!
#21 Help your kids stay organized with this Printable Student Planner with Cricut from GrowingUpGabel.com!
#22 Grab this planner stickers design with Cricut from TastefullyFrugal.com and get the school year oraganized!
#23 If your kids are Potterheads they are going to want these DIY Harry Potter School Supplies from LovelyIndeed.com!
#24 Personalized Tumblers and Sanitation Kits for Back to School from OverTheBigMoon.com will be super helpful this school year!
#25 Give kid different masks for school days with these Personalized Face Masks with Cricut for Back to School from Inspiration.Cricut.com!
What ways have you been using your Cricut Joy for back to school? I want to hear about your projects in the comments!