This shop has been compensated by Collective Bias, Inc. and its advertiser. All opinions and these 4 easy date night at home ideas to spice things up are mine alone. #YoursandMine #CollectiveBias
Last month, hubby left town for a week-long out-of-town work trip. The longest we have been apart in the eighteen years we have been together.
It's not that we can't be apart that long, it just hadn't happened. Let me just say, that time apart was long overdue and we didn't even know it.
It took him being gone for me to realize how far back on the priority list "Us" had gotten. How badly we needed to spice things up.
"It used to be us against the world. Now it seems like the world against us." – My Hubby
We swore right then and there we were going to make more time for us. Babysitters aren't at our disposal, but Date Night at Home is.
Some weeks we may only have 30 minutes to spare and other times more. I need Date Nights at Home that allow us closeness and passion, but don't always require a lot of time. I came up with 4 Easy Date Night at Home Ideas to Spice Things Up in January!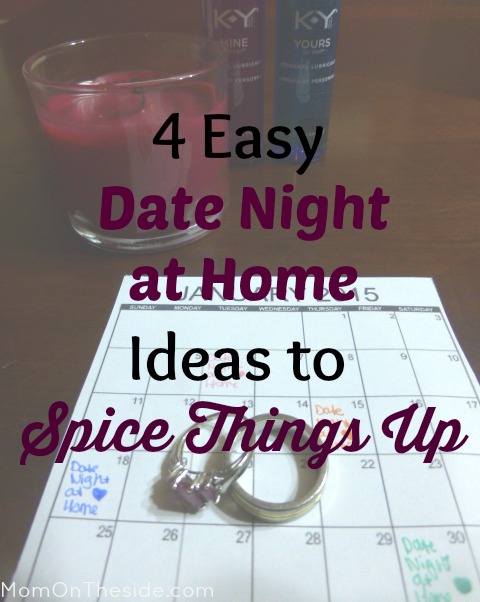 Date Night at Home Idea #1
Adult Game Night
You don't have to play an "adult" game, just pick one the two of you will enjoy. We play both board games and card games and they often make for great conversation. I've learned a lot of things about my husband while chatting over cards.
Date Night at Home Idea #2
Dancing
When is the last time you turned on some music and twirled around the bedroom with your spouse? No evening dresses, high heels or suits required. Just good dancing music and two people who are willing to let the music move them. Music can bring out the passion in people and it's nice to feel that closeness.
Date Night at Home Idea #3
Dessert
Don't just enjoy a dessert together, make it together. Bake a batch of brownies, dip some pretzels in melted chocolate, or set up a mini chocolate fondue buffet.
My husband enjoys being in the kitchen with me and it's a welcome change of pace being the one who usually does all the cooking and baking. Not gonna lie, I don't mind those desserts that are bedroom approved too. Sometimes as couples, after so many years, you need spontaneous fun to help spur those intimate moments.
Date Night at Home Idea #4
Romantic Dinner and a Movie
Sometimes there is nothing better than a good ole' romantic dinner and a movie. If you need to make time for yourselves as a couple, setting aside time once a month for a dinner and movie together can do wonders.
Intimacy is important in a relationship, and making time for it can be tricky with kids. I want to make the most of the time we do get to sneak in.
For those intimate moments, a personal lubricant can increase the passion, at least for us. Try something new and pick up the best lube with his and hers options.
What are your favorite Date Night at Home Ideas?