This is sponsored post with Best Buy and received the KitchenAid Artisan Mini Mixer. Any opinions are 100% my own, including 4 Different Cookies from One Dough!
Today is the last day of school in our neck of the woods. I'm super excited to kick off all kinds of adventures when I get back from the #Cars3Event. This is the last summer before all four of my kids are officially in school and I thought I would celebrate with cookies! LOTS of cookies that is. I started off making 5 dozen chocolate chip cookies. That's how many my new KitchenAid Artisan Mini Mixer from Best Buy makes so why not test it out. But then this happened…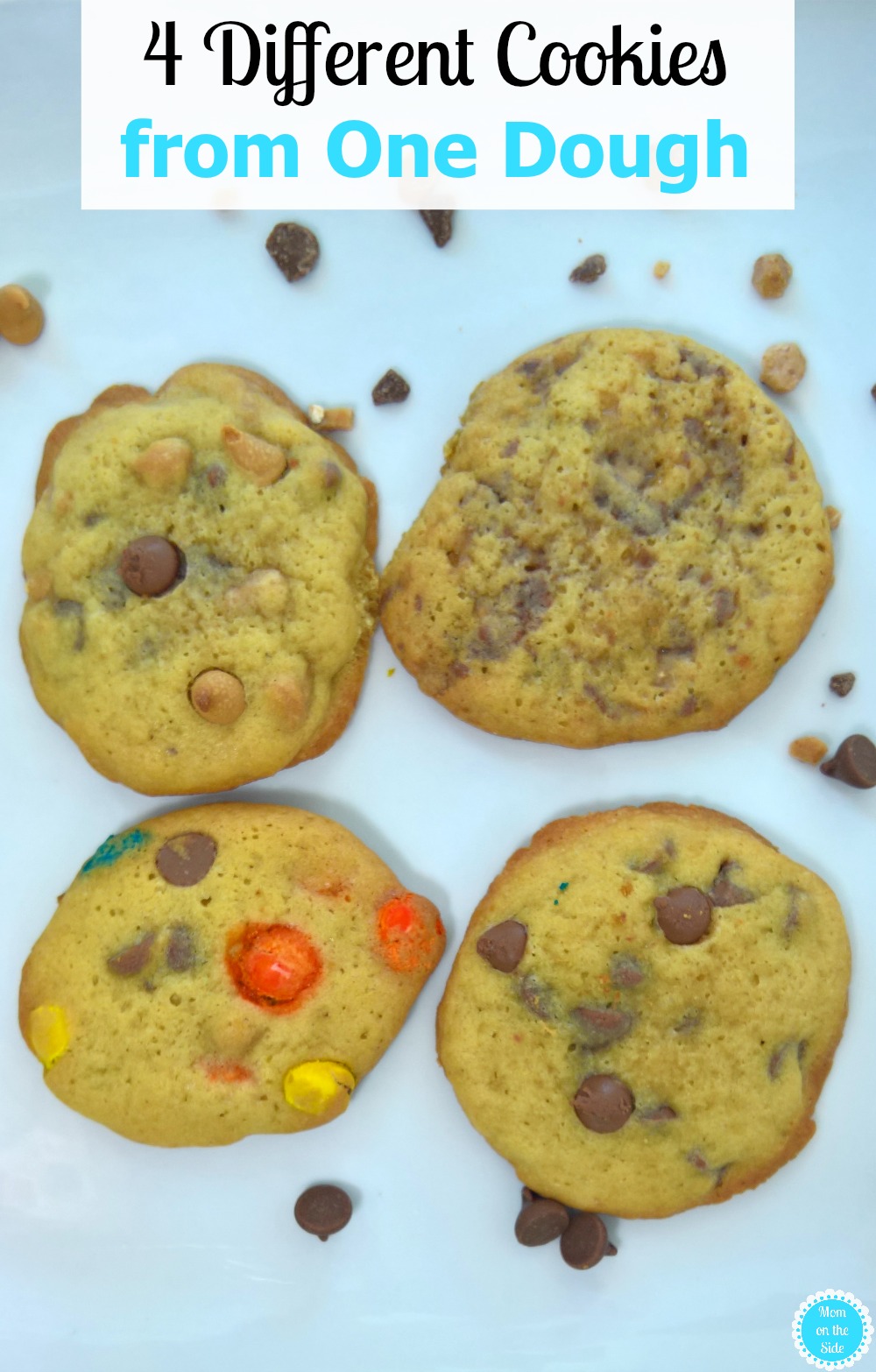 4 Different Cookies from One Dough
Instead of making 5 dozen of the same cookies, I ended up making 4 different cookies from one dough. Funny story, I was pulling out butter sticks to soften and looked at the back of the chocolate chips package and took that times 5. Basically, I had 10 sticks of butter softening on my counter for 20 minutes before I realized that the recipe made MORE than a dozen cookies. Thankfully I figured that out before I started mixing!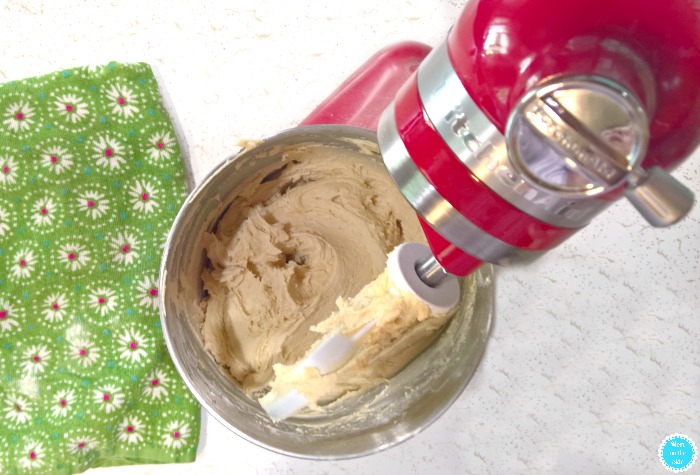 So, how did I get 4 different cookies from one dough? I started with the chocolate chip cookie dough mixture on the back of the chocolate chips package. Increasing the ingredients to make 5 dozen and leaving out the chocolate chips to start. Here's what I used:
1 1/2 Cups Butter – Softened
1 Cup Sugar
1 Cup Brown Sugar
1 1/2 tsp Vanilla
3 Eggs
3 1/8 Cups Flour
1 1/2 tsp Baking Soda
1 tsp salt
2 Cups Chocolate Chips
1/2 Cup Peanut Butter Chips
1/2 Cup Toffee Pieces
1 Single Bag of Chocolate Covered Candy Pieces
How to Make 4 Different Cookies from One Dough
The first type of cookies are Toffee Cookies. I scooped out three big scoops of batter into a bowl. Then mixed in toffee bits, scooped them on to a pan and baked them at 350 for 10 minutes.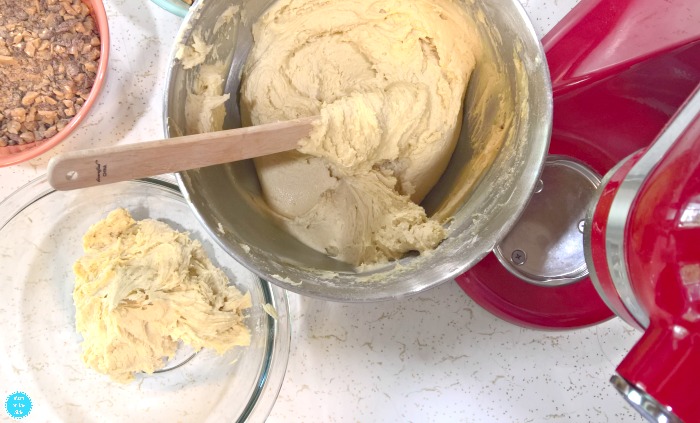 Traditional chocolate chip cookies are  the second type of cookies. I poured 2 cups of chocolate chips into the dough that was still in the KitchenAid Mixer Bowl. These also baked at 350 for 10 minutes in my oven.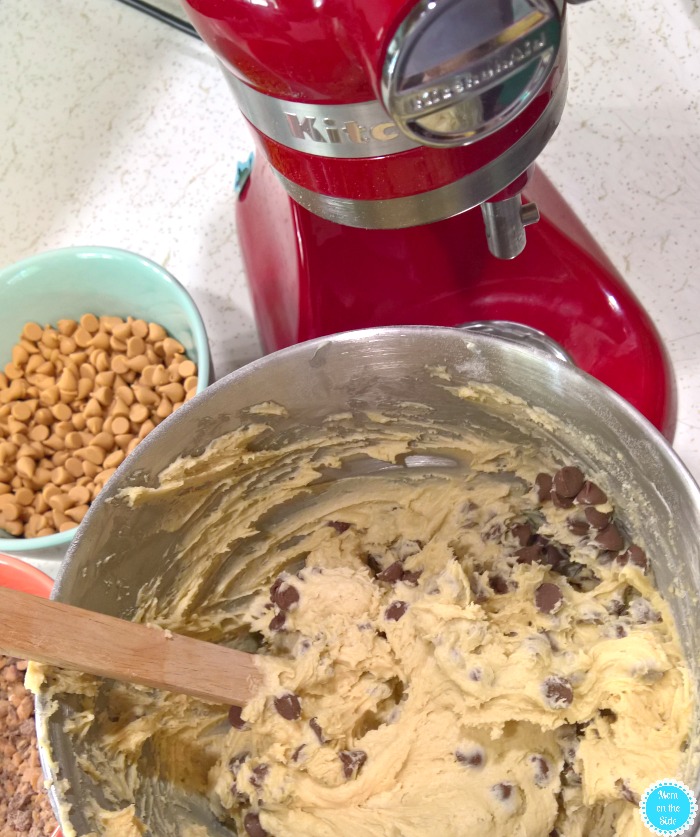 For the third type of cookies, Peanut Butter Chocolate Chip, I added 1/2 cup of peanut butter chips to the chocolate chip cookie dough. The final type of cookies were a twist on Monster Cookies by adding a single bag of chocolate covered candies to the chocolate chip peanut butter cookie dough.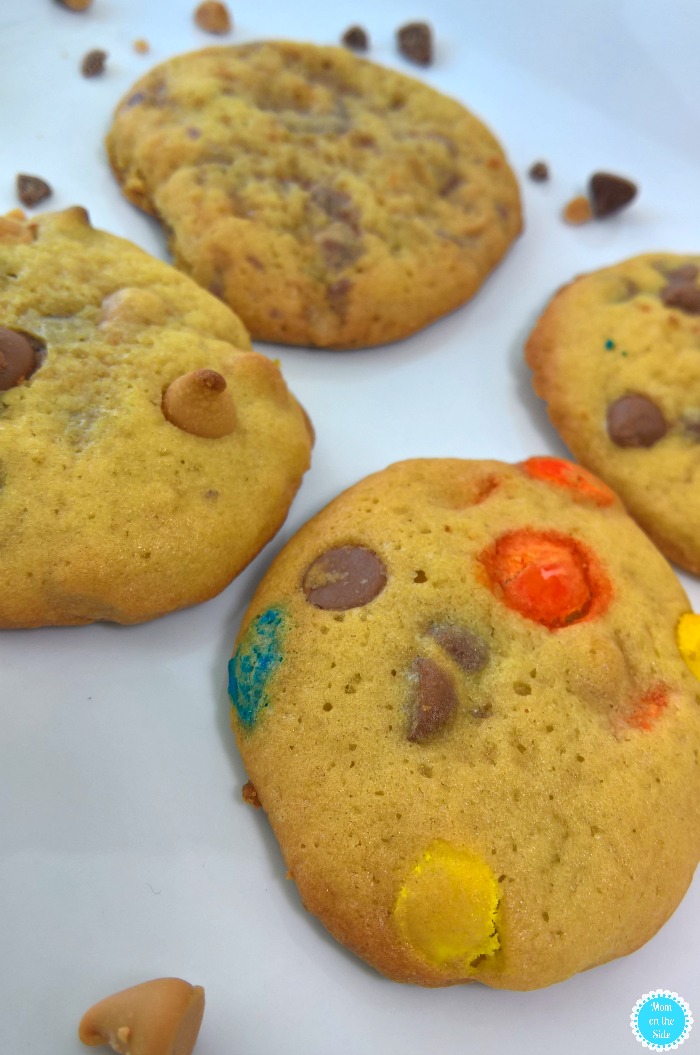 Meet The Might Mini – KitchenAid Artisan Mini Mixer with Powerful Performance
With the launch of the new KitchenAid Artisan Mini, there is now a smaller mixer that takes up less counterspace. I'm a mom whose kitchen as oddly placed outlets. There are very view places I can place things on my counters so the smaller the better. Not only is it smaller, it's also lighter in weight so you can easily move it around your kitchen!
With the same iconic design and power as other KitchenAid tilt-head stand mixers, this has quickly become my favorite mixer. Don't let the mini size fool you though, as you can tell from all my cookies this NEW Mini Stand Mixer can make up to 5 dozen cookies in it's 3.5 quart stainless steel bowl.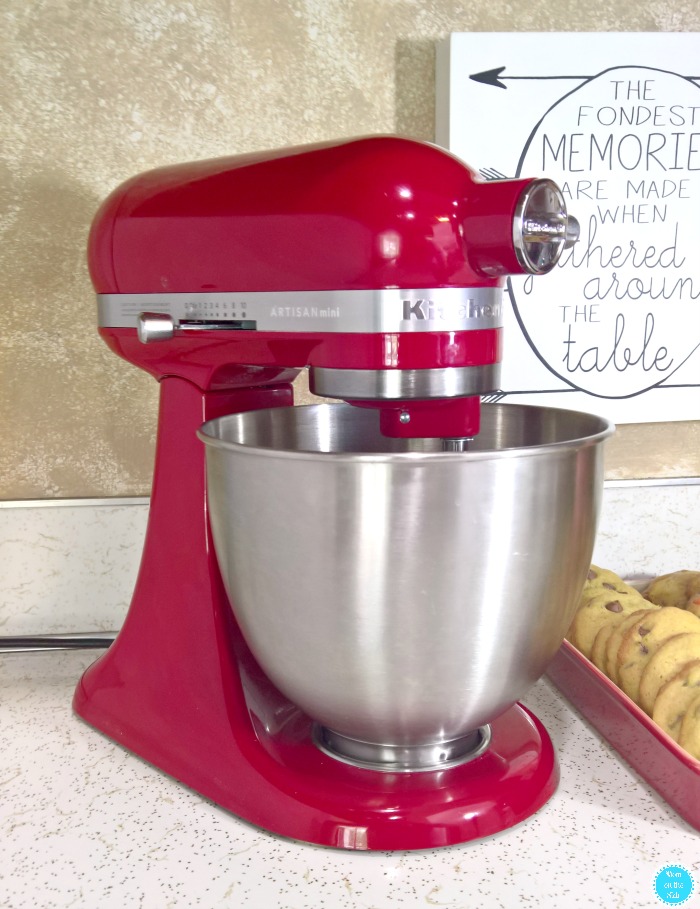 You can make way more the 4 different cookies from one dough with the KitchenAid Artisan Mini Stand Mixer. It also includes a 6-wire whip and dough hook in addition to the coated flat beater. That means breads, frosting and other deliciousness can be mixed up with 1 of 10 mixing speeds.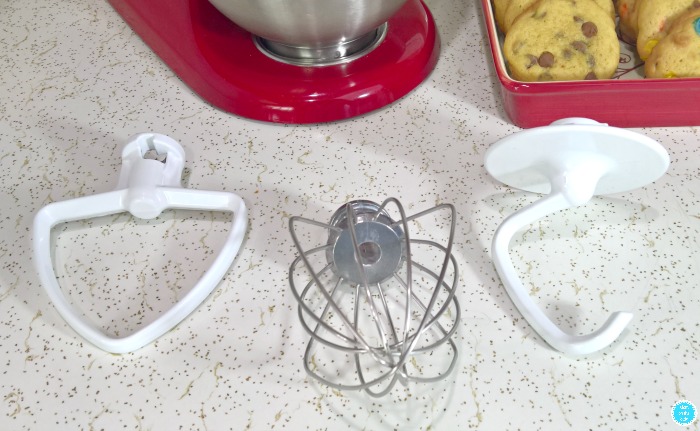 Check out the KitchenAid Artisan Mini Stand Mixer at Best Buy, available in 10 colors. Mine is Empire Red in case you have falling in love with while drooling over these different cookies from one dough to make baking life easier!