Summer vacations are a tremendous amount of fun, but they can be expensive at times. Do not let the expense of your vacation spoil your fun.
Learn the best ways of saving money on Summer Vacation with these easy tips! Have a tip of your own? Drop a comment below, I would love to hear it!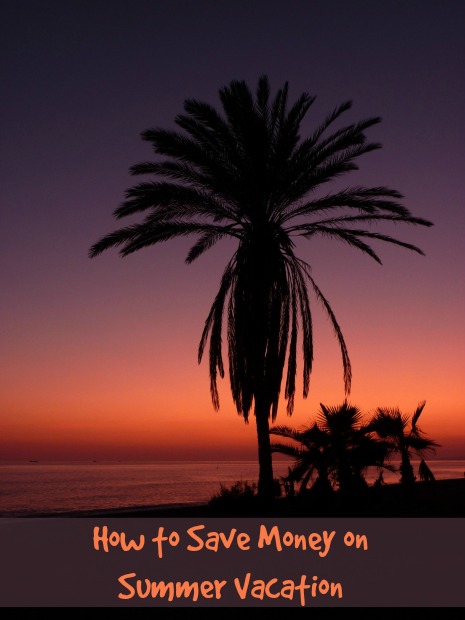 Tips for Saving Money on Summer Vacation
Research on the Internet
One way to save on summer vacation is to research various destinations online to discover the best deals. There are many travel sites available with destination, lodging, transportation, food, and other information complete with prices.
This helps you not only compare lodging information, but also the cost of transportation to and from the location. Plug the numbers into a spreadsheet, so you can do your own research instead of trusting one site that says they compare them all. I've had good luck with Travelocity and Priceline.
Go To Places Off- Season
Choose a location that is usually in-season during the fall and winter. This will mean that the summer is off-season and will lower the rates the location charges for lodging, food, and other things.
One example of this would be a ski lodge that is open year round. The difference in off-season and in-season prices when it comes to hotel stays is huge!
I was looking at quotes for San Diego in the winter (off-season), and they were about $75 a night. In-season, they're $200+! It's crazy how different the prices can be.
Purchase Attraction Tickets Ahead of Time to Save Big
Check into the various attractions you plan to visit on your vacation to see whether purchasing tickets ahead of time saves you money. Many attractions offer discounts for booking in advance, or you can check out Costco or Sam's Club to see if they have discounts. Many times they do!
These discounts could be as much as twenty percent in some instances, which is a huge savings for a family of 5. In addition, certain hotels or motels may also offer discounted tickets to attractions when you book a room with them. Check into this before booking your lodging.
Camping is Economical
Camping in campgrounds, state parks, or national parks is a very economical way to vacation. Plus, it can be a lot of fun! The campsites at any of these places are normally cheaper than hotels, motels, or other vacation lodgings.
In addition, you can let the kids have a bit more freedom at the campsites than in other lodgings. Prices will vary for camping on whether you are using a tent, camper, or RV.
Try Rental Homes Instead of Hotels
Rental homes provide enough room for more than one family in some cases. Do you want to vacation with your sister's family?
If so, check out these rental homes in the desired location. You can find them online or through travel agents.
I was looking into rental homes in San Diego, and honestly they're not that much more expensive than hotels! You can book a condo for yourself, or a big log cabin for two families, and you're going to be paying about the same as you would for a hotel near the beach.
Limit Eating in Restaurants
Try to get a kitchenette in your room when staying at hotels or motels. You will be able to stock you own food this way and save a great deal of money compared to eating in restaurants all the time.
This is one of the nice things about choosing rental homes or going camping, too. There's almost always a grocery store right around the corner, so why not save some money by stocking up and using the mini fridge and stove? Plus, if you're camping… s'mores! Need I say more?
What's your best tips for saving money on Summer Vacation?