If you are looking for some Irish movies for St. Patrick's Day I found several you can stream! There's something for adults, kids, and families to enjoy together.
You can stream these Irish movies on Netflix, Amazon Prime, Hulu, and Disney+. There are a few others you can rent or buy on Amazon but I didn't list those. Search Ireland, Irish Movies, or St. Patrick's Day movies on your streaming providers to find more!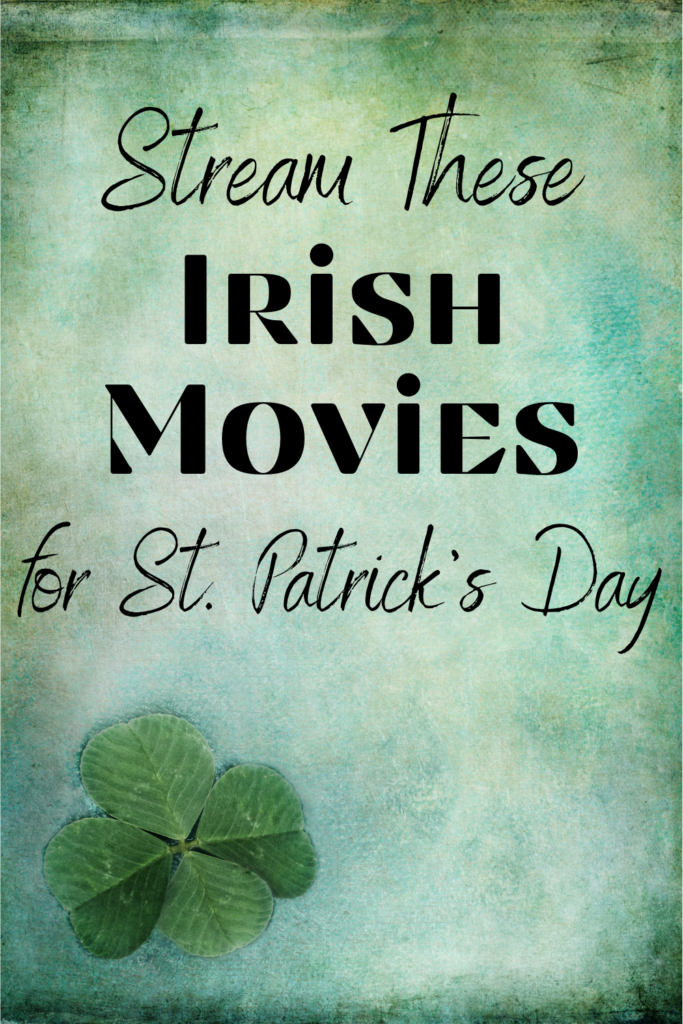 Stream These Irish Movies for St. Patrick's Day
Netflix Irish Movies and Shows
Rebellion Season 1 & 2
Ireland, 1916: Militants rebel against the British. Loyalist or patriot? Three fierce women must choose their cause.
The Siege of Jadotville
Starring Jamie Dornan, this Netflix Original Film is based on a true story.
Besieged by overwhelming enemy forces, Irish soldiers on a U.N peacekeeping mission in Africa valiantly defend their outpost.
Leap Year
A chance encounter with a dashing Irish innkeeper upends an American women's carefully planned trip to Dublin to propose to her boyfriend on February 29th.
The Irishman
Hitman Frank Sheeran looks back at the secrets he kept as a loyal member of the Bufalino crime family.
Hulu Irish Movies and Shows
Leprechaun
An evil Irish fairy escapes from a crate and goes on a gory quest for his 100 stolen gold coins.
Amazon Prime Irish Movies and Shows
P.S. I Love You
A young widow discovers her late husband has left her 10 messages intended to help easer her pain and start a new life.
The Boondock Saints
Two Irish Catholic brothers become vigilantes and wipe out Boston's criminal underworld in the name of God.
The Quiet Man
A tired American ex-boxer returns to his native hamlet in Ireland to win the hand of a spirited young woman.
Sing Street
Aiming to win the heart of the uber-cool and beautiful Raphina, 14-year-old Conor forms a band with a few lads, and the group pours their heart into writing lyrics and shooting videos in 1980s Dublin.
Clifford: The Big Red Dog
Season 4 – Episode 9: Lucky Charm
After losing her lucky stone, Emily Elizabeth loses her confidence. Lucky
The Last Leprechaun
Ethel and Tommy Barrick are sent to Ireland to spend the summer with their new stepmother. Once there, they discover her to be an evil, power-seeking witch, with real magical powers and a hatred for all things green.
Disney+ Irish Movies and Shows
The Luck of the Irish
A teenager must battle for a gold charm to keep his family from being controlled by an evil leprechaun.