This post was sponsored by Weight Watchers International, Inc. as part of an Influencer Activation for Influence Central and all opinions expressed in my post are my own.
Happy Tuesday mamas! After five awesome days in Branson, Missouri I'm finally adjusted back into regular life. My husband and I had a ton of fun and ate SO much food that I'll be telling you about soon.
I haven't eaten that much deliciousness in a long time and it was worth any weight I gained. Returning meant no more daily custard sundaes and endless hot rolls thrown through the air. It meant getting back to the snack hacks that keep me on track.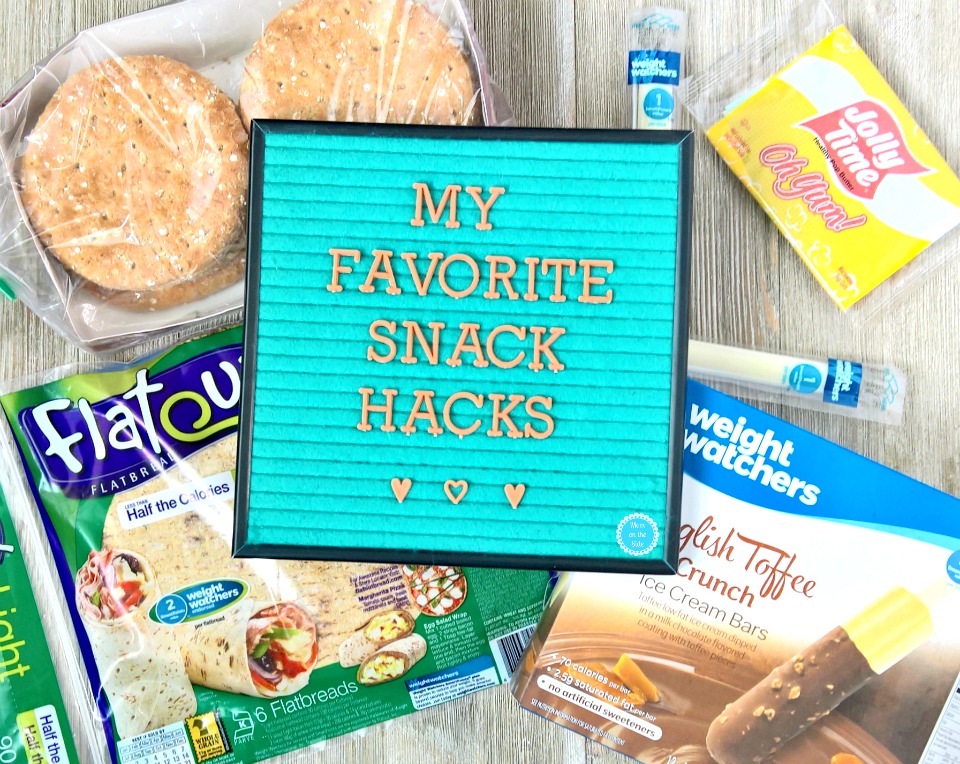 Snack Hacks to Keep Me on Track
After I unloaded the suitcases of presents for the kids and tossed mountains of dirty laundry down the stairs, I ran to Walmart because the cupboards were bare. The kids stayed at home with my mom and went through every ounce of groceries I bought for while we were gone.
I figured they would and it gave me a chance to grab my favorite snacks for the rest of the week. Not that I needed much after five days of traditional Ozarks food.
Snack Hack #1
Put your favorite treats on the shopping list too!
This way you remember to get what you love and avoid impulse grabs.
Not gonna lie, the first snack I had was a Weight Watchers® Ice Cream Novelties. I'm glad the Giant Chocolate Fudge Ice Cream Bars are only 4 points because they are one of my favorites.
Smooth and silky chocolatey goodness that I don't have to feel guilty about. And those English Toffee Crunch Ice Cream Bars? Oh, my yum – that toffee ice cream is AHmazing and all of them are under 100 calories!
Snack Hack #2
Indulge in desserts for snacks!
Fresh fruits and veggies are great but chocolate is too!
Working from home I can be a terrible snacker if I don't pay attention. Keeping quick, easy, and healthy snacks on hand help keep me on track.
When I take a break and stream a show I grab something like JOLLY TIME® Healthy Pop® Popcorn endorsed by Weight Watchers instead of grabbing candy. The 100 calorie packs are great for portion control and they are the only popcorn that is endorsed by Weight Watchers. At 3 SmartPoints® value per serving it's okay if I get lost in the Braverman's and eat the whole bowl!
Snack Hack #3
Keep easy, healthy, portion-controlled snacks handy to keep you on track!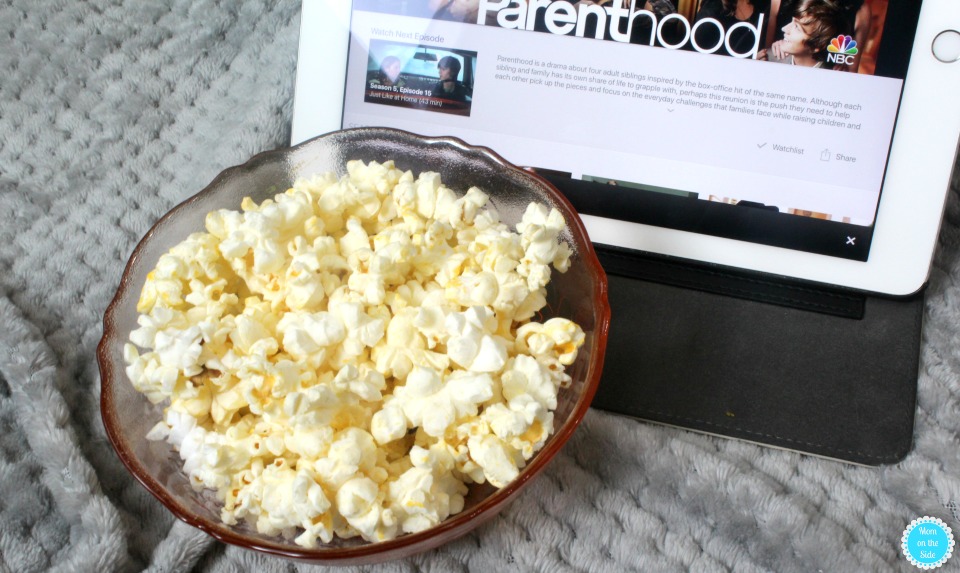 I love bread. Okay, I love carbs in general and I'm not sure I could ever give them up entirely. Something else I love is veggie pizzas but I'm the only one in my family.
Making a cookie sheet sized one would go to waste so when I learned that  Flatout® Flatbread endorsed by Weight Watchers® can ALSO be baked in the oven a light bulb went off! Personal sized spring veggie pizza whenever I want, on thin and crispy delicious flatbread that's BIG on flavor while HIGH in protein and fiber. Mama needs her fiber, just saying.
Snack Hack #3
Versatility is key! Products you can use in a variety of ways so you never get bored!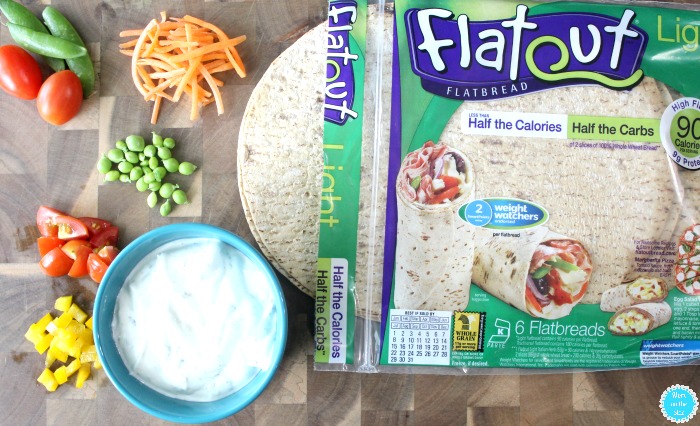 Spring Veggie Pizza on Flatout Flatbread
If you are craving one now too, I'll share how I make my spring veggie pizza. My veggies of choice are cherry tomatoes, sugar snap peas, yellow peppers, and shredded carrots. For the "sauce" I make a dill dip using greek yogurt and fat-free sour cream along with dill weed, parsley, and garlic.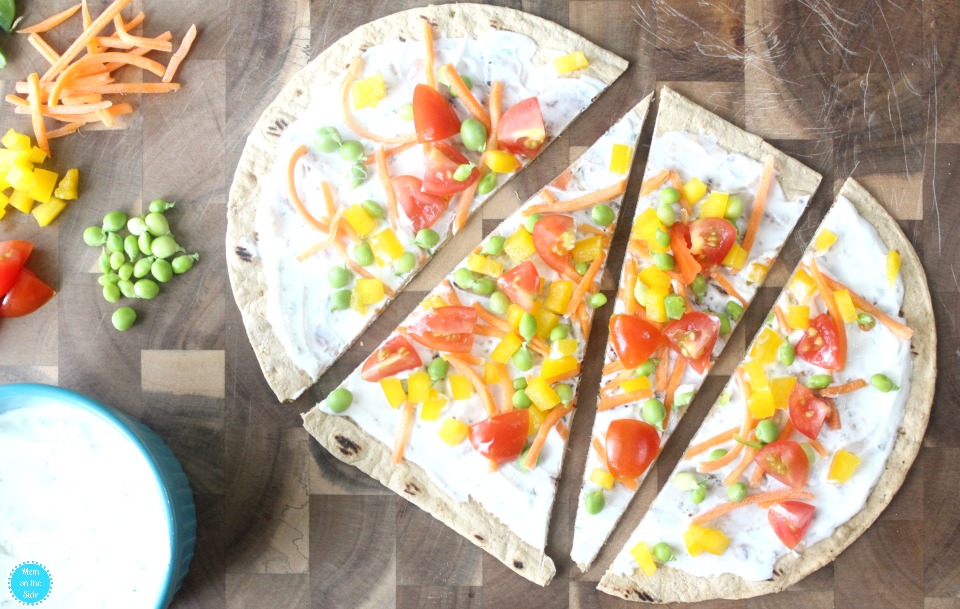 Toast up the Flatout Flatbread (2 – 4 SmartPoints® value per serving!) in the oven for 2 minutes on each side for a perfectly crispy spring pizza crust. Let it cool for a few minutes before spreading on the dip.
Then sprinkle around all the diced veggies and enjoy! There are a few flavors of flatbreads located in the deli/bakery section of most grocery stores and they are a great choice for quick and easy meals and snacks.
PS: Find the full recipe at the end of the post.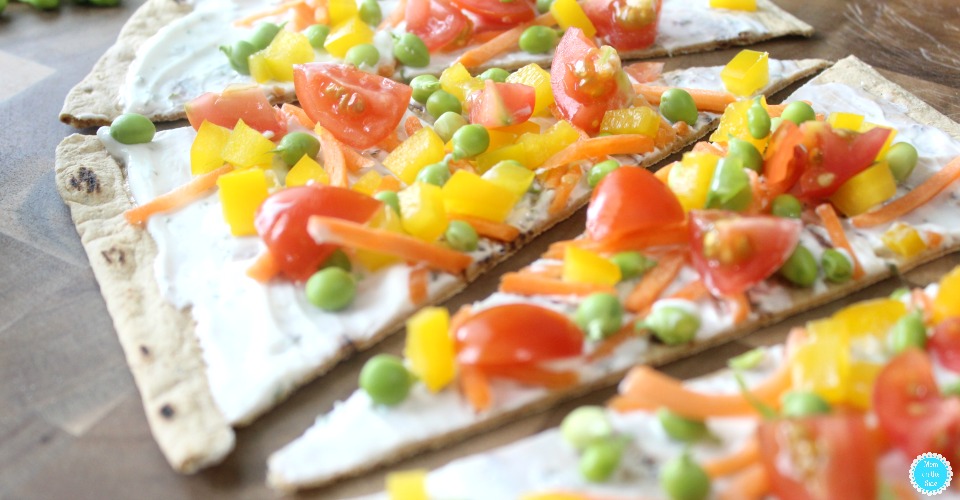 My last snack hack is probably an obvious one. It involves breakfast and lunch, and making sure to take time for them.
There are days where I can get busy and work right up until the time I pick the kids up from school. Adding lunchtime to the schedule, and even setting an alarm if needed, helps me avoid snacking to make up for it.
Snack Hack #4
Eat a great breakfast and lunch to avoid snacking all day!
I mentioned my love for bread and Oroweat® Sandwich Thins rolls endorsed by Weight Watchers® are one of my favorites for sandwiches! I've been eating them for years and love that they are thin and again, an excellent source of fiber that mama needs.
Whole Wheat is my go-to but they also have Honey Wheat and Flax & Fiber that are great for lunch or even breakfast topped with a fried egg! At 3 SmartPoints® value per roll they can be enjoyed for both meals guilt free!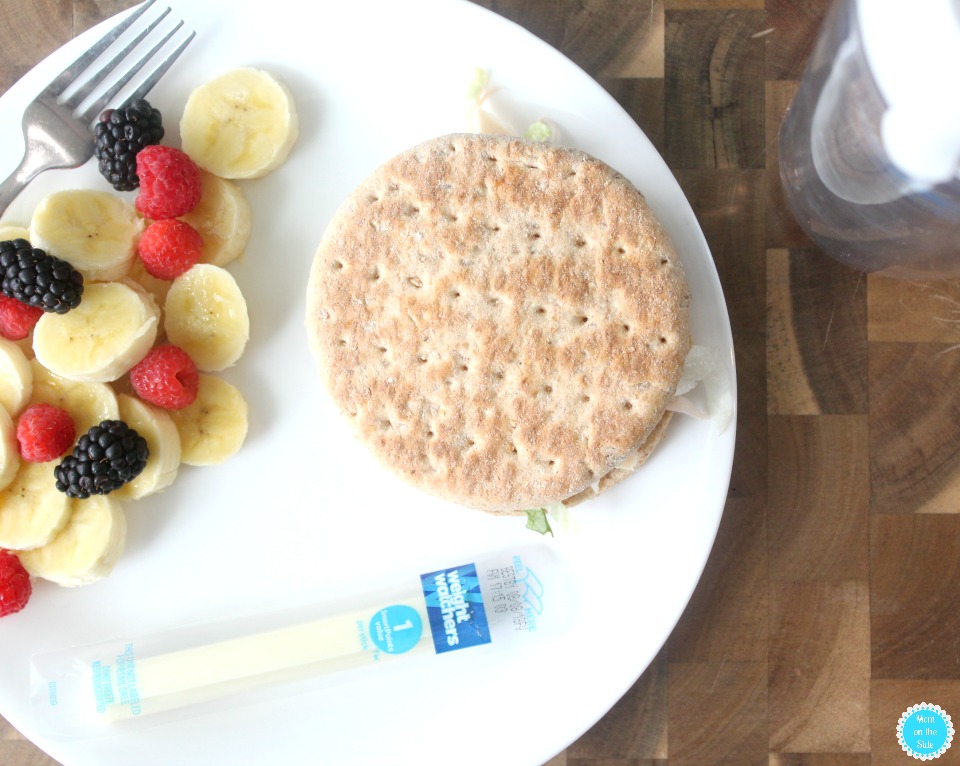 After all that fun and food in Branson, it is good to be back home and back on track with my eating. Utilizing the new Freestyle™ program with zero Points® foods and Weight Watchers® products helps make choosing what I eat easier. With smart options and flexibility to enjoy more delicious recipes and foods to help reach those goals of a healthy mom!
SPRING VEGGIE PIZZA RECIPE
Ingredients
Flatout Flatbread
Cherry Tomatoes
Yellow Pepper
Shredded Carrots
Sugar Snap Peas
Dill Dip (recipe below)
Instructions
Make Dill Dip: Mix together 1/2 Cup Greek Yogurt, 1/2 Cup Fat-Free Sour Cream, 1/2 teaspoon Parsley flakes, 1/2 Tablespoon Dry Dill Weed, 1/4 teaspoon Garlic Powder, and 1/2 teaspoon of salt. Chill for a few hours or overnight if you can.
Dice cherry tomatoes, yellow, pepper, and remove peas the from casing.
Bake Flatout Flatbread in the oven according to the package.
Let it cool for a few minutes then spread Dill Dip all over it, leaving a small edge as the crust. Sprinkle the diced up veggies all over it.