Use these 20 questions to ask your teen if you want to get to know them better!
You may have been forewarned all of your parental life, as to how the teen years will go. Sure they are trying. Your child is no longer a child yet not quite an adult.
The age of adolescence can bring on a wide range of feelings for both teenager and parent. While you may feel you no longer know this person you raised, they are thinking the same about you.
Remember that your teen is struggling during this stage just about as much as you are, and to help you get through it in one piece, here are 20 questions to ask your teen to get to know them.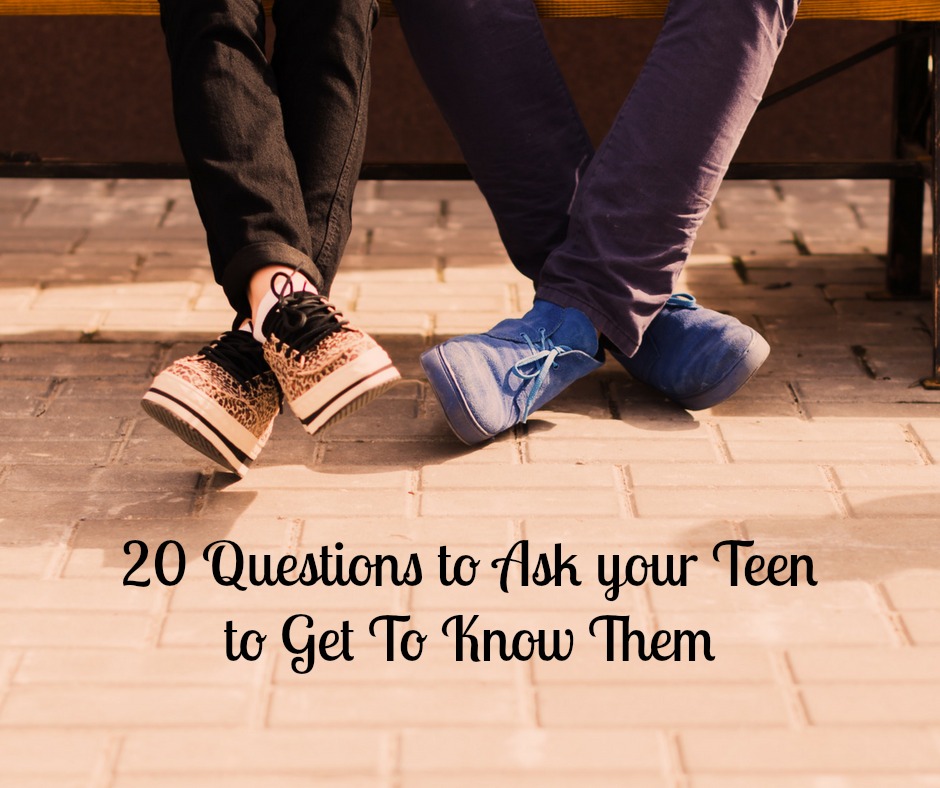 20 Questions to Ask your Teen
to Get To Know Them
1. What type of music do you enjoy these days?
2. What is your easiest class in school?
3. What is your hardest class in school and why?
4. Do you have any new hobbies you want to try?
5. What do you think about high school, is it going well for you?
6. If you could change one thing about yourself what would you change?
7. If we could spend a full day doing something you love, what would we do?
8. What do you enjoy doing when you have free time?
9. Who are your friends now? What are they like?
10. What is the biggest problem in our world today and why do you think that?
11. What is the best quality you seek out in a friend?
12. What is one thing you want to work on for yourself this year?
13. Do you enjoy reading books? What type of books intrigue you?
14. What is your favorite childhood memory and why?
15. Have you thought about college? What do you want to be when you are an adult?
16. If you could spend $100 today, what would you spend it on?
17. What is your favorite YouTube video you watched recently? Will you share it with me?
18. If you could change one rule in our household, what rule would you change?
19. What was the last thing you cried about and why?
20. Do you think your friends are good people to be around and why?
Teenagers are a whole new ball game. Full of emotions, strong opinions and occasional outbursts of feeling as their parents "just don't get it". Keep in mind that the questions need to remain basic, let your teen guide you in the conversation.
Refrain from life lessons or preaching because that will shut a teenager down in 2.2 seconds. These 20 questions to ask a teenager about life should assist in making this stage of parenthood a breeze while still maintaining a strong bond with the child you raised.
For more on raising teenagers:
Save 20 Questions to Ask your Teen to Get To Know Them