Alice. Valerie. ChristopherMichaelBenjaminJones. I am hooked on The Catch! Every Thursday you know where to find me. Curled up in bed with my phone and the TV turned to ABC. First it's Grey's, next it's bedtime for the twins during Scandal (because I've yet to get hooked on Olivia Pope), and finally it's The Catch at 10 PM ET! TGIT is everything I need it to be right now. While in LA for the #CaptainAmericaEvent, I got the chance to go on the set of The Catch and chat with The Catch Costume Designer Peggy Schnitzer!
(Thanks to Disney/ABC/Marvel for this all expenses paid opportunity!)
As soon as we arrived at The Catch Wardrobe Department, we were greeted with photo albums upon photos albums. Each album was filled with pictures of each and every outfit that has been worn by The Catch cast. Imagine if you were to create an #OOTD Selfie Album so you could remember what accessories you paired with your outfit, and how you styled your hair. 😉
They document literally everything that they wear. If we're here doing interiors and then a week later they're doing exteriors, they know exactly, so they match it up by the pictures. It's also a documentation if they ever have to do re shoots, or if it ever goes to archives or they do it for many different things. – Peggy Schnitzer
Each of the main characters on The Catch has a distinct look and style. Many of the outfits of the cast, are focused around what Rose and Alice are wearing, but each character has a look. Costume Designer Peggy Schnitzer talked about a few of those character looks and that made me wonder…..whose "The Catch Style" is yours most like? I'm not very good at dressing feminine but Alice's is style is what I would love to fill my closet! 😀
Alice: Sleek and strong, but feminine.
Margot: Feminine but professional, not too power suit-y. There's still a very feminine edge to it.
Peter: Pretty much wears a uniform. Dark suits, mostly white shirts which were all made for him with little initials, or dark shirts.
Peter is pretty much the consistency in the crazy inconsistency of everything else. – Peggy Schnitzer
Speaking of fashion, The Catch has an older 1950's style vibe to it, the clothe and the cars. They actually shot too pilots for the show, and the first one was more of 1940's feel, the second one is what is one ABC now. I didn't see the other pilot but I really do love what the decided to go with!
If I were to do today modern, it's a lot boxier than what's out now.  My aesthetic by choice is very sixties early seventies, that very sleek look. For their bodies I think it looks really well. The first pilot that we did was even older, it was a more nineteen forties thing, and then they rewrote the pilot. We shot one pilot and then we shot another pilot, and this was a lot poppier, a lot more fun, a lot more sixties with a lot more color, I think, a different color that was very muted color, this is pops of color. It's very much a designer's dream, because it's a great cast, great bodies, great visuals and the story is fantastic and it's really fun to pair up with the story in terms of the design aspect of it. – Peggy Schnitzer
If you've been watching The Catch since the beginning, you undoubtedly remember Alice's Wedding Dress. The dress she was going to marry "Christopher" in before he up and left her. If you don't remember, check it out in the clip below….
The Catch Wedding Dress is a gorgeous gown and I was floored when I found out that Peggy Schinitzer had designed it herself!
I was like I have to just do it once. I got thirties wedding dresses as inspiration that very bias cut. Then Carlos and I bought the fabric, and we stitched it out. – Peggy Schnitzer
While checking out pieces from The Catch Wardrobe, we learned the Peggy Schnitzer creates closets that allow her to pick out the wardrobe before she even has the script for the episodes.
We do what are called closets and we do it a couple of times during the show. I would say in the very beginning when you get the character, and you get the pilot or the script, you start buying a lot of clothes like anyone's closet. You would get a certain amount of dresses, certain amount of skirts, jeans, you know, things that they would wear while you're shooting, so I don't have to fit them every week. You sort of work it out with everyone else. – Peggy Schnitzer
I learned something really interesting from Peggy Schnitzer during our visit on the set of The Catch. The longer a show is on the air, the greater the odds of brands wanting to get their items on your show. I figured that was something that happened out of the gate, but that's not always the case.
Well the other thing is, once your show is up and running…I designed that TV show Californication and when we were into the second season, people start contacting you and go 'we'd love to do this, we'd love to see this' and so, you know, because no one can afford all the stuff that we see in shows, I mean, you need a little help. People become very generous and that's what's amazing about it, but we're just sort of up and running and have to buy most stuff. I have good relationships over the years with people, and they definitely give you discounts. – Peggy Schnitzer
As we were wrapping up our chat with The Catch Costume Designer Peggy Schnitzer, the beautifully talented Rose Rollins popped in! Rollins plays Valerie Anderson on The Catch, who is Alice's friend and partner at Anderson | Vaughan Investigations. She's also going through a divorce and has no clue what Alice has going on with Benjamin. Way to be a friend Alice! 😉 Anyways, Rose sang praises of the team that puts her look together on The Catch and can I just say that I'm pretty sure I saw her on a "regular" day and she looked just as fab as she does on TV!
It's literally like there are two shows being filmed at the same time simultaneously. It gets a little chaotic especially for hair and makeup, and everyone to do it if you're doing double the amount of people, so I feel bad for them. But as far as like the crew, the camera men they split off and hire a split team, but our makeup and hair people and wardrobe, it's a lot. But the time it has gone by so fast, so quickly, like it's over in two and a half weeks. – Rose Rollins
After a quick chat with Rose Rollins, she walked us on to the set of The Catch! I absolutely love visiting the sets of television shows. It always amazes me what they are able to pull off in an indoor building with a small space. It's fun to see what is outdoors that is really indoors and it's super neat to see how everything is decorated. From notable props from memorable scenes, to beautifully styled to decor, here is a photo tour of The Catch Set
Anderson | Vaughan Investigations
Alice's Office
ME at Alice's Desk! 😀
Alice's House
Alice's Kitchen
Alice's Patio
Alice's Bedroom
The Famous Maria Kreyn 'Alone Together' Oil Painting featured on The Catch
Rose Rollins was kind enough to snap a group photo with us, before leaving the set of The Catch!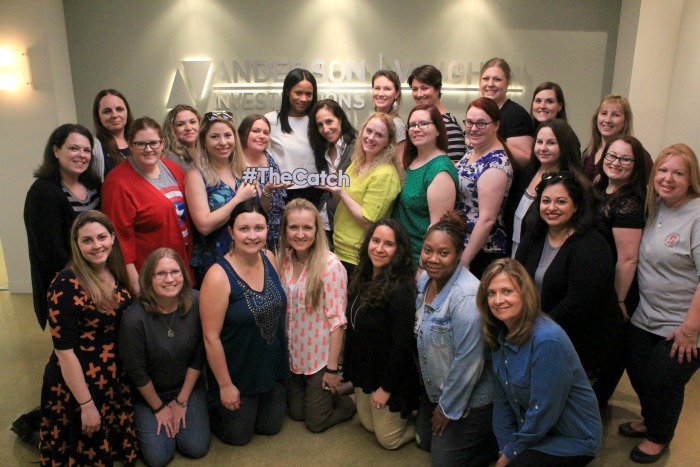 Tune into The Catch on ABC every Thursday at 10 PM ET! 
Tonight's episode, The Benefactor" gives more details on Ben and Margot's relationship. That is something I've been dying to know so I'll be tuning in and live Tweeting again! 😀
The AVI team takes on a new client, a female captain in the army, who is being harassed by her colleagues. Meanwhile, Alice makes a play on Ben that could put her in some very serious danger, and both Ben and Margot are shocked when an old friend comes to town.
The Catch Facebook Page | @ABC_TheCatch on Twitter