Disney's first live-action series with a giant 150-foot robot is premiering on November 11th, and I've got the inside scoop for you and your kids! While in LA for the #DoctorStrangeEvent, we got to screen the premiere of MECH-X4 and sit down with the cast and creators. You can read the directors interview in my MECH-X4 Fun Facts post, but for now, let's meet Disney's MECH-X4 Cast and the characters they play!
(Thanks to Disney for this all-expenses paid opportunity.)
Nathanial Potvin plays Ryan, a high school student, who is a Techonopath, or has the ability to control technology with his mind. He awakens a giant 150-foot robot, MECH-X4, and along with his team of four, they battle monsters to save their town, and the world. Potvin said he is "kinda like my character because Ryan is always rising to the occasion". On the show, Ryan has an older brother. In real life, Potvin has two older brothers, so he knows exactly what Ryan goes through on daily basis. Another similarity between Nathanial and Ryan is that they both love to skateboard.
Pearce Joza plays Spyder, best friend to Ryan, impulsive jokester, and operator of weapons and high-tech gadgetry for MECH-X4. When it comes to similarities between Pearce and Spyder he said, "I like to say I'm like my character and not like my character". Likenesses includes the crazy daredevil side of him because Joza "lived in Colorado for a long time so I like to go out back and play in the pond, and climb trees or whatever". When it comes to differences that would be school, because "I'm taking college level courses and Sypder's not very good at school." said Pearce.
Kamran Lucas plays science genius Harris, also a longtime friend of Ryan and Spyder. Harris has some hilarious one liners among his voice of reason for the MECH-X4 team. When it comes to comparing Kamran and Harris, he said that, "Harris and I are pretty similar in book smart terms, but not so much. More of like, we both dress really nice and we're both ladies men." 😀
Raymond Cham plays Mark, Ryan's older brother, star athlete and master mechanic whose skills help fix MECH-X4.  One way Raymond is like Mark is that "when it comes to family, I'm very protective, and you'll see that later, because right now you've just pretty much seen me crank my brother. But, I care for my family and I'll do anything to protect them and make sure that they're okay." Not only that,  "I've also dabbled in sports a bit. When I was around eight or nine, I used to play basketball" said Cham, but other than that, he's not too similar to Mark.
Now you know a little bit more about the guys running the giant robot from the inside. Aside from a show filled with high school antics, dangerous missions, saving the world, and DISNEY, why did they want to be part of the MECH-X4 cast, and how did they get the roles?
Nathanial Potvin: We were going through this process of audition, after audition, after audition.  Finally, the last audition, which is actually the most memorable for me, was with me and Raymond. We were doing stuff together and at the end of the audition, we had this banter back and forth which we ad-libbed. That's actually really what got us the roles. I was really excited about that. I love my character because I can see a lot of myself in my character. But also, what kid doesn't wanna be a superhero? It's pretty amazing.

Kamran Lucas: When I got the role, actually it was very interesting. I had also had auditioned for this other show, to be a series regular. I remember going in for a screen test, which is the level before getting the job, and I got a call from my manager saying, 'we're really sorry but they don't want you to be the character', and I just, I visually remember me being in my bed and I was so crushed, because this was something I really wanted. But the next day I got a call that I was gonna do a chemistry test for this show, and I guess a little happiness spark kinda came back. I thought. 'you know what…why should I be upset?', and I ended up getting the job and I'm so thankful because now I get to be on a Disney Channel show, which is something I've always wanted, and I guess my dreams have kind of come true.

Raymond Cham: I wanted to do it because, one, it seemed like a really cool show. And then two, experience. I think being on set is a great way to learn, and this show kind of uses everything. It has its very normal moments, and then it has its very crazy moments. I've never worked with a green screen before so I thought that would be a cool thing to learn, because a lot of things are green screen. So that's a really good tool to have in your back pocket. And the brotherly moments, I think are really awesome. It just seemed great. I auditioned with these guys and it was really fun. I've auditioned for Disney a bit, but it's still always a weird moment in my life when I'm auditioning in front of people. Especially when you get to the network level, like a screen test. Normally when you're auditioning it's probably two people. One person is operating the camera and the other person you're reading with. If you're lucky, because sometimes you get the camera person reading with you and they're just not caring about the lines. So that's the way it normally is. Then, when you get to the next level, or a network or whatever, there's maybe ten people in the room, or more. It kind of feels like when you're in school and you have to do those oral presentations. No one really wants to do that because it's kinda scary. I wish I took that more seriously in school because it's a really good skill to have – to be able to talk in front of people. I didn't realize that in a couple months, I'd be talking in front of a hundred, maybe two hundred background actors. So that was my experience and I was very, very nervous even though I worked with these people. It still never fails to get me.

Pearce Joza: I had been auditioning for two years for the role. Originally I was too short for the part. So these guys went and shot the pilot. They came back down and they wanted to cast my character again, so I went in. I just went in for a screen test and that's when I met these two right here. And it just happened very fast, is what I remember. Then I got a call from my manager one day. And he said, is this Spyder? And I was like, 'apparently it is now!'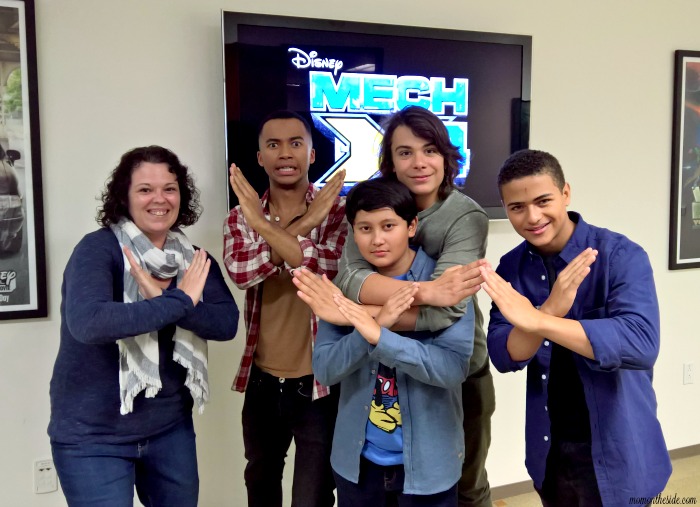 Before they were stars on Disney Channel's MECH-X4, they were traveling down a path towards their dreams. Dreams that started as young as four, for one of them. What is it that got these well-spoken, intelligent, handsome young gentleman interested in acting?
Nathanial Potvin: Personally for me, I got into acting because my dad and my mom were kind of in the industry, and I loved watching movies. I think there's a lot of stuff I can learn from movies. Initially when I started watching movies I thought 'wow, I wanna be like them.' I wanna, change people's emotions just by pretending to be someone else, or becoming someone else. So I thought, just the art of becoming an actor is really interesting to me, so that's what motivated me to become an actor.

Pearce Joza: When I was four, my mom took me to see this stage play, Frog and Toad. I was sitting out in the audience going 'why am I out here and not up there?' So, for a very long I was on stage, and then I started watching Jim Carrey. He's my comedic mentor, he's great. I've done a bunch of his stand up. I thought he was hilarious. And it was like 'hey, I should do that.' That would be awesome. So yeah, that's how I got started.

Raymond Cham: I started when I was eight. I loved performing. That was my thing I loved, because I'm also a dancer, and just being on stage and performing for other people is really fun for me. But, when I first started, it wasn't really because I really wanted to become an actor. It was really just like filling a void of performing, you know. Then eventually I started watching more and more movies, and every time I would watch a movie, especially with teens, I remember when I would see Harry Potter with my mom, we'd go to midnight showings. I would always have this feeling, I still don't even know how to explain it really. It was a mixture of jealousy and want. Like I was hungry for it. For some reason, I would leave the theater like, that was amazing and I wanna do that. And I would be, not upset, but I would just think, 'why am I not doing that?' It's kinda weird because all those people worked their butts off to get there. But I was just really intrigued and really wanted to do it. So around ten or eleven, I thought…this is what I wanna do. I started taking acting classes and then just watching movies because, I think, that's the best thing you can do as well. Just because there are so many great movies and great stories being told. Just seeing how people play certain things. It's like how would I do something different? Or just like wow, everything he did was just flawless. I think it's great. And then working on set is the greatest school. That's what got me into it.

Kamran Lucas: So, I was always a great liar. [LAUGHTER] I would break a plate and I'd be like, 'ah man, the maid did it, I guess.' We didn't have a maid. I look back and I think, wow, that was really mean. But, no. I could probably incorporate this into something I could do and, you know, we all have our heroes. Mine being Selena Gomez on "Wizards of Waverly Place" on Disney Channel. And I thought, I kinda wanna do that, and a friend of mine had taken me to an acting class. I went and it was just really interesting. It was kinda like, forgetting everything that you're doing at the moment, not being you. Blank slate. You're being totally someone else and you're pretending and acting like anything else. It was just really interesting to see that, and I thought, I wanna do this. So, it eventually became a profession and now I'm here, and I'm really grateful that I get to do that.
Before our interviews with the MECH-X4 cast and creators, we screened the one-hour premiere. My favorite scene was the first monster battle. There are some pretty awesome and funny scenes so it was hard to choose. Knowing how hard it was for me, I wanted to find out what the casts favorite scenes were, from those first two episodes.
Raymond Cham: I would say my favorite was watching the peanut butter get flown on Nate. That was great. As a friend to watch, it was great.

Nathanial Potvin: I think my favorite scene from the first episode was actually first getting in the harness, and jumping up in the air and just stepping as the robot.

Pearce Joza: Definitely my favorite would be the first scene I ever filmed. Just to work with these guys for the first time, it was really a memorable moment.

Kamran Lucas: My favorite was in the second episode, where a giant shack fell on me and I had ooze poured all over me. It was an interesting experience. All the takes that we did were fun. It was really cold and they had to pull me out. Yeah, it was really cold.
It was quite funny when we asked Kamran Lucas about  the ooze poured on him and he said "Oh, it's like the stuff that they put in MacDonald's milkshakes so…" 😀 Kamran was full of humor throughout the entire interview, especially when we asked the cast of MECH-X4 if they could have any super power in real life, what it would it be. Funny aside, I'd have to go with Raymond Cham on this one. 😉
Kamran Lucas: I kinda wanna have the ability to stop and turn back time. In case I wanna change something, like when I was younger, I was at Legoland and this girl pushed me. I was really mad because she did it for no reason and I just want to go back and say, 'hey, I'm on Disney Channel now.' [LAUGHTER] I'm not like that in real life. Just to that one person.

Raymond Cham: Shape shifting! Right? It's the craziest. Boom, I wanna fly, I'm a bird. I end up in the water I'm a whale. I could be anything. I think about it all the time. Maybe too much, but…everyone's like, I wanna fly. What? That's it? That's all you wanna do? I could do that. I could do anything.

Nathanial Potvin: If I had a super power it would probably be teleportation because who wants to pay for airline tickets? No one. No one does. Also, it would just be really convenient. If I got locked out of my house I could just teleport inside my house.

Pearce Joza: Telekinetic powers. It's pretty much controlling anything you think with your mind. See that water bottle? It's over here now.
The comedy isn't something that was only present in that interview room. The guys themselves seemed to click so well, and their fun happens on set as well. They get the job done because the show was highly entertaining. I hope they continue whatever they are doing while shooting, that makes it all come together so well.
Raymond Cham: I'd love to say that I'm the most professional person in the world, but I'm doing takes with laughs all the time. I mean these guys are hilarious and in between takes or, whatever, we talk to each other. Sometimes we'll just carry on into the scene and then I'll just laugh and then as soon as one of us laughs, it's a wrap Sometimes you just see the director like, 'ahhhh. Cut. Cut. Guys, you're laughing'. I just recently did a scene, and it was my coverage, so both cameras are on me. I was supposed to be pretty serious, like something just happened and I'm supposed to be paying attention, and the kid that I was talking to, or that was about to interrupt us, was so funny that I couldn't stop laughing. I turned away so you couldn't see my face laughing. I talked to the director afterwards and asked if any of that was useable? He said, 'No. The whole time I see the back of your head.' And I was like, 'oh, I'm sorry'. And then he said I was shaking because I was laughing so much. So there's tons of that going on. But I mean we do get the job done.
What do four guys do when they have time away from the busy set of MECH-X4? Pearce Joza, who was on the Junior Olympic team in Colorado, loves to snowboard. Nathanial Potvin enjoys rock climbing. Kamran Lucas said something my husband would say and that is, "I like to sleep. So late. I like to be in my bed and just not do anything. Yeah, sleep is great. Everyone should have a lot of sleep. I got a solid twelve hours one day. Sleep is awesome." 😀 Finally, Raymond Cham wanted to say something crazy like skydiving, but really he loves go-carting and sitting at home watching movies. Which led us to our next question…what their favorite movies are.
Raymond Cham: Interstellar is one of my very favorite movies. I love sci-fi. I love dramas. I love all genres. Sci-fi is really awesome. Christopher Nolan, I think, is a genius, and Nicolas Winding Refn is a great director.

Kamran Lucas: One of my favorite movies was Big Fat Liar, with Frankie Muniz and Amanda Bynes. I just thought it was a really good movie, because it was about a kid who left everything to prove something to his parents, and go on this whole journey of self-discovery and figuring out his place in the world really. It was just a cool adventure. Watching it all I guess kind of inspired me, too, to be an actor.

Pearce Joza: Eternal Sunshine of the Spotless Mind. It's, of course, with Jim Carrey, but it's just amazing how it is comedy and drama at the same time, which is what I'm really into. I love comedy, of course, but I also wanna do drama some day. It would be awesome.

Nathanial Potvin: My favorite movie is, Good Will Hunting. I just think it's inspirational that these two guys got together and they wrote a movie together, and then they created something. And how they got this story, and they went through a person's trouble of being really smart, and how he has to struggle with that. My favorite line is 'I gotta go see about a girl.'
Wrapping up the interviews with the MECH-X4 cast, we asked each them how joining the Disney family has changed their lives.
Nathanial Potvin: I would say that it's actually, pretty much the same, because I have great friends, and I have a great family, and I love them so much. When I told them that I was gonna be on Disney, with Steve, they were like, 'oh, that's cool. But, I asked you what the homework was,' or something like that. So I'm really blessed to have friends who don't really care about what I'm doing, but they would love to support me and they're just great.

Raymond Cham: I would say it didn't change too much just because the show is not out yet. But, I would say every once in a while I'll get an Instagram notification from a kid and they'll say, 'I can't wait for your show' or something like that. And it's really, really exciting. It makes you really happy, you know. It's inspiring, just seeing kids excited for something that I've worked really hard on, you know what I mean? That's really cool. I didn't really experience that before.

Kamran Lucas: For me, I'd say I'm still the same person, but the feelings are a lot different because ever since I was five years old I've always wanted to be on Disney Channel and do the wand thing that I've seen all my heroes do, especially Selena Gomez, God bless her soul.  First of all, I just I love her… [LAUGHTER]. We have connection. Yeah. But no, it' just all surreal. I never thought I'd be in the position that I am. Honestly, I'm just so thankful because I have great friends who are there to support me. Being in Canada – I love being with these guys, but sometimes I'm away from the friends that I've grown up with my whole life. It's great to know that even when I can't see them, they're still there.

Pearce Joza: As I said before, I'm from Colorado. You know, of course this has changed my life with all the things that are happening, and this is crazy, right? But, I think what really, really changed my life in the whole broad spectrum, is just moving out to LA when I was eleven. Since I was nine I was trying to convince my parents to let me go out and act in movies and TV and whatever. For two years I worked at it and then finally I got out there, and I don't get to see my friends from Colorado that often, but everybody from there is still really cool with me. It's nice.
Catch the one-hour premiere of MECH-X4 on the Disney Channel this Friday, November 11th at 8:30 PM ET. MECH-X4 will also play on Disney XD on Saturday, December 5th. Here is the current episode line-up, and good news is that a second season has already been given the green light!
November 11th: "Let's Call It MEH-X4" Part 1 and 2 starting at 8:30 PM ET on Disney Channel
November 12th: "Let's Get Some Air!" at 8:30 PM ET on Disney Channel, Disney Channel VOD and the Disney Channel App
November 13th: "Let's Open the Monster Heart!" at 8:330 PM ET on Disney Channel, Disney Channel VOD and on the Disney Channel App.
December 5th: MECH-X4 airs on Disney XD and the Disney XD App
Ryan Walker is a typical freshman at Bay City High, until he discovers he is a "technopath" with the extraordinary ability to control technology with his mind. His superpower mysteriously awakens a 150-foot robot known as MECH-X4 and Ryan can command its every move. When monsters suddenly begin to descend upon the city, Ryan recruits his two best friends, Harris and Spyder, and his older brother Mark to help him operate the robot's high-tech defense system while he pilots MECH-X4. The four unlikely teenage heroes must quickly learn how to work together as a team to maneuver MECH-X4, their only hope of saving their town and ultimately the world.