*I attended this event as a guest of Disney/ABC/DisneyXD and any opinions are 100% my own.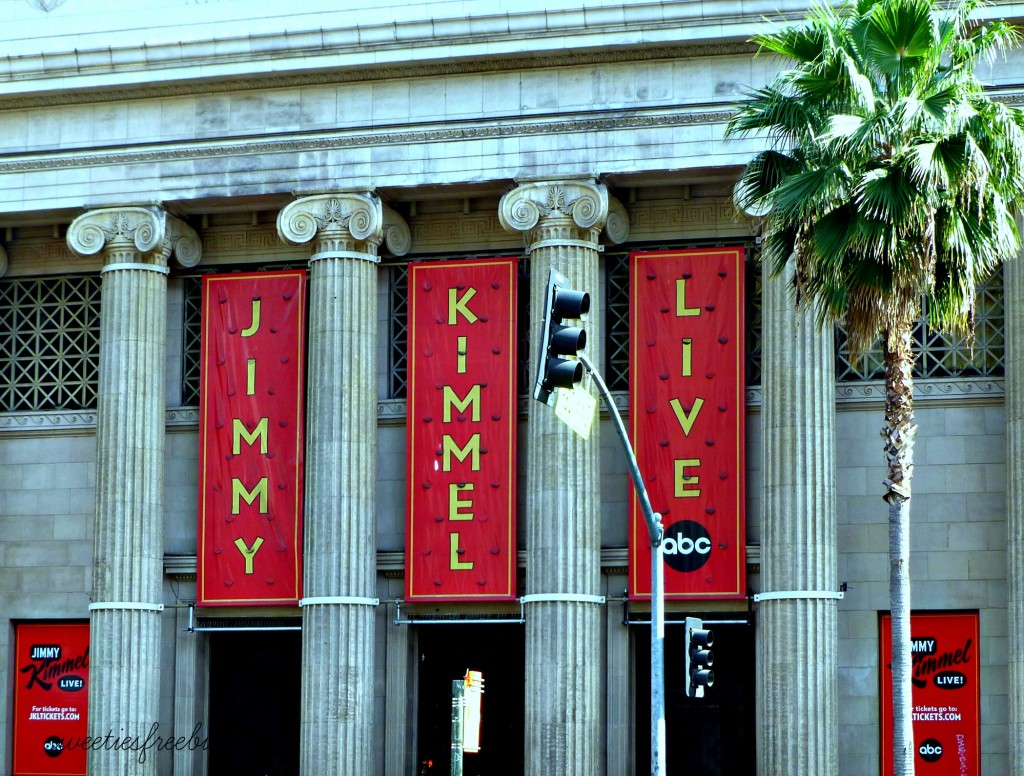 Security guards the doors at the Jimmy Kimmel Live! building. The live tapings each day are hot events and people line up early to get their seats.
When we got to the entrance, security placed fancy smancy bracelets on our wrists. We were escorted through the doors of the Jimmy Kimmel Live! building and  taken to the VIP Room  just to the left of the entrance.
The TV was tuned to the Kimmel set, the bar was covered with Cinco de Mayo eats, and we were almost ready for the live taping of Jimmy Kimmel Live! in style!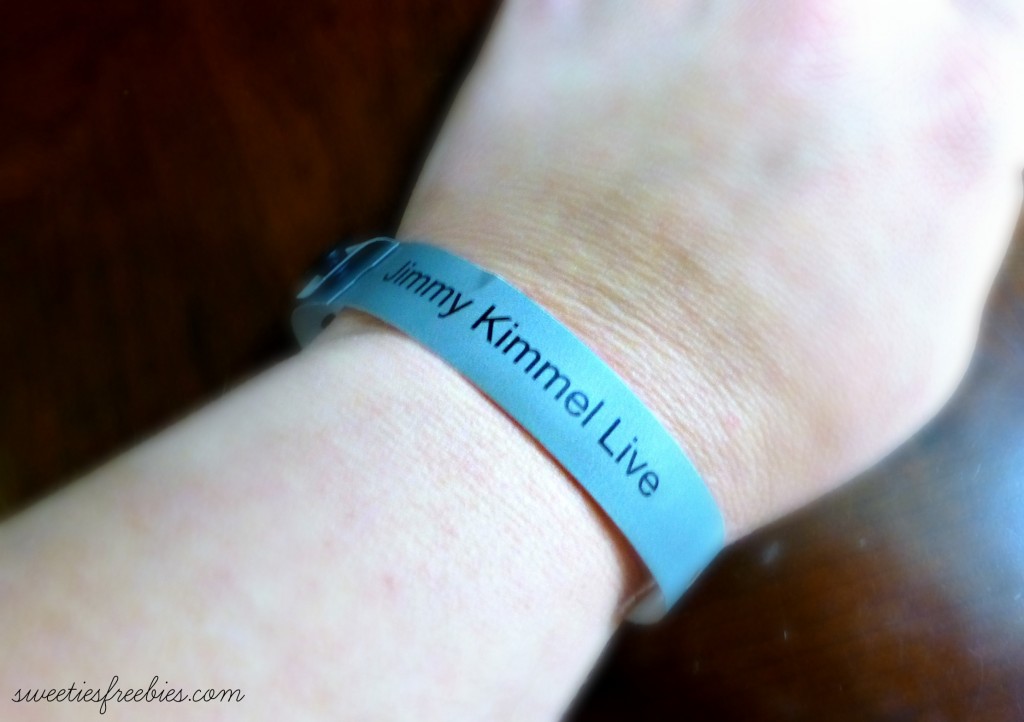 Behind the Scenes at
Jimmy Kimmel Live!
Before the taping of the Jimmy Kimmel Live! got underway, we got the opportunity to chat with two fantastic women that help make the show happen everyday. First was Executive Producer  Jill Leiderman. I love that Jill mentioned how much  of the "team at Kimmel is like family" and I really get that feeling through my TV.
Even the guests really seem like they are excited to be there and sometimes even playing along with the jokes and antics going on during the show. Wondering which guest is a favorite at Jimmy Kimmel Live!? That would be Martin Short!
Photo Credit: ABC/Randy Holmes
Then we got to chat with Co-Head Writer and Kimmel's wife, Molly McNearney, who is adorably pregnant with a little Kimmel! That has to be one fun household to live in. Not only do you have Kimmel, how is full of comedy and often times raunchy which I enjoy, but then you have Molly who is the co-head writer and obviously funny if the show makes you laugh.
Oh, and Mean Tweets was her creation……that takes a special kind of comedy! There is a team of 13 writers on the Kimmel Staff and each day they put together pages and pages of skits, jokes, and antics for Jimmy to use that night.
He widdles it down to what you see on the show and they do this each and every day that they tape. My need for humor in my life thanks them for their hard work!
Photo Credit: @MollyMcNearney
After chatting with Jill Leiderman and Molly McNearney, the "On Air" light went on the live taping of Jimmy Kimmel Live! began. The guests on the show that night were Sally Field and Julia Roberts and they rocked it!
Sally took some shots of Tequila with Guillermo, Julia was there for the first time and looked fantastic!, and Kimmel made them both feel right at home like he does with all his guests.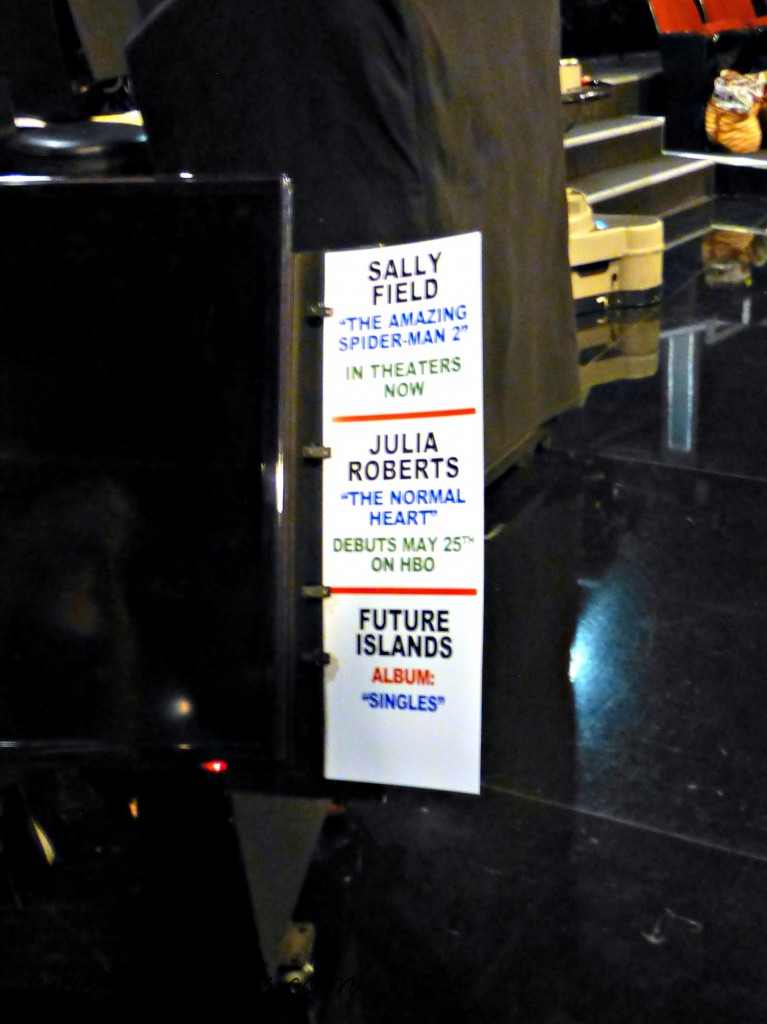 The best part….watching Sally Field and Julia Roberts do the first ever Celebrity Curse Off…..before the FCC got a hold of it. Don't get me wrong, it was still funny watching it again later that night with the bleeps.
But watching live earlier that day, and hearing those things come out of such gorgeous faces….it was make your "belly hurt from laughter" funny. Then again, it is Jimmy Kimmel and that kind of funny happens on a nightly basis.
After the show wrapped, Future Islands took to the stage and gave an energetic and interesting performance. It's not my typical music, but hey sure had the crowd moving!
When the band was done and the guests started to leave, we headed back to the Jimmy Kimmel Live! set. We were excited for Guillermo to give us a tour and see where all the late night action happens.
It looked just like it does on TV, but there was something really special about being there. In person.
Then something REALLY special happened! Jimmy Kimmel himself walked out onto the set to meet all of us!
We weren't expecting that and the smiles filled out faces. Funny man Jimmy Kimmel taking time out of what I can imagine is a really busy day…to come say hi…and take pictures with each one of…not only is he funny, but he has a genuinely good heart.
It was until later that night that it all hit me. And that fact the I sat where Julia Roberts and Sally Field sat right before!
Photo Credit: OC Mom Blog
Kimmel is my late night weakness. I love "Mean Tweets", "Unnecessary Censorship", and all the hilarious antics that go on. Being able to watch a live taping was pretty flippin' awesome and something I had been looking forward to.
Watching something on television, you often wonder what it is really like in person. I can tell you that Jimmy Kimmel Live! is an awesome experience in person and something you should do if you are ever in LA!  
If you are planning a trip to the LA area, I high recommend getting tickets to a taping of Jimmy Kimmel Live!, but they do sell out so book them in advance!