Who knew there were so many different ways to dye and decorate eggs! Way more than that 15 Different Ways to Decorate Easter Eggs that I have for you below, but I had to narrow it down to my favorites.
Pretty soon we'll be boiling up pots of water and filling them with eggs. I'll be calling my mom to ask her my annual question of "do you boil the water and then put the eggs in, or bring it boil with the eggs it?"  because it's the only time of year I boil eggs and I NEVER remember.
Growing up, we always decorated Easter eggs with kits from the drugstore, or just used the little shrinky sleeves that come in the kits. I'm seriously amazed at how many ways to decorate Easter eggs people have come up with!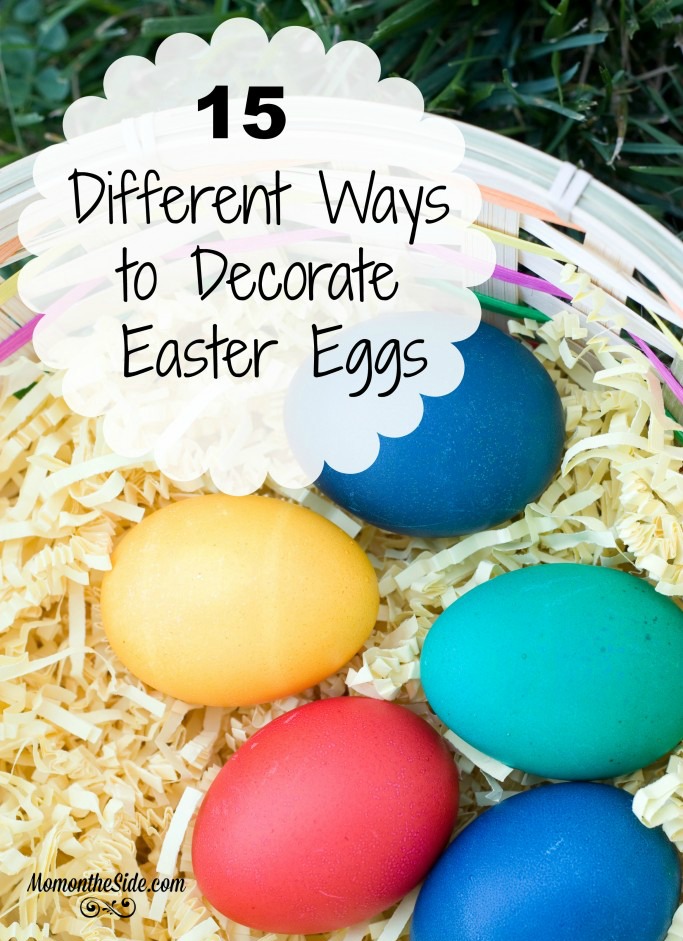 15 Different Ways to Decorate Easter Eggs
#1 Natural Dyed Eggs from Upstate Ramblings is a great place to start if you are going natural this year!
#2 Natural Dyed Eggs from Mindfully Frugal Mom in different shades!
#3 Natural Dyed Eggs from Just Short of Crazy with even more different ingredients for more colors!
#4 Glitter Decorated Eggs from Texas Type A Mom are full of sparkle and way easier than I thought they were going to be!
#5 Silk Dyed Eggs from Cute As A Fox is a "sophisticated alternative" as she calls it and pretty fantastic!
#6 PAAS Egg Decorating Kits as demonstrated by Domestic Executive Online come in a lot of different options now if you haven't checked them out recently!
#7 Chalkboard Paint Eggs from ljcfyi are genius and would be fun if you set eggs out for decoration or hide them!
#8 Painted Eggs from Project Paint are a fun way to let your little Van Gogh's go to work!
#9 Tissue Paper Eggs from Wee Folk Art is a great way to use up some of that stash that hasn't gone in any gift bags yet.
#10 Swirly Eggs from Parents Magazine use Crayola Paint if you have that lying around.
#11 Twine Wrapped Eggs from Saving Cent with Sense are a great way to spruce up plastic eggs!
#12 Chalkboard Easter Eggs from Craft Dictator is perfect for kids that like to change up their designs frequently.
#13 Confetti Eggs from Cocktails with Mom are a fun twist on Easter Eggs that I haven't seen before!
#14 Hot Crayon Easter Eggs from Parenting Chaos is pretty sweet and a great way to get rid of all those broken crayons laying around!
#15 Kool-Aid Easter Eggs from Passion for Savings is cheap and available in a variety of colors!
What ways to Decorate Easter Eggs will you be experimenting with this year?