Mother's Day. The day of the year were us moms are celebrated for being a mom 365 days a year. The day where we tell our families that we don't need anything but to be with them, snap social media perfect family photos, and laugh at our spouses when they tell us to relax and take the day off, because….yeah right. I say I want to spend the whole day with my wonderfully amazing children on Mother's Day, but I don't mean it.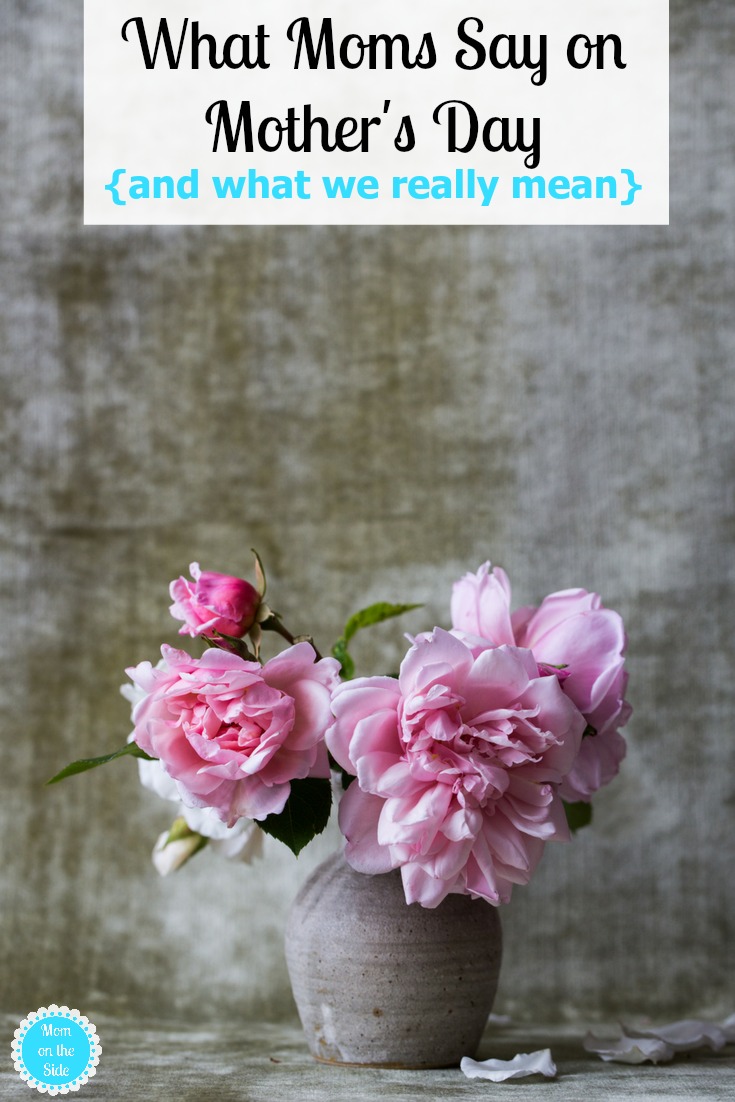 They are wonderfully amazing, don't get me wrong, but if I'm being honest, I don't want time with my kids on Mother's Day. On the day I'm being celebrated for being a mom every other day of the year, I want this one day to be MINE. ALL ME. Okay, I will let a glass of JaM Cellars Butter Chardonnay join me, and some slipper socks, LulaRoe leggings, and old school 90's music on the radio. I don't want to worry about styling my hair, putting on makeup, or taking forced family pictures that require fighting and bribery to get smiles. What about you?
What Moms Say on Mother's Day
(and what we really mean)
Mom Says This: "I don't need anything for Mother's Day, just my lovely kids!"
Butter Really Means This: "I just need you all to GO AWAY for one day so I can have peace and quiet."
Mom Says This: "Thank you for the cheeto-banana-runny-egg-burnt-jelly-toast-breakfast. It's so good!"
Butter Really Means This: "Okay, it was cute when you were four, but can't your dad help you make Belgian waffles and bananas foster cheesecake at this point?"
Mom Says This: "Lets take a family photo to celebrate Mother's Day, it's long over due."
Butter Really Means This: "Family photos are long over due because they stress me out more than rush hour traffic in LA. Can I just make a collage with individual photos?"
Mom Says This: "Your dad is so sweet! He reserved Mother's Day Brunch at a fancy restaurant for us."
Butter Really Means This: "What were you thinking? Fancy restaurant with four kids on a day that I don't want to get dressed, or dress four kids for a fancy restaurant."
Mom Says This: "I love the beautiful roses you bought me!"
Butter Really Means This: "Please for the love of Mother's Day buy me wine. Then go away so I can have peace and quiet."
That wine better be JaM Cellars too, because oh my goodness does JaM Cellars Butter Chardonnay melt in your mouth! Are you familiar with JaM Cellars? "JaM" is actually short for John and Michele, second-generation vintners who own and run JaM Cellars. They have a passion and gift for making exceptional quality wines that everyone can enjoy. Especially when you just want to relax on Mother's Day!
When it comes to wine, I love smooth, flavorful. JaM Cellars cold ferments the grapes to create a rich, creamy texture that complements the juicy, ripe notes of stone fruits and baked lemons. Aging in a proprietary blend of oak adds a long, lovely vanilla finish that leaves you wanting more. As we all know, everything's better with Butter, and Mother's Day is no different.
Give yourself the okay to really relax and enjoy Mother's Day. You give 100% of yourself to your family, every other day of the year, so let one day truly be about you. Much like JaM Cellars uses great winemaking traditions to make easy-to-love, everyday California and Napa Valley wines, us moms use traditions to make easy-to-love children everyday. You see, making Mother's Day about us doesn't mean we don't love our family, it means we give so much love to them every day that Mother's Day should be a recharge day to relax, reflect, and drink Butter Chardonnay!
"We take our wines seriously, we just don't take ourselves seriously!"
Sign up for JaM Cellar's The Scoop! monthly newsletter to get news on Butter, JaM and Toast; ways to come drink wine with them; plus chances to win BottleRock tickets, schwag and more!
I was selected for this opportunity as a member of Clever Girls and the content and opinions expressed here are all my own.