This summer, Mott's® introduced NEW clear applesauce pouches and I've partnered with them to tell you all about them, along with a sweepstakes and ways to encourage your child's passion!
When I was little I wanted to be a teacher. Dad brought home an old school desk he found and for the next few years, my classroom full of baby dolls took my handmade tests and listened quietly during storytime.
The year I turned 11 I decided I wanted to be a babysitter. Mom enrolled me in babysitting classes at the local hospital. After graduating she helped me make index card "business cards" to deliver to the neighbors. I picked up my first weekly babysitting job that week and many more over the next few years.
No matter where my passions took me my parents were right there cheering me on. Doing what they could to encourage the passion I currently had. It didn't cost them a lot of money, well maybe all those trumpet and french horn payments that didn't result in a Grammy Winning artist, and it didn't require a lot of their time.
Encouraging your child's passion can be as easy as finding something at a garage sale or enrolling them in a class. Here are some simples ways to encourage your child's passion that will work for pretty much all the things children are passionate about.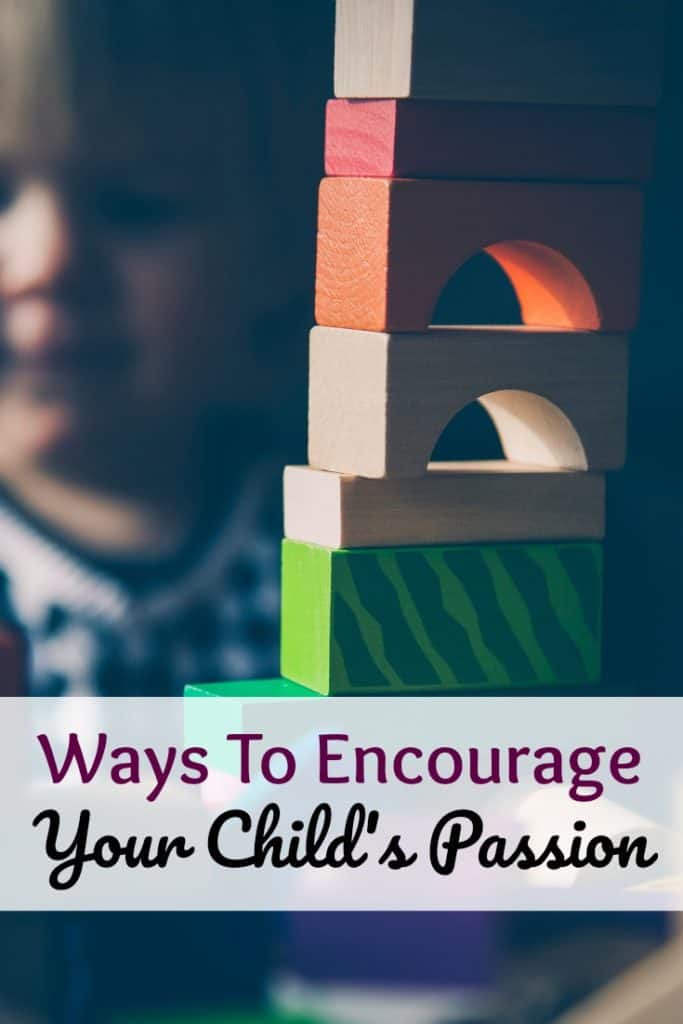 Ways to Encourage
Your Child's Passion
Talk to your child about what excites them.
Read books about your child's interests.
Watch shows and movies about your child's passion.
Enroll in classes pertaining to your child's passion.
Visit places relating to your child's passion to expose them to it in real life.
Plan a vacation around your child's passion.
Teach your child to work through setbacks and challenges to avoid getting discouraged with their passion.
Avoid judging your child about the passion(s) they choose.
Provide toys and entertainment about topics your child enjoys.
Encourage your child's passions but don't push your child too hard.
Help your child set realistic expectations.
Allow your child to see you doing things you are passionate about.
Make a special folder or bookmark for online resources your child can access about topics they enjoy.
Offer a space and environment where your child feels safe to explore their passions.
It's clear my parents would have done and would still do anything to encourage my passions, just as I do with my own kids. Being passionate about something makes a difference both with people and with food and the passion is CLEAR with Mott's!
Just in time for back to school, Mott's is making its beloved applesauce available in convenient clear pouches so you can SEE the quality you are giving your child!
New Mott's clear pouches featuring adorable Pouch Pals like Cripsin who is passionate about music and Seedney who loves to skateboard, are available in the following flavors:
Mott's® No Sugar Added Applesauce
Mott's® No Sugar Added Mixed Berry Applesauce
Mott's® No Sugar Added Strawberry Applesauce
Mott's® No Sugar Added Blueberry Applesauce
Mott's® No Sugar Added Cherry Applesauce
To celebrate the new clear applesauce pouches, Mott's is giving parents a new reason to share their kids' #ClearPassion! Through August 18th parents can share a photo of their kid(s) pursuing their passions on social media for a chance to WIN free product.
Five (5) lucky winners will be chosen to have their child's passions amplified and one (1) grand prize winner will also receive a year's supply of Mott's for the family. That would really help with all those back to school lunches and after school snacks! ·
For more information about Mott's #ClearPassion sweepstakes and new clear applesauce pouches, visit www.Motts.com.