I have received information and materials from JOHNSON & JOHNSON CONSUMER, Inc., McNeil Consumer Healthcare Division, LLC. The opinions stated are my own. This Ultimate Back to School Countdown is part of a sponsored post. #PositivelyPrepared #BacktoSchool #CollectiveBias
Tomorrow is the big day for us. First Day of School big! Are your kids back in school or are you at the end of summer rope and ready for the bell to ring? It honestly hasn't been bad for me, until this past month.
My twins have gone bonkers with tantrums and picking on my 10 year old, which makes for loud and long days. Maybe they sensed change was coming, and mom's Ultimate Back to School Countdown was kicking off!
With a freshman in high school, a 6th grader and twins (hopefully) starting pre-school mid-fall, routines had to be adjusted and preparation for back to school began two weeks before the first day. Technically, I'm always preparing with constant clothes shopping for a teenager and shopping sales and deals for supplies.
But, the Ultimate Back to School Countdown breaks down what needs done two weeks before school, one week before school, the night before school, and the morning of the first day of school, and I made it into a printable just for you!
Ultimate Back to School Countdown
Two Weeks Before School Starts
Start back to school routines for waking up and bedtime, as well as anything that needs done in the morning so you can get out the door on time.
Start gathering breakfast, after school snack, and school lunch ideas.
Make sure you have all back to school paperwork filled out.
Get your back to school calendar ready.
One Week Before School Starts
Finish shopping for school supplies.
Make sure any new back to school clothes are washed and organized.
Clean and organize study spaces.
Stock up on Medicines like J&J at Target.
I have to call out stocking up on medicines really quickly. Are you like me and find yourself opening up an empty medicine cabinet halfway through September?
I don't want to be that parent this year. The parent running to Target at 10 minutes before close with my "hot mess" mom hair and mismatched, inside out pajamas.
Back to school is already a frenzied time, and we don't need the introduction of a few more headaches and germs added on. When your kid comes home with the first fever of the year, be prepared with Children's MOTRIN®.
As much as it breaks my mom heart when my kids are sick, life doesn't come with built in sick time. Things get behind, schedules get out of wack, and that's exactly what we don't need when school is just getting underway.
Having Children's Tylenol® on hand in yummy flavors like, grapes means less of a struggle for me when the kids need medicine. I like to stock up on the #1 Pediatrician Recommended Brand for Pain & Fever that has been used by moms for over 60 years. I know it works and my kids like the taste so it's a win-win!
PS: You know that fever means an achy body from extra snuggles, and less sleep for mom and dad, too. Tag team those sick nights with your spouse, and grab yourself some MOTRIN® PM to help you fall asleep and stay asleep.
If you are unfamiliar with MOTRIN® PM, it combines powerful medicine to relieve minor aches and pains, with an effective sleep aid. Just what us parents need to ensure effective pain relief for day and night to reset, recharge and seize the day.
Night Before School Starts
Set out first day of school outfit.
Pack school lunches.
Go over any any important information with your kids, like phone numbers, where they are going after school, etc.
Double check schedules and make sure your kids have what they need.
I have to double check the schedules every day at the beginning of they year. My son is a "Patrol Captain" with early days each week, as well as after school clubs that keep him late. My high school freshman has three days of dance classes, two of which she also teaches, as well as band lessons, and tennis practice.
Not only is her schedule keeping me on my toes, it's also keeping her on hers, so I made sure to pick up Ultra Strength BENGAY® Cream for her backpack. Now that she is 14, this is an option for her because Ultra Strength BENGAY® Cream is for kids and adults 12+ – use as directed.
My daughter has been dancing for many years, and this year she is taking on Pointe classes, in addition to ballet, lyrical, jazz, and helping teach two preschool glasses.
She is a go-getter that never gives up, and while I know she won't let muscle pain get her down, I want to prepare if she needs to temporarily relieve any minor aches and pains of muscles of joints. Ultra Strength BENGAY® Cream will be on hand at all time, to help outlast muscle pain she encounters from any strains, sprains, or bruises she may get.
Morning of First Day of School
Give your child positive words of encouragement.
Give any after school reminders.
Take a "First Day of School" photo.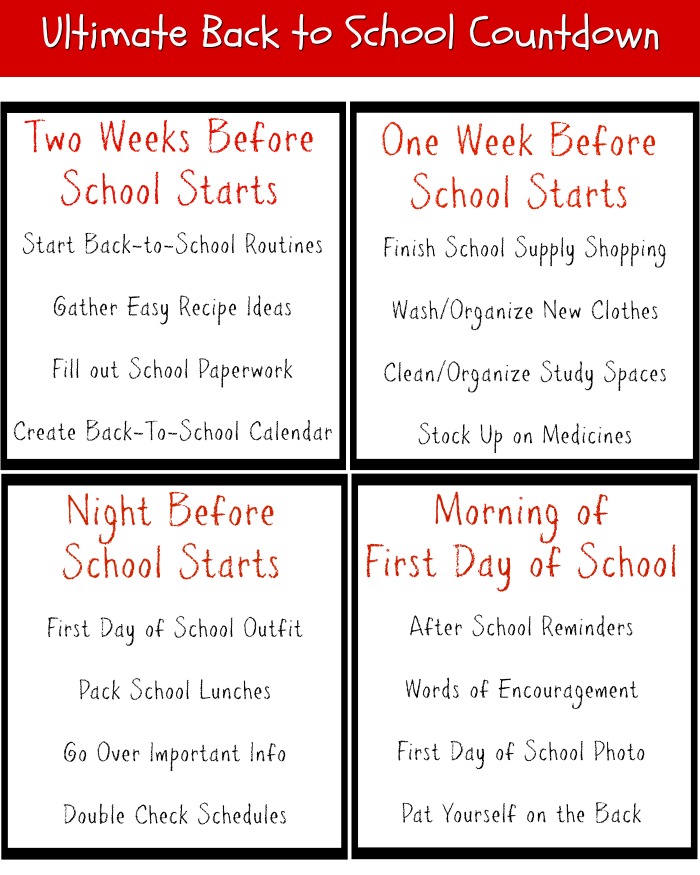 When it comes to parenting, we have to take care of our kids, but it's also important to take care of you. Hopefully my Printable Ultimate Back to School Countdown will help you do both, as you prepare for back to school. While you are doing that, don't forget to get positively prepared with the right pain relief for you and your family at Target.