We headed to Hitchcock Nature Center for a picnic and hike recently. Weather was perfect and my whole family met up for a fun afternoon.
Fun is one of the things that happen hiking with little kids but that's not all. Oh boy is that not all. The twins helped me surpass my steps for the day and spiked my anxiety.
Our Adventure Hiking
with Little Kids
This is not the first time my twins have gone hiking. It is, however, the first time they've hiked these particular trails. Trails we couldn't even get on until we examined every single daddy long leg on the way to the trailhead.
When hiking with little kids you'll probably have to stop for every insect or animal. They are fascinated by all the different creatures a hiking trail offers. Especially toads.
If you spot toads while hiking with little kids the chances of you bringing at least one home are extremely high. The twins found five. Five. Each one tucked into a fried chicken bucket for the ride home. They were worried the toads would be greasy…
The toads weren't greasy but one did escape down their bedroom air vent within 10 minutes of arriving home. Seriously. Only in my house. I was on Google trying to find out how long a toad could survive and if they smell after dying. Thankfully, right before bed, he jumped out the hole we left open for him.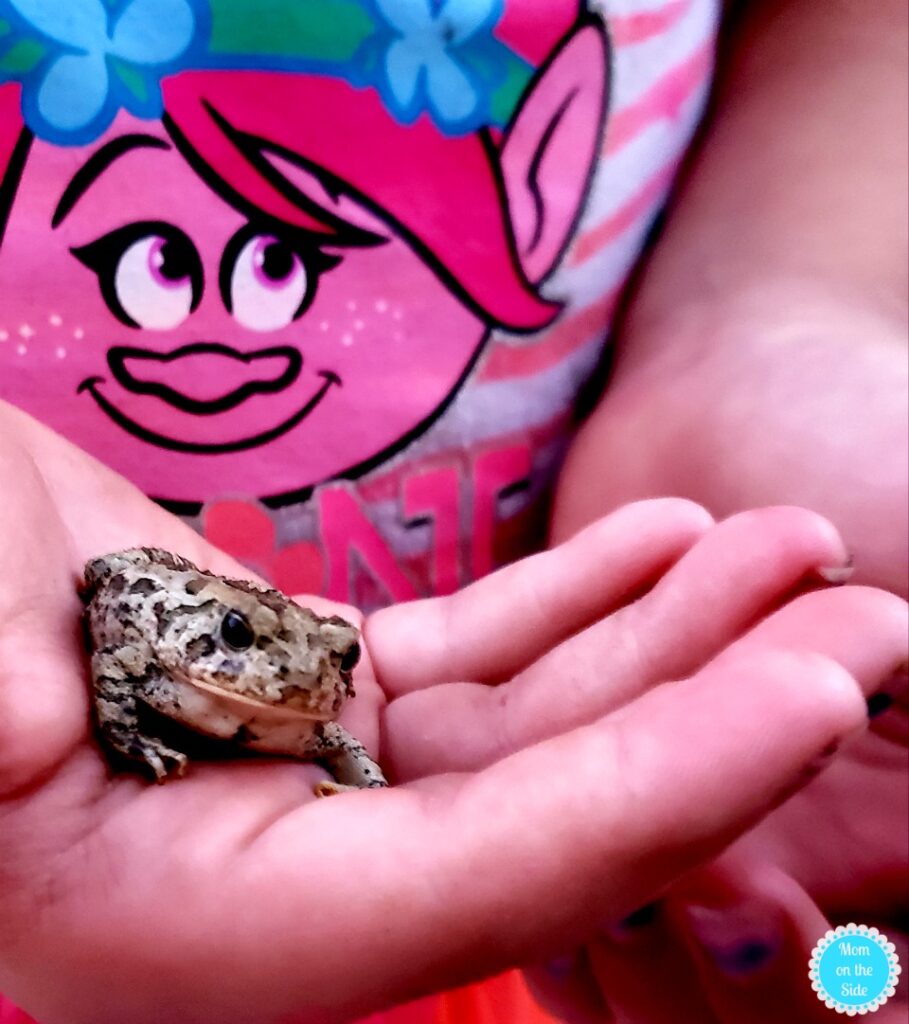 Another thing that happens hiking with little kids is equal to adults eating too much at Thanksgiving and having to unbutton their pants. Young kids don't really have a concept of distance. They also don't think about the fact that how far they go is exactly how far they have to go back.
As much as I would love to lose track of time on the trails, I can't when hiking with little kids. I keep an eye on the time and take note of how downhill we are going because carrying twins piggyback up a trail is not an option I want to face.
Thirst and hunger set in way earlier than expected when hiking with little kids. I never hit a trail with a big jug of water for me, and granola bars and juice boxes for the twins.
New Juicy Juice Juicy Waters are what I had on hand over Labor Day Weekend. Thank goodness because they each asked for one on the trail and one after the hike.
This new flavored water beverage is hydrating and yummy. Filtered water and a splash of flavor like fruit punch, orange, and strawberry watermelon. Available in single-serve boxes perfect for hikes, park adventures, and school lunches.
Juicy Juice + Protein is also now available in fruit punch and orange. One of the first fruit juice-protein blends for kids, Juice Juice + Protein is filled with 5 grams of protein in each serving. A great source of protein and Vitamin C make them a nice choice for snack time!
Learn more at JuicyJuice.com