(This post is sponsored by Zoono GermFree24® Hand Sanitizer. Any opinions in this post on the struggles of parents with preschoolers are 100% my own.)
I love having the twins in preschool. They are learning so many new things, their imaginations are exploding, and they are getting along better.
They're excited to see me at the end of the day and unload their backpacks full of stick people and finger paint art. It's awesome seeing them grow but it isn't without struggles.
Here are 4 struggles of parents with preschoolers. At least for this parent of preschoolers.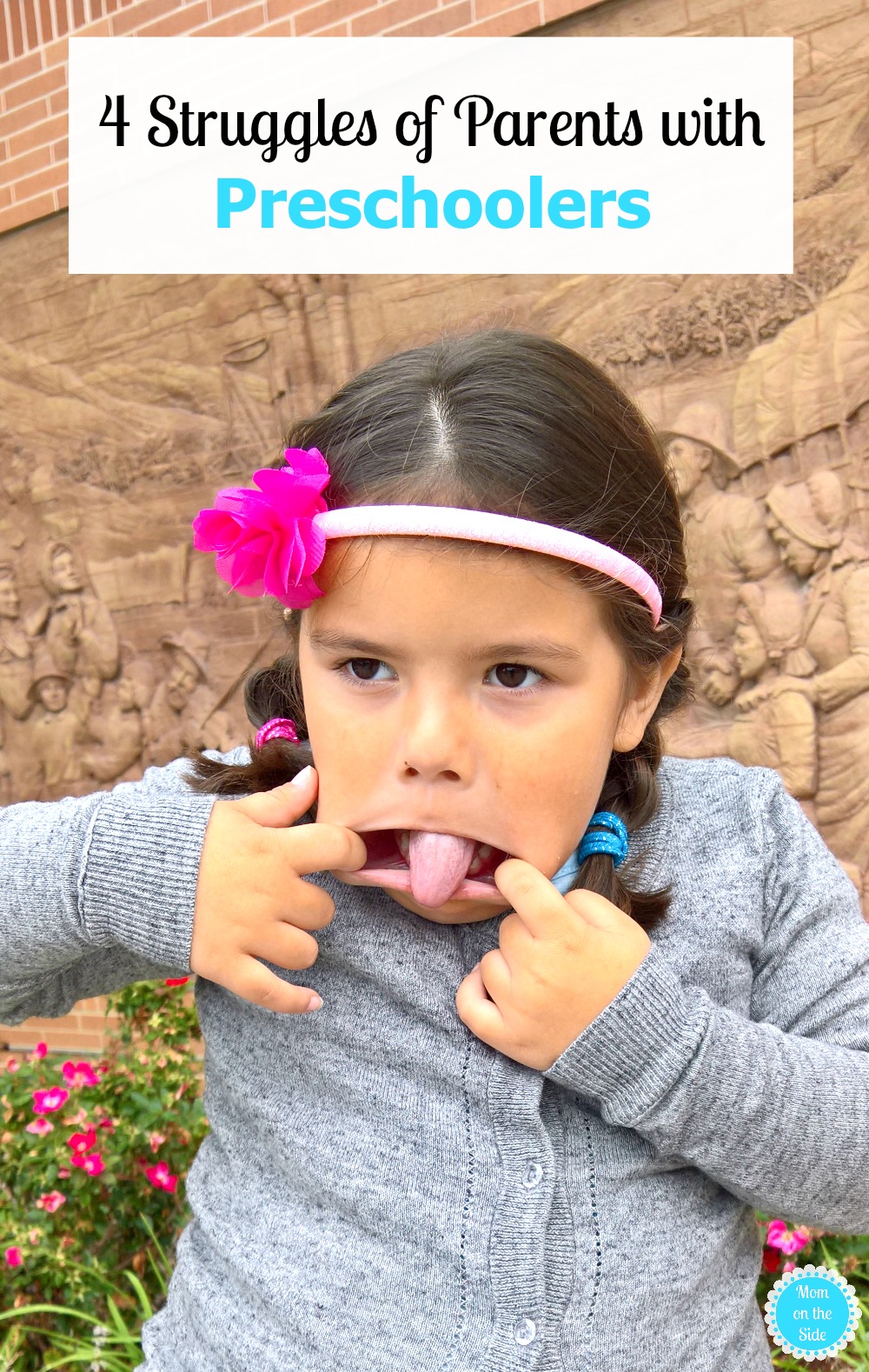 4 Struggles of Parents
with Preschoolers
#1 Bad Behavior
Being around lots of new kids opens the door to new behaviors. Most of them are the behaviors you want your 4-year-old displaying in public.
Others make you want to start parenting some of their classmates yourself. At least once a week I find myself saying "I know so and so does that, but we don't". I'll take the little bit of bad with all the good, but it's a struggle for sure.
#2 I Don't Want to Go!
I was the parent whose kids loved going to preschool. Until the second week. They started school on Tuesday, followed by a long weekend.
Come Monday, he was adamant he didn't want to go to school. I was able to talk him into going to school with me to drop his sister off thinking he might end up staying.
We got inside and he latched on screaming "no, I want to go home, mom. I want to go with you mom." I sat on the preschool floor with a balling 4-year-old wrapped around my neck. Part of me wanted to stand up and take him home with me and give him a day to calm down.
Knowing that would make it harder I did something hard on me, I stood up and walked out of the room leaving him there. A few minutes later his teacher texts me photos of him reading a book without any tears. He was fine.
I wasn't and thankfully we haven't had a situation like that arise again. I'm always waiting for it, but now I know he will be calmed down as soon as I leave.
#3 Down with the Sickness
Cold and flu season is definitely a struggle for us. The twins have always been at home with me so this year will be the first time they're around lots of kids. And lots of germs. Because they had RSV when they were babies, this time of year is already hard for them.
I'm always prepared with pain reliever and fever reducer, medicine for the breathing machine, and a chest rub. Sanitizer is another must for us, not just during cold and flu season but all year long. Zoono GermFree24® Hand Sanitizer helps me say no-no to those preschool germs.
Zoono GermFree24 is a FDA-compliant, water-based hand sanitizer that kills 99.99% of germs on contact AND keeps killing them for up to 24 hours! Traditional alcohol-based hand sanitizers only work while they are wet and quickly evaporate but GermFree24® kills germs all day with one application.
I keep a bottle of Zoono GermFree24® 50ml Foam Hand Sanitizer next to the sink in the kitchen so everyone remembers to use it when they get home. I also keep Zoono GermFree24® 9ml Spray Hand Sanitizer in my purse so I can give the twins a spray before leaving them at school.
They can enjoy centers, recess, and snack time with nano-molecular layer of "pins" that physically impale and destroy germs on contact because GermFree24® uses physics to bond to your skin's surface. Even while washing or sweating it doesn't rub off.
#4 Lice
One of the first things I thought when my twins were starting preschool was "crap..lice". Knock on wood we haven't had any trouble yet and that may be thanks to the shampoo I started using before school started.
I heard about Fairy Tales Lice Prevention from several parents and decided to give it a try. So far so good and they haven't even complained about the scent.
They are very sensitive and the rosemary scent is strong but so far. I love it but I was afraid they would complain and so far not a word.