Over Easter Break we celebrated with an A-Z staycation. For letter F we enjoyed a Star Wars: The Last Jedi Family Movie Night because family starts with F and my kids love Star Wars.
The next action-packed chapter of the Star Wars saga is now available on Blu-ray, DVD, and On Demand for your next family movie night. I've got some quick and easy ideas if you like to theme your snacks to your movie!
(I was provided with products for this post. Any opinions are 100% my own.)
(This post contains affiliate links)
Star Wars: The Last Jedi
Family Movie Night Ideas
You may remember all the fun and interviews I brought you for Star Wars: The Force Awakens. I was excited to see Rey, Finn, and Poe and even more in this next installment.
While watching, Charlie asked if she could be Rey next Halloween! She was pretty stoked when I pulled out the Star Wars Masks to wear during the movie.
Star Wars: The Last Jedi Recipes
For our Star Wars: The Last Jedi family movie night I made Galactic Cookies. Sugar cookies made with red and black sprinkles.
Cups of popcorn, licorice and red Gatorade for "Jedi Juice" were all we needed for snacking during the movie. A few Star Wars: The Last Jedi Party Supplies like napkins and cups and we were set to watch movie!
PS: If you are in love with that Porg Plush too, you can get him HERE!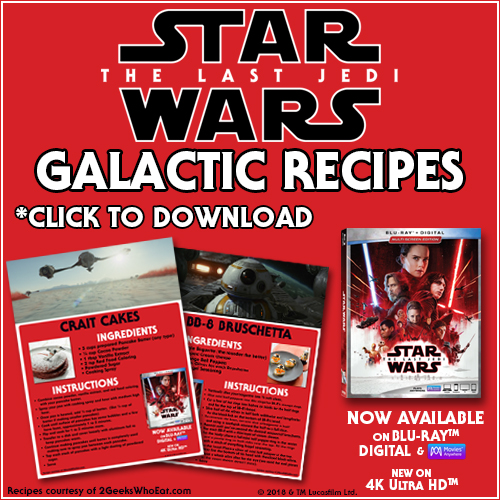 Lucasfilm's Star Wars: The Last Jedi earned critical acclaim and the No. 1 spot atop 2017's list of highest-grossing films. The visually stunning film welcomes the return of original characters, including Luke Skywalker, Princess Leia, Chewbacca, Yoda, R2-D2 and C-3PO and further explores the deepening journey of the saga's new members, Rey, Finn, Poe, and Kylo Ren.
Order Your Copy of Star Wars: The Last Jedi on Amazon.com