When I first heard about Galavant, I didn't think it was my cup of tea. I need musicals in my life, but not normally of the medival era. Thankfully I tend to give things a go once, before making my decision, and I'm glad I do. I LOVE Galavant and having been singing the songs and impatiently waiting for it to hit ABC since seeing it in November!
Once upon a time, the dashing hero, Galavant (Joshua Sasse), lost the love of his life, Madalena (Mallory Jansen), to the evil King Richard (Timothy Omundson). Now, our fallen hero is ready to take revenge and restore his "happily ever after." But it won't be without a few twists and turns along the way.
Not only did we get to screen the premiere of Galavant, but we got the amazing opportunity to sit down with the star, Joshua Sasse, and Executive Producers, Dan Fogelman, Alan Menken, and Glenn Slater. Hearing the passion, drive, and time that everyone put into Galavant, makes it even more loveable. In case you need them, here are 5 Reasons To Watch Galavant! PS: The Galavant Premiere is on ABC at 8 PM ET on Sunday, January 4th!
1) Dan Fogelman
Tangled, Cars and Cars 2, Bolt, The Neighbors, and Crazy, Stupid Love are among the screenplays and stories that Dan Fogelman has written. Some of our favorite kids movies, television shows, and seriously…..Crazy, Stupid Love was AHmazing! Take that talent and the inspiration of The Princess Bride, well, how can it not be enjoyable?! My husband introduced me to The Princess Bride and it's been a favorite ever since. Executive Producer, Dan Fogelman, started with this "The Princess Bride type of idea" and collaborated with Alan Menken for music after working together on Tangled and hearing his work.
"Those that like Monty Python, The Princess Bride, and Game of Thrones are more likely to like Galavant than those that don't." – Dan Fogelman
Galavant Executive Producer Dan Fogelman (Photo Credit: 7OnAShoestring)
2) The Adorably Hunky Joshua Sasse
He walked into the room for our interview in LA and I about died. Seriously. His smile is swoony, his eyes are invitingly warm, and his voice….I couldn't leave the interview without asking him to sing a bit for us and I'm so glad I had the courage to ask!
Joshua Sasse "Galavant" (Photo Credit: 7OnAShoeString)
3) The Humor
I found myself laughing, a lot, while watching the Galavant Premiere. There is a lot of tongue and cheek humor as Joshua Sasse called it, and that's something I like.The humor is mostly adult humor that is over kids heads. As Dan Fogelman said, "It's adult humor that adults can watch, but hopefully nothing that crosses the line. We try to ride the wave right there."
4)  Amazing Backdrops and Guest Stars
Galavant filmed in some incredible locations. Pirate ships out on the ocean and some of the oldest castles in England. You can bet that makes for some amazing backdrops. Add in some hunky and humor guests stars that will be gracing the screen on Galavant, like  John Stamos, Hugh Boneville, Ricky Gervais, Weird All Yankovic, and Rutger Hauer to name a few. You are not going to want to miss Ricky Gervais! He plays a plays a magician called "Xanax" and you will catch some pretty hilarious lines.
Karen David, Joshua Sasse, Dan Fogelman, Luke Youngblood, John Stamos, Karen David (Photo Credit: ABC/Nick Ray)
 5) The Music
I can't begin to tell you how much I love musical. Something I didn't know I loved until about 5 years ago when I experienced Wicked on stage. Fell. In. Love. with musicals at that point. The music in Galavant gets your foot tapping, makes you want to get up and twirl around, and will have you singing along. With over 30 songs among the 8 episode extravaganza, there will be lots of singing along. Speaking of signing along, if you want the Galavant Lyrics, check out MyCrazyGoodLife's Post!
"Our experience was so great because of Dan. He can tell you to cut a song in half nicer than anyone. It's been a joy doing this and hope we continue doing it." – Alan Menken
Executive Producer and composer Alan Menken (Photo credit: ABC/Ida Astute)
Everyone in the cast can really sing and a lot of the signing in the show is live performance. Many times they really are signing while dancing and it may have taken 80 takes, but they did it! When you musical masterminds like Alan Menken (The Little Mermaid, Aladdin, Beauty and the Beast) and Glenn Slater (Tangled) behind something, well, it's bound to be magical.
"There is a song towards the end of a season, stories are kind of colliding, a love song, Alan and Glen so magic. You get goosebumps watching it."  – Dan Fogelman
Galavant isn't your average television entertainment. It's unique and that's what television needs right now. If you want a musical extravaganza that will have you smiling, singing, laughing, and wanting more each week….Galavant is it!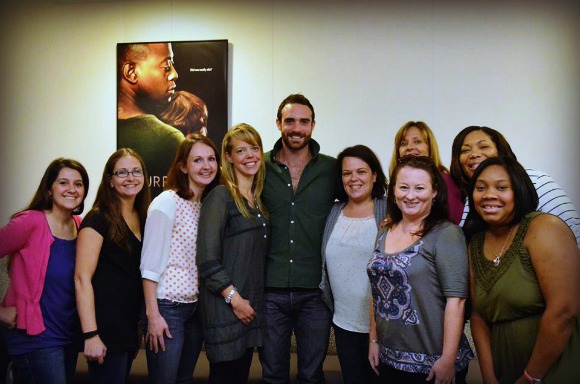 (Photo Credit: 7OnAShoeString)