This shop has been compensated by Collective Bias, Inc. and its advertiser. All opinions are mine alone. #GoldfishLunchSmiles #CollectiveBias
We are less than a month away from back to school in our area. I always get excited because I love shopping for supplies at Walmart and packing school lunches. It's bittersweet this year though, with my 4-year-old twins starting preschool.
A new routine is already being put in place because we're treading new waters this fall. I'm ready to send them off to school but we've been together every day since they were born.
That's a BIG change. I want to cheer them on when I'm not there so they know everything is okay. Packing a smile every day in their lunch box, with these Smile-worthy Preschool Lunches and lunch notes, is the perfect way to do that!
When it comes to packing a school lunch for preschoolers, there are a few secrets to keep in mind. First, preschool lunches should include things little hands can open.
Easy containers and packages, as well as cutting things up help them. Second, try packing foods they like, so the teacher isn't dealing with an unnecessary problem.
Every one of these preschool lunches requires little effort, is designed to be easy to eat when mom isn't around and uses everything you can find at your local Walmart.
Hover over the photo below to purchase all your Back to School needs! I'm especially loving the new line of lunch boxes to pack those Goldfish® crackers in!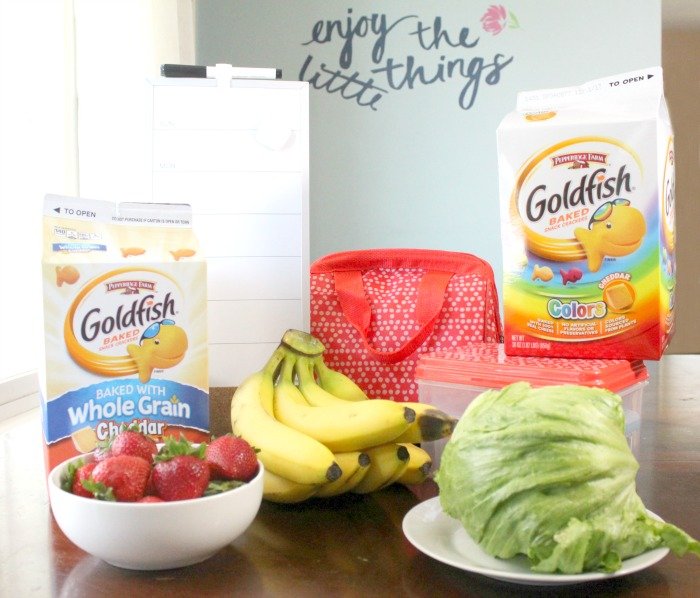 To purchase the produce featured in the image above, find a Walmart near you!
3 Smile-worthy Preschool Lunches
#1 PB&B Pinwheels
PB&B pinwheels are a favorite in our house, so they're definitely on the back to school lunch menu. Spread some peanut butter on a tortilla, roll up a banana inside, and slice it up.
Easy peasy as my kids would say. Pack with strawberries and Goldfish® crackers for a lunch that sparks joy, one smile at a time. Another fruit pinwheel my kids like is hazelnut spread with strawberries – yum!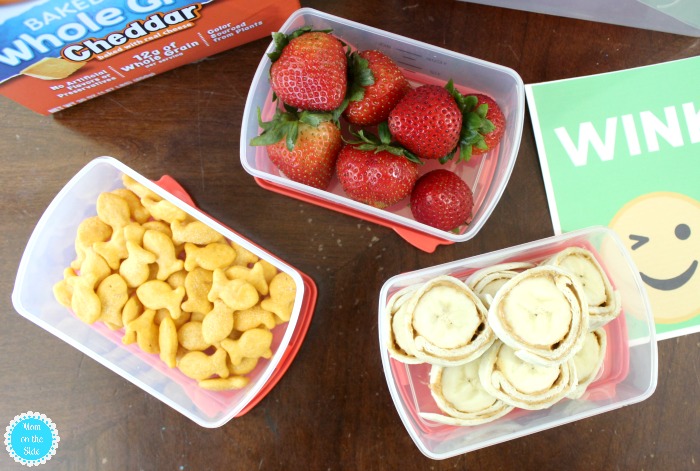 #2 Goldfish® Crackers Lunch Mix
Snack mixes are always being shaken up in our kitchen. Soon it will be time to make my favorite Fall Snack Mix but until then, this Goldfish® crackers Lunch Mix is a hit. Simply add Goldfish® Colors Baked Snack crackers, white chocolate chips and raisins to a container. Shake it up and you've got a bowl of deliciousness!
My kids love to shake up their snack mixes, and ask lots of questions like "how do they color Goldfish® crackers?". A little tip in case your kids ask the same thing, you can find out at GoldfishColors.com. Once you've looked up the answer and shaken your snack mix, pack it with a banana and yogurt for another great preschool lunch idea!
#3 Simple Salad
Salads are a great school lunch idea, especially if your kid loves them as much as much as my twins! I keep it simple with lettuce and dressing, unless our cherry tomatoes in the garden are ready.
Another thing my twins  love is combining foods. One day they figured out that Goldfish® crackers make great croutons and that was the end of salads any other way.
I bet your kids will love it too! Paired with some turkey cheese rolls and a granola bar, that's a preschool lunch to smile about.
The Snack That Smiles Back®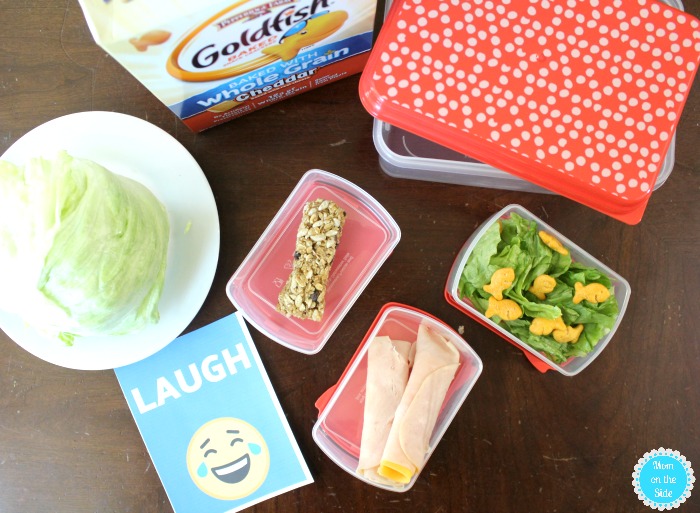 There's one last thing smile-worthy preschool lunches need. Printable preschool lunchbox notes that are fun and easy to read!
Let's face it, most preschoolers can't read knock knock jokes but they love lunch box notes. These smiley face lunch box notes have one word that correlates with the face being made.
Colorful, fun, and they'll bring a smile to your child's face when you are not there.
–> PRINT LUNCH BOX NOTES HERE <–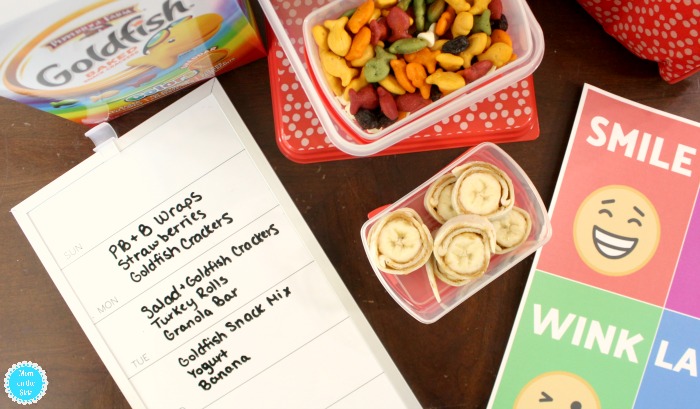 I'm ready for back to school and packing a smile every day with these preschool lunches. Grab your calendar and jot these ideas down so you are ready for back to school, too!
With fresh produce, and Goldfish® Bulk Cartons (30 oz) on rollback pricing of $5.98 at Walmart, you can turn lunch time into a smile every time.

Get more back to school inspiration with Goldfish® crackers here.