Holiday treats are one of my favorite things to eat, especially sugar cookies. When the frosting and sprinkles come out, it's like we transform into edible artists with yummy creations. The kids love it too, so I decided to plan a Peanuts Cookie Decorating Party with our cousins!
(I partnered with Oriental Trading for this post. Any opinions and fun are 100% my own.)
With just a few simple things from Oriental Trading, a fun cookie decorating table was put together for the kids. I've had the Snoppy Porch Greeter since last Christmas, and he made the perfect centerpiece for our cookie making table. 😀
To avoid the kids eating every cookie as they decorated it, I set out a few candy dishes with holiday taffy and suckers for them to snack on.
One thing that made it a whole lot easier decorating cookies as a group, was using the Peanuts Christmas Cookie Platter for the sprinkles! The kids could all reach in and grab the ones they wanted for decorating.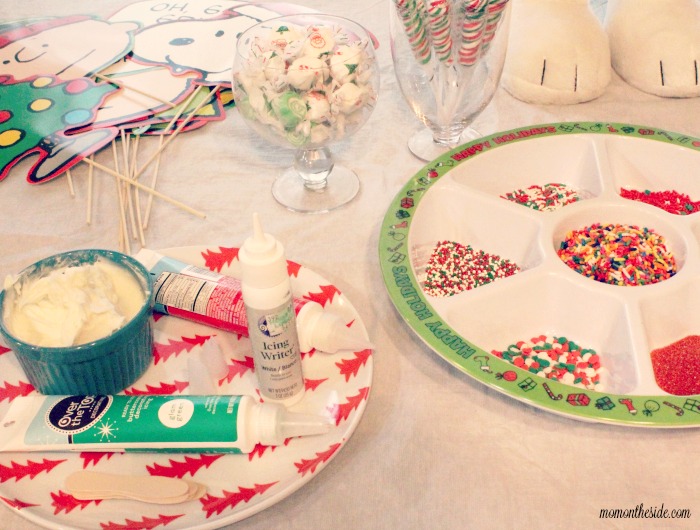 The kids got right to decorating when the cookies cooled down. It's fun to watch all the different designs everyone comes up with. The little kids just loaded up the frosting and sprinkles, while the older kids made winter scenes.
It was a super fun time and made things whole lot easier having the cookie table set up, versus taking over the kitchen counter with less space. We finished things up with a little group photo, Peanuts style, with the Peanuts Photo Props from Oriental Trading.
Plan a Peanuts Cookie Decorating Party the next time holiday treats are on the menu! You can find everything you need at Oriental Trading, including all the things we used for our party: