Some very lucky people in New York recently recently received a first look at some of the new Netflix Original Series content for 2017.  Guess what? I bringing you all the details and you didn't even have to leave the house! 😉 You may even start to see these titles pop up in the "Recommended for You" row as they start to premiere. Several are on my watch list, including Orange is the New Black Season 5, so I look forward to the upcoming recommendations. 😀 What are you looking forward to streaming?
(This post is in partnership with Netflix and the Netflix Stream Team. Any opinions are 100% my own.)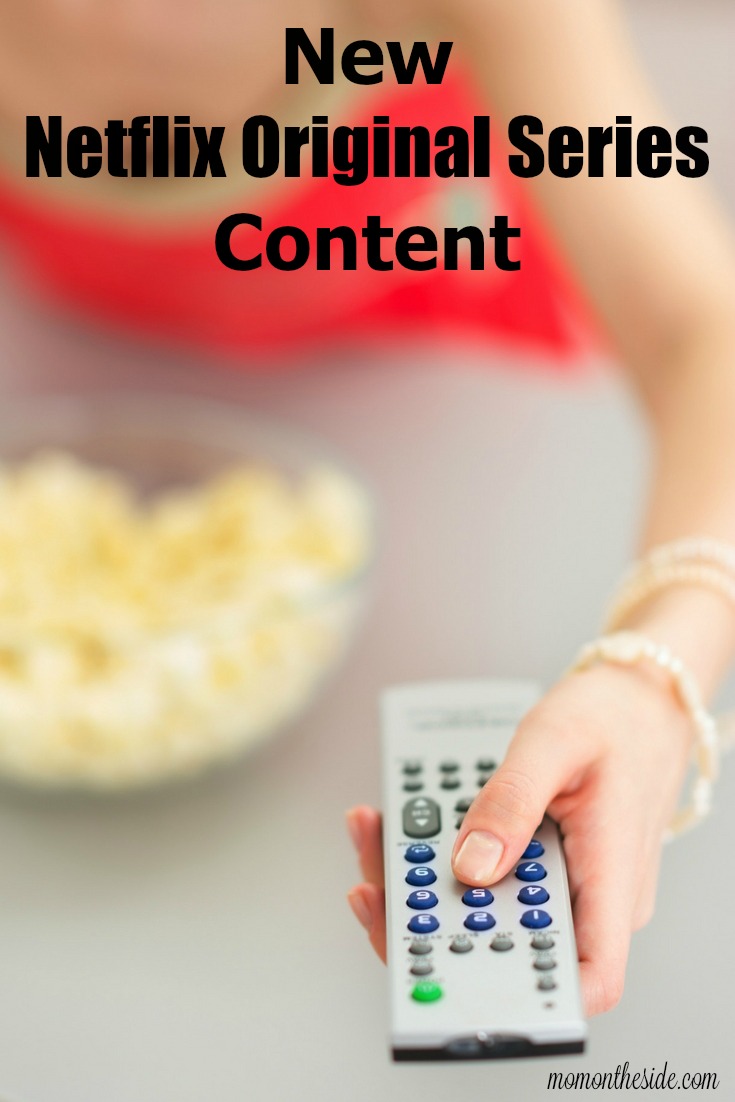 New Netflix Original Series Content for 2017
February 2017
(If you haven't yet, check out the full list of What's New on Netflix in February for all kinds of great stuff to stream!)
You Me Her Season 1: February 10th
Married couple Jack & Emma try to spice up their sex life by hiring an escort, but they both end up falling for her.
Project MC2 Special Episode: February 14th
This show has been picked up for Seasons 4 and 5!
Chef's Table Season 3: February 17th
Chef's Table features six of the world's most renowned international chefs, and offers viewers the opportunity to go inside the lives and kitchens of these culinary talents. Season 3's chefs include:
Jeong Kwan, Baekyasa Temple (South Korea)
Vladimir Muhkin, White Rabbit (Moscow, Russia)
Tim Raue, Restaurant Tim Raue (Berlin, Germany)
Virgilio Martinez, Central (Lima, Peru)
Ivan Orkin, Ivan Ramen (New York, NY)
Nancy Silverton, Osteria Mozza, (Los Angeles, CA)
Legend Quest Season 1: February 24th
Leo lives in the past, but he travels across time on a magic ship with his ghost and monster friends on their mission to defeat a mystical enemy.
March 2017
Buddy Thunderstruck: March 10th
From American Greetings Entertainment with Stoopid Buddy Stoodios, Buddy Thunderstruck is an action–comedy, stop–motion extravaganza that follows the adventures of a semi–truck racing dog named Buddy and his albino ferret mechanic. It all goes down in race–obsessed Greasepit, a place chock full of larger–than–life characters and nitro–burning, gear–slamming, tire–squealing, fish–tailing good times.
Marvel's Iron Fist Season 1: March 17th
Billionaire Danny Rand (Finn Jones) returns to New York City after being missing for years, trying to reconnect with his past and his family legacy. He fights against the criminal element corrupting New York City with his kung-fu mastery and ability to summon the awesome power of the fiery Iron Fist.
Julie's Greenroom Season 1: March 17th
Award-winning actress Julie Andrews will star in Julie's Greenroom, a new preschool show from The Jim Henson Company that features an all-new puppet cast of kids learning about the performing arts.
Grace and Frankie Season 3: March 24th
In Grace and Frankie, Jane Fonda ("Grace") and Lily Tomlin ("Frankie") star as two women whose lives are suddenly turned upside down when their husbands reveal they are gay and leave them for each other. Both sparring partners and partners-in-crime, they form an unlikely bond to face an uncertain future together and discover a new definition of "family," with laughter, tears and plenty of mood enhancers along the way.
13 Reasons Why: March 31st
Based on the best-selling books by Jay Asher, 13 Reasons Why follows teenager Clay Jensen as he returns home from school to find a mysterious box with his name on it lying on his porch. Inside he discovers cassette tapes recorded by Hannah Baker—his classmate and crush—who tragically committed suicide two weeks earlier. On tape, Hannah explains that there are thirteen reasons why she decided to end her life. Will Clay be one of them? If he listens, he'll find out how he made the list. Through Hannah and Clay's dual narratives, 13 Reasons Why weaves an intricate and heart wrenching story of teenage life that will deeply affect viewers.
April 2017
Bill Nye Saves The World: April 21st
Bill Nye Saves the World will mark the Emmy-award winning hosts long-awaited return to TV. Set to launch Spring 2017, each episode will tackle a topic from a scientific point of view, dispelling myths, and refuting anti-scientific claims. In Bill's unfiltered style, he will bring in special guests, conduct experiments and demonstrations, and ultimately let the facts lead the argument.
Girlboss: April 21st
Girlboss is inspired by the New York Times best-selling book #Girlboss by Sophia Amoruso, founder of the fashion brand Nasty Gal. The series centers on Amoruso (Britt Robertson), who began selling vintage clothes on eBay and, by the age of 28, had built the multi-million dollar fashion empire, Nasty Gal.
Dear White People: April 28th
Set against the backdrop of a predominantly white Ivy League university where racial tensions bubble just below the surface, Dear White People is an hilarious send-up of "post-racial" America that weaves together the universal story of finding one's own identity and forging a wholly unique path. The satirical series — which picks up where the acclaimed 2014 film by the same name left off – follows a group of Winchester University's students of color as they navigate a diverse landscape of social injustice, cultural bias, political correctness (or lack thereof) and sometimes misguided activism in the millennial age
Casting JonBenet: April 28th
Casting JonBenét is a sly and stylized exploration of the world's most sensational child-murder case, the unsolved death of six-year-old American beauty queen JonBenét Ramsey. After twenty years of media speculation and public hysteria that cast JonBenét's parents, John and Patsy Ramsey, of killing their own child, Casting JonBenét presents audiences with a hybrid of fiction and non-fiction filmmaking that examines the macabre legacy of this tiny starlet.
May 2017
Sense8 Season 2: May 5th
Picking up where season one left off, Capheus (Toby Onwumere), Kala (Tina Desai), Lito (Miguel Angel Silvestre), Nomi (Jamie Clayton), Riley (Tuppence Middleton) , Sun (Donna Bae), Will (Brian J. Smith) and Wolfgang (Max Riemelt) come together both physically and mentally, plunged into the middle of each other's tragedies and triumphs. On the run from Whispers (Terrence Mann), and forced to question their very identity, it's a matter of survival as the Sensates must find a way to live with, understand and protect one another against all odds.
The Mars Generation Season 1: May 5th
Netflix Original Documentaries' and Time Inc.'s "The Mars Generation" is the definitive look at mankind's future journey to Mars, as told through the eyes of the teens who will be the first ever to set foot on the Red Planet, as well as the leading experts currently pushing the boundaries of technology and innovation in space exploration. The film follows a group of trainees, ages 15-18, at the U.S. Space & Rocket Center as they prepare to become the engineers, astrophysicists and astronauts of tomorrow. The audience will also get an inside look into the architecture of the modern space race from the perspectives of the public and private sectors. We will also witness the ways that the teenagers' progression to become the next generation of space experts mirrors the development of today's space leaders, and prepares them for mankind's most challenging expedition yet. "The Mars Generation" provides insight into the historical, philosophical, and technological implications of becoming a multi-planetary species and reveals that Mars is closer than you think.
Anne: May 12th
Anne is a coming-of-age story about an outsider who, against all odds and many challenges, fights for love and acceptance and her place in the world. Set in Prince Edward Island in the late 1890s, the series centers on Anne Shirley (Amybeth McNulty), a young orphaned girl who, after an abusive childhood spent in orphanages and the homes of strangers, is mistakenly sent to live with an aging sister and brother. Over time, 13-year-old Anne will transform the lives of Marilla (Geraldine James) and Matthew Cuthbert (R.H. Thomson) and eventually the entire small town in which they live with her unique spirit, fierce intellect and brilliant imagination. Anne's adventures will reflect timeless and topical issues including themes of identity, feminism, bullying and prejudice.
House of Cards Season 5: May 30th
The fifth season of the critically acclaimed Emmy®­nominated drama House of Cards premieres Tuesday, May 30, 2017. The series's Golden Globe® winning stars Kevin Spacey (as Francis Underwood) and Robin Wright (as Claire Underwood), whose characters have always been each other's strongest allies, show cracks in their relationship.
June 2017
Orange Is The New Black Season 5: June 9th
Orange is the New Black is the outrageous and critically-acclaimed series from Emmy® Award-winner Jenji Kohan about a diverse group of inmates serving time in a women's prison.
October 2017
Stranger Things Season 2: October 31st
A love letter to the '80s classics that captivated a generation, Stranger Things is set in 1983 Indiana, where a young boy vanishes into thin air. As friends, family and local police search for answers, they are drawn into an extraordinary mystery involving top-secret government experiments, terrifying supernatural forces and one very strange little girl.
I will continue to update this list of new Netflix Original Series premiers as dates are released, because there are several other shows coming this year as well! The following shows will be hitting Netflix in 2017, but do not have an official release date as of right now.
Dark Season 1
Disjointed Season 1
Glow Season 1
Greenhouse Academy Season 1 (Kids)
Gypsy Season 1
Kibaoh Klashers Season 1 (Kids)
Kiss Me First: Season 1
Kong: King of the Apes Season 1 (Kids)
Lady Dynamite Season 2
LEGO Elves Season 1 (Kids)
Llama Llama (Kids)
Master of None Season 2
Mystery Science Theater 3000
Queer Eye for the Straight Guy Season 1
Real Rob Season 2
Star Trek: Discovery Season 1
Stretch Armstrong Season 1 (Kids)
The Worst Witch Season 1 (Kids)
Watership Down Season 1
Wet Hot American Summer: Ten Years Later
Castlevania Season 1, Part 1
Inspired by the classic video game series, Castlevania is a dark medieval fantasy following the last surviving member of the disgraced Belmont clan, trying to save Eastern Europe from extinction at the hand of Vlad Dracula Tepe himself.
The OA Part II
Free Rein, coming soon to Netflix
From Lime Pictures (an All 3 Media company) comes Free Rein, a coming-of-age story about an American teenager, Zoe, and her summer of intrigue in the English countryside. During her stay at Bright Field Stables, 15-year-old Zoe's life changes forever when she meets the mysterious horse Raven, whose friendship gives Zoe the strength to deal with issues and explore new relationships. Faced with personal and physical challenges at every turn, Zoe's inspirational journey will show audiences that life is all about failing – and learning to pick yourself up again.