*I was provided with this opportunity on behalf of Disney/ABC/Marvel. Any opinions are 100% my own. 
Some Shorts have become successful full length movies. Some Shorts have been equally successful staying as Shorts. For me, Feast could go either way and be amazing because I loved it that much. If you have hit the theaters to see Big Hero 6, hopefully you got your popcorn in time to cozy up in your seat and enjoy Feast!
The Short before Big Hero 6, Feast (In Theaters Now!) is the story of one man's love life as seen through the eyes of his best friend and dog, Winston, and revealed bite by bite through the meals they share. This is short that made me satisfied at the end, yet left me wanting to watch more. How do creative geniuses do it?! We got the chance to sit down with the Feast Director Patrick Osborne and Feast Producer Kristina Reed while in LA for the Big Hero 6 Premiere. It was fun to find out about the making of Feast from the minds the created such a heart tuggin' and funny bone feelin' short.
I started out with videos of one second with my meals every day. There's something really cool about the context you get in your life by seeing these meals pass. Hearing those moments. It tells a big story. – Patrick Osborne
Check some of the fun facts we learned about the Making of Feast:
Three Story Boards were pitched to a bunch of directors at the studio and Lasseter
One of the Feast Character Designers drew hundreds of dog drawings, from scary homeless Chihuahuas to something close to what ended up being Winston.
The  characters are given names and jobs and put in "moments" right away to see their personality and how it fits their design.
They brought real puppies into the studio to observe and play with to help them give Winston real characteristics.
Patrick Osborne's Wife's Wedding Dress is in Feast
The food was designed to be iconic and simple so you could quickly identify what the food was at first glance.
There is a lot of video of Patrick Osborne acting like a dog during production.
Shot production for Feast was 16 weeks + 1 month of sound
There was a core crew of about 5 people who worked on Feast, including head of animation, production designer, and visual effects supervisor, as well as lots of other people between big features. There were also 15 animators for 3-4 weeks that worked on Feast.
It was really interesting to hear Patrick Osborne talk about the videos of his food has been making for the past two years. He made "three different one second videos: one was just regular life, one was at work, and the other one was food" and at the end of year it's a "six minute video with one second every day". Isn't that a really cool concept?! You should give it a try and hashtag it #PatrickOsborne 😉
Keeping track of your life via one second each day is a great way "to pay more attention to what you're doing every day" and I agree with Patrick. "When you do those videos you are more aware of what's happening"  and  I couldn't agree with him more. AmIRight?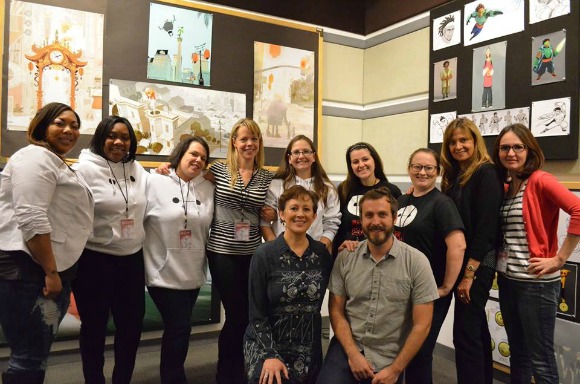 Check out Big Hero 6 in theaters now and make sure you get their early to catch the short Feast that comes on  right before you get to meet Baymax! 😉
 Stay up to date on all the happenings of the New Disney Short: Feast by liking the Disney Animation Facebook Page and following @DisneyAnimation on Twitter.
 *I was provided with this opportunity on behalf of Disney/ABC/Marvel. Any opinions are 100% my own.