I am a Joovy Blogger and received this product for my review.
When the twins visited the doctor last month, he mentioned starting them on solid food at 4 months. That is just a month away so that was enough to kick my butt in gear and get prepared.
I knew when shopping for a high chair that I was looking for certain things. Durability, space saving, and easy to clean were high on that list.
High chairs I had with the older kids always had a padding that started to tear within the first month or so of use. Leaving it looking like a mangled mess before they were even done using it. The trays were giant and awkward to clean in the sink and they could never really be stored out of the way.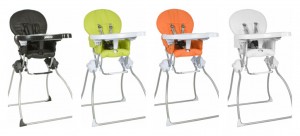 Are you looking for space saving, durability, and easy to clean in a high chair as well? Go with the Joovy Nook! First of all, it's easy to clean, thanks to the Leatherette Fabric.
You simply wipe it down or you can even toss the entire seat cover into the washing machine! It can't go in the dryer but being able to put it in the washing machine helps get it really clean.
No more awkward tray  because this tray swings open! You don't have to struggle with a messy tray in one hand, while trying to get your child out.
Simply swing the tray open with one hand! The tray has a removable tray insert that you remove and clean off after a mess. You can even toss it in the dishwasher if you have one.
When it comes to space saving, this is a highchair that really folds up. The smallest I have ever seen a highchair fold up. Even better, it does so easily.
The Joovy Nook is designed for a child 6 months or older and under 50 lbs. The twins are almost old enough and I. Can't. Wait. for them to try out their Joovy Nooks! I'm pretty sure they are going to love them as much as I do.
The Joovy Nook is available in 4 colors and priced at $149.99! Check it out HERE for all the details.