Welcome to Graduation Party Bathroom Prep 101 that will make guests wonder how you got your bathroom looking and smelling so fresh!
This post on Graduation Party Bathroom Prep is sponsored by 2000 Flushes® Automatic Toilet Bowl Cleaner. Any opinions are 100% my own.
Graduation Party
Bathroom Prep 101
Let's be honest, one of the dirtiest rooms in your home is the bathroom! When you're throwing a party in your home, you want to make sure every inch is clean as a whistle, and smelling nice!
With graduation season upon us, as well as family barbecues and other gatherings, I wanted to share some simple tips and tricks to getting your bathroom sparkly fresh for when company arrives.
Welcome to Graduation Party Bathroom Prep 101 that will make guests wonder how you got your bathroom looking and smelling so fresh!
Tackle the Bathroom Effectively With These Tips and Tricks
Shower:
Make sure to spray down your shower good, to work at removing any scale or buildup. You can use your favorite cleaner, or do a homemade cleaner.
While that is working, start to tackle the rest of the room. I like to wait 15-20 minutes, and then go back and wipe down the whole shower. It needs time to work through the tough buildup.
Walls and Baseboards:
This is one area most people don't think about. The corners of walls, air vents and more can collect dust and even cobwebs.
Make sure to wipe down all your walls. One easy way to do this is to wrap a microfiber rag around the bristles of your broom and secure it. Then you can reach the top of your walls easily, without having to get on a ladder.
It will pick up any dust or cobwebs with ease. This also works for baseboards, so you don't have to hurt your back bending down.
Counters:
Make sure your counters are nice and clean and free of clutter and wiped down. I love to add a little bouquet of flowers to make the bathroom inviting. You can also add a little oil diffuser or air freshener to help keep the bathroom smelling nice and fresh if you want.
Toilet:
This is one area you really want clean, because it will get a lot of action from your guests! Make sure to clean your toilet thoroughly, including under the rim!
Then toss in a 2000 Flushes® Automatic Toilet Bowl Cleaner in the toilet tank. This will keep your toilet bowl clean and stain free for up to 4 months. It kills 99.9% of bacteria, which is great to have with that many people in your home.
With each flush it will work at keeping your water crystal clear and deodorized! Click HERE to get $1.00 off coupon and click HERE to find a nearby retailer where you can purchase it.
For more cleaning and organizing tips, follow 2000 Flushes on Facebook, through the Stain Fighting Community Facebook page.

Cabinets and Drawers:
I like to make sure to wipe down and remove any dust that has buildup on the cabinets and drawers. Also sometimes hair spray can be sticky, and leave a residue, so I just an all purpose cleaner for this.
Sinks:
If you find your sinks have some water stains, slice a lemon in half, and then wipe down the chrome with the sliced lemon half. The acidity in the lemon will work great at breaking down the water stains!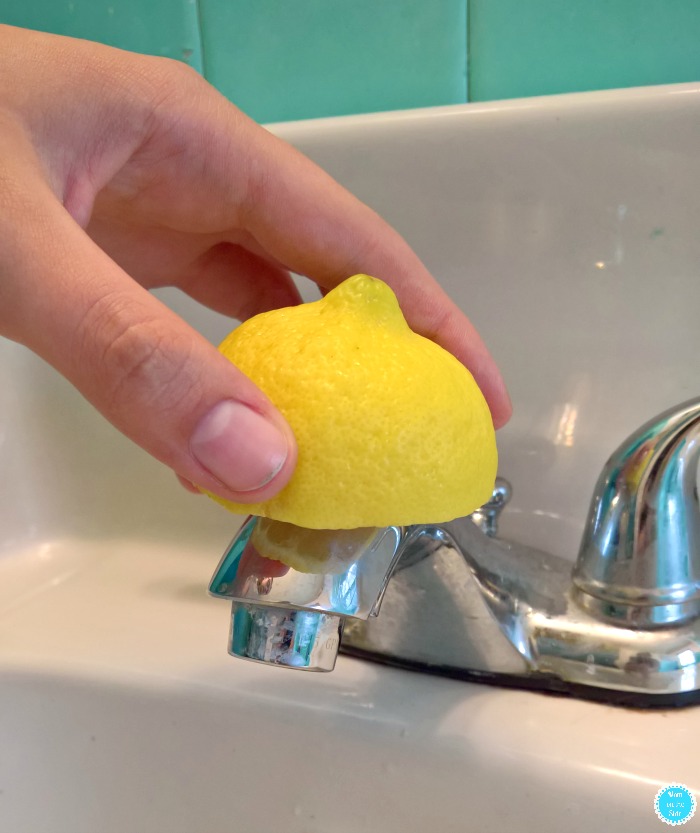 Dust Decorations:
If you have any shelves or wall decorations, make sure they are all dusted and looking nice.
Floors:
This is the last thing I clean, and I make sure to wipe around the toilet really good and scrub away any scuff marks. If you have rugs, make sure to wash or vacuum them good.
One last tip I recommend, is making sure your toilet paper is full. Sometimes I will even set out a toilet paper roll or two, either on the back of the toilet, or on a decorative table, so guests know where it is at if they happen to run out.
Also, make sure you have a hand towel or paper towels handy, and leave a trash can visible for your guests as well.
That is all it takes when it comes to preparing your bathroom for a graduation party, or any other guests!