This shop has been compensated by Collective Bias, Inc. and its advertiser. All opinions are mine alone. #FortunaforAll #CollectiveBias #cbias
I never thought I'd be a cat person. Then I met Five. Staring at me through the glass at PetSmart back in December was a furry bundle of adorableness. We went into the little room to meet him and he climbed all over us sealing the deal. Five months later and I'm officially a cat person who you'll find stocking up on Five's favorite Save a Fortune Deals at PetSmart.
Before I jump into those favorites I want to answer a question we get a lot…
Why the name Five?
Our 12-year-old son was ordained the cat namer when we brought Five home. He went through a few names based on video games and movies before he stopped, looked down, and shouted Five. You see he has five black spots on his fluffy white body. It actually fits him perfectly because he was born on the 5th of August and was five months old when we brought him home. The whole family loved the name even though our oldest prefers to call him Cinco. Now that you know how he got his name it's time to talk about Five's Favorite Save a Fortune Deals at PetSmart!
Does your cat have favorites too? I'm learning a lot about cats right now and the first thing I learned about our cat is that he is picky. Five lets me know with his meows, that sound like he's yelling at me if I put anything other than Purina in his bowl. He particularly prefers crunchy and tender like Purina® Pro Plan Shredded Blend Chicken and Rice dry cat food.
Hover and click below to learn more!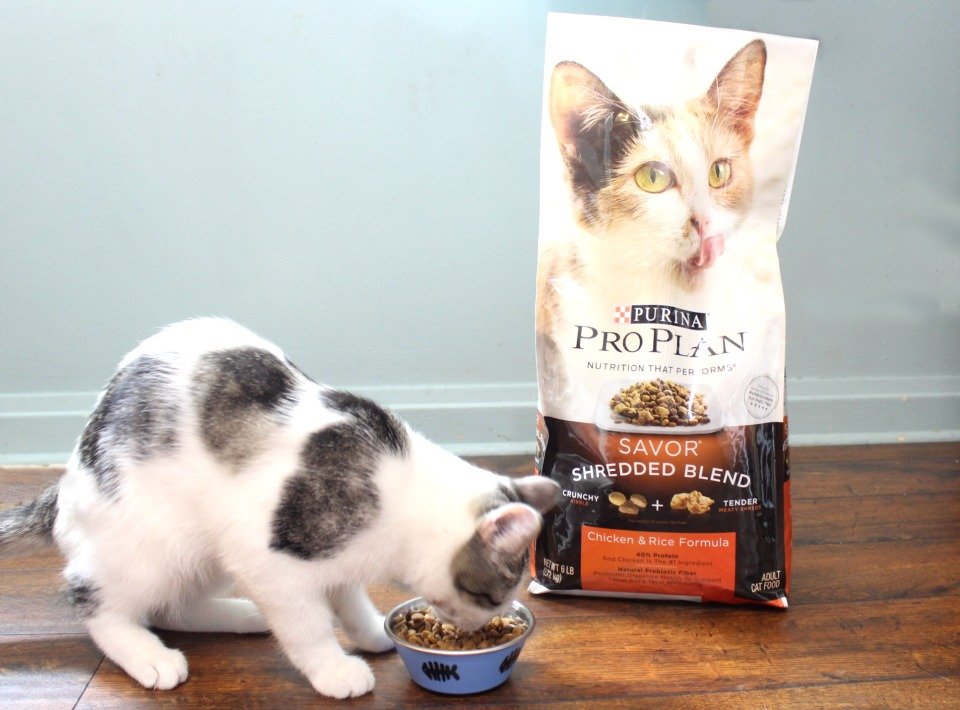 Chicken is the #1 ingredients in this Pro Plan Shredded Blend, and it's made with 40% protein. It's not just a bowl of cat food, it's a bowl of vitamins, fibers, and omega-6 fatty acids to help keep Five healthy.
Another thing I've learned about Five these last few months is that he likes it when I switch up his food. Does your cat like a rotation? I stick with Purina but rotate between Pro Plan and Purina® ONE Smartblend. Real turkey is the top ingredient and it contains all the protein and vitamins cats need to stay active and healthy.
Can we talk about the litter box for a second? Five is a primadonna when it comes to his litter. He prefers his box spotless clean and has woken me up on several occasions digging for space to do his business. If there are more than 3 piles he gets anxious. Basically, I clean it daily and Purina® Tidy Cats Free and Clean Unscented Litter with clumping and odor control to make the job easy and smell free. With the litter box being in our bedroom that last part is super important. Something else important is that this is the first Tidy Cats litter that is free of dyes and fragrances.
All of Five's favorites are included in the Save a Fortune Sale at PetSmart that is going on through May 31st! Stock up on your pet's Purina favorites and get a $5 PetSmart Gift Card for every $20 you spend. The best part? You can earn more than one $5 gift card! The first $20 purchase must be on one receipt but after that, it can be multiple receipts.
All you have to do is upload your receipt on PurinaFortunes.com to validate your purchase and your gift card will be mailed in 8-10 weeks. Plus, you register and receive an entry into the Grand Prize Sweepstakes and play the Paws of Fate game for a chance to instantly win prizes such as PetSmart gift cards, as well as Save a Fortune tarot cards! (no purchase necessary to win) Prizes include:
2 Grand Prizes:
1 Dreams of Fortune Cat Bed – AVR: $2,145
1 Dreams of Fortune Dog Bed – AVR: $2,145
Instant Win Game Prizes (you can play daily!!)
Purina Branded Tarot Cards (50 total) – ARV: $25/ea
$50 PetSmart Gift Card (15 total) – ARV: $50.00/ea
$25 PetSmart Gift Card (15 total) – ARV: $25.00/ea
$10 PetSmart Gift Card (25 total) – ARV: $10.00/ea
After you play Purina's Instant Win Game check out more Save a Fortune Deals at PetSmart!