Have your kids fallen in love with Fancy Nancy on Disney too?! My twins twirl, dance, and sing around the living room when episodes come on. Now they can do that whenever they want! Celebrate the differences that make everyone unique and magnifique when you bring home Vol. 1 of Fancy Nancy on DVD!
(I was provided with this product)
Bring Home Fancy Nancy on DVD
We've read many a Fancy Nancy book at bedtime so we were excited when the series launched on Disney. With all the fun fabulousness and original songs, it is easy to see why it's a favorite. It's also pretty adorable to hear little kids try to speak in French!
If you're not familiar with Fancy Nancy, she is a lover of all things fabulous, fancy and French. She can go from bland to chic with her boundless imagination, help from friends and family, and a sunny approach to life. We could all be a little more like Fancy Nancy, don't ya think?
Fancy Nancy has a pretty sweet voice cast as well! Alyson Hannigan from HIMYM and American Pie is Nancy's mom, Rob Riggle is Nancy's Dad, Ian Chen from Fresh Off The Boat is Jonathan, and Mia Sinclair Jenness is the voice of Fancy Nancy Clancy.
The episodes featured on Vol. 1 of Fancy Nancy on DVD include:
Chez Nancy/School de Fancy
Tea Party Trouble/Bonjour Butterfly
Nancy's Ooh La La Spa/Nancy Goes to Work
Nancy Versus Dudley/Nancy Makes her Mark
Nancy's Devine Sleepover/Nancy's Sacrebleu Fondue
Nancy's Dog Show Disaster/The Case of the Disappearing Doll
I don't know about you, but we love Fancy Nancy and, just like her, we love EVERYTHING fancy…even our cupcakes! If you want to make your own Fancy Nancy Tiara Cupcakes, download this delicious recipe and be as fancy as you want to be!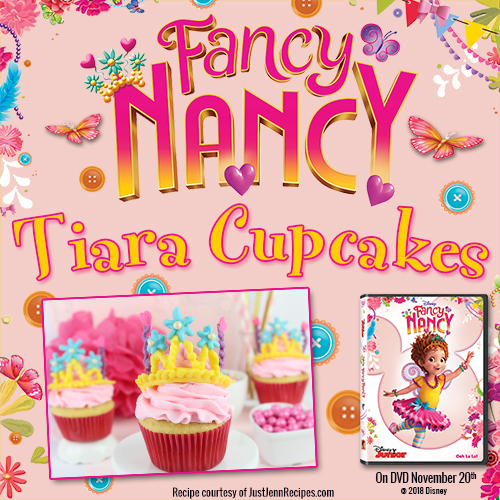 You can order the Fancy Nancy DVD on Amazon.com for quick delivery so you can enjoy on a fabulously fancy fun glitter party in your living room!
MORE TO READ: ULTIMATE GUIDE TO FUN FAMILY MOVIE NIGHTS