Kraft Heinz sponsored this post, but the opinions are my own.
Labor Day is quickly approaching on the calendar. You know what that means? It's almost FOOTBALL time! Thursday night there was a pre-season game on TV and my husband made sure to remind me a few times.
I'm not sure if the reminders were to make sure he had the TV that night, or if he was hinting that he wanted chili dogs to go with it. I took care of both, just in case. Okay, let's be honest, I really just wanted some chili dogs too!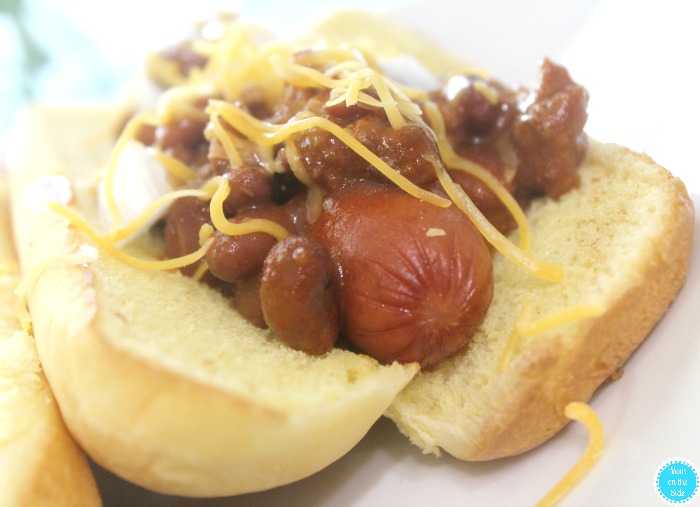 Delicious Recipes for Labor Day Weekend and Football Season
Known as the 'unofficial' start of football season around here, Labor Day is full of family, fun, and putting delicious food on the table that everyone can enjoy! A three day weekend spent grilling out and enjoying the last of the summer weather before fall arrives.
When fall arrives it's all about the jeans, hoodies, pumpkins, and football. Do you have Labor Day plans? If you do, I found some delicious recipes at GrabGoWow.com, to serve during Labor Day weekend or your next tailgate or watch party for football.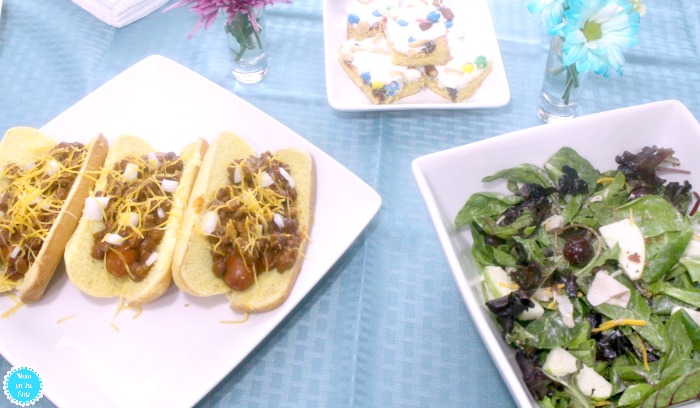 Slow Cooker Chili Cheese Dogs
Slow Cooker Chili Cheese Dogs Ingredients
6 Oscar Mayer Selects Uncured Angus Bun-Length Beef Franks
1 can (15 oz.) chili with beans
6 hot dog buns
1/2 cup Kraft 2% Milk Shredded Cheddar Cheese
1/2 cup chopped onions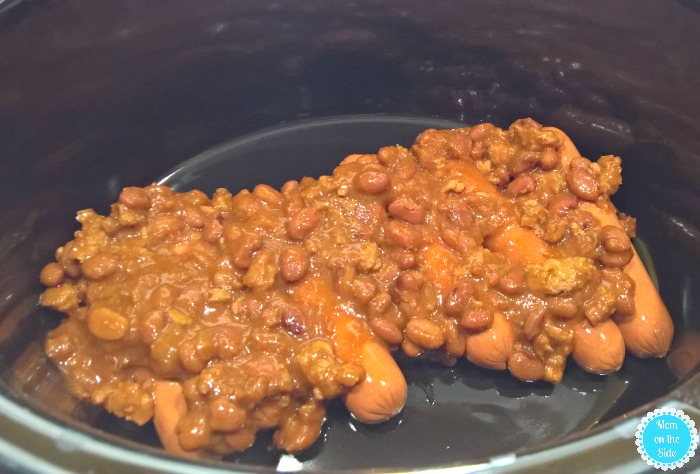 Slow Cooker Chili Cheese Dogs are super simple, making them perfect for parties and football. Place franks in the slow cooker, top with chili, cover with a lid and cook on high for 1 hour, or until heated through. After that, you can simmer on low until ready to serve.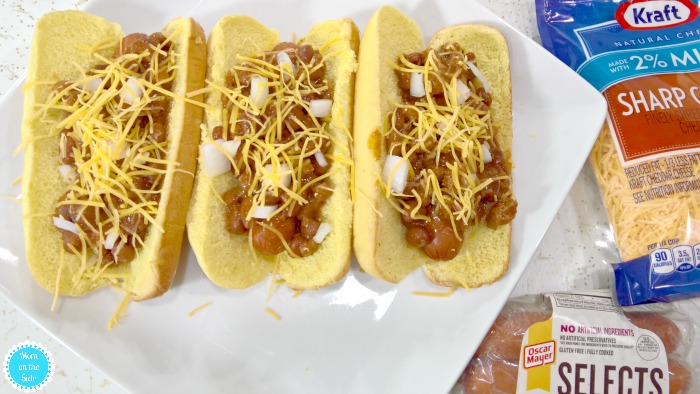 When you're ready to serve, fill buns with franks, top with chili, cheese, and onions and enjoy! If you like a beefy flavorful hot dog, give the Oscar Mayer Selects Uncured Angus Bun-Length Beef Franks a try. Paired with a potato bun it's filling combination to eat during halftime.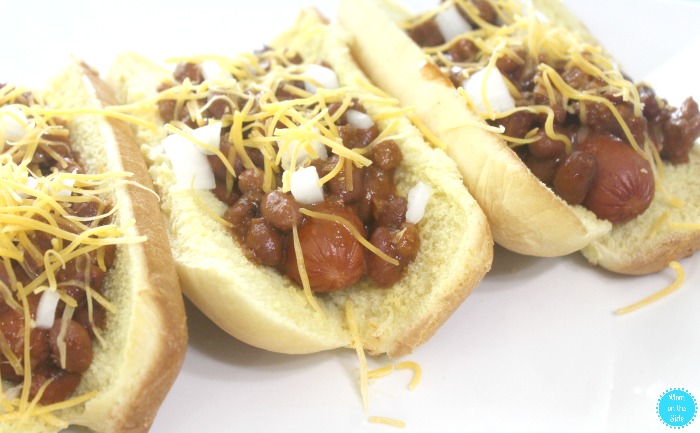 Harvest Salad To-Go
Harvest Salad To-Go Ingredients
1/2 cup thin Granny Smith apple wedges
2 Tbsp. Kraft Classic Ranch Dressing
1/4 cup seedless red grapes
4 slices Oscar Mayer Deli Fresh Oven Roasted Turkey Breast, cut into strips
2 cups tightly packed torn mixed salad greens
1/4 cup KRAFT Shredded Colby & Monterey Jack Cheeses
1-1/2 tsp. Oscar Mayer Real Bacon Bits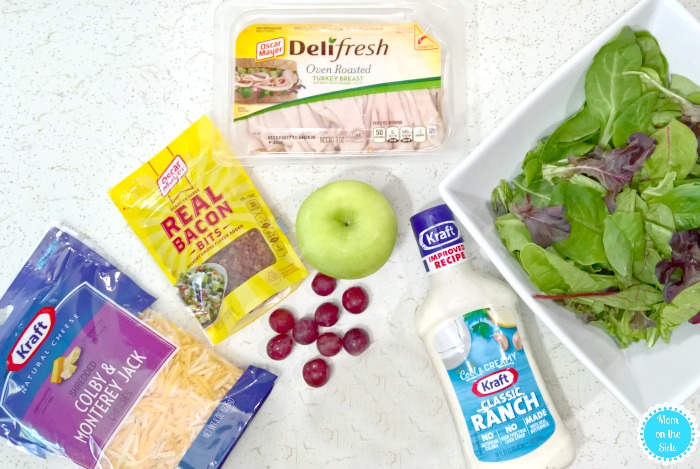 Harvest Salad To-Go is a great salad to take to parties because you can mix it, transport it, and serve it all in the same container if you need to!
Don't even get me started on the ranch, apple, bacon bits combination. Seriously delicious if you haven't put them all together in a salad.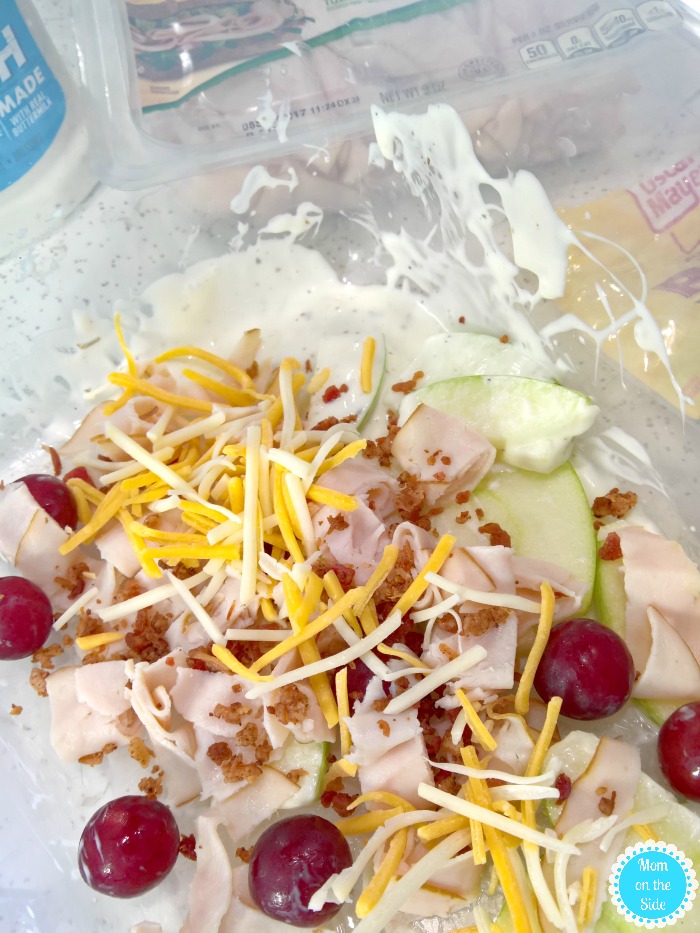 First, toss apples with dressing in medium airtight container. Next, top with layers of remaining ingredients and cover with lid. Toss salad just before serving to mix everything together. See how simple that is? You'll be shaking up this salad all the time!
Easy 4-Layer Bars
Easy 4-Layer Bars Ingredients
1 pkg. (2-layer size) yellow cake mix
1/2 cup butter, melted
1 egg
3 cups Jet-Puffed Miniature Marshmallows
1 cup candy-coated chocolate pieces
1/2 cup Planters Cocktail Peanuts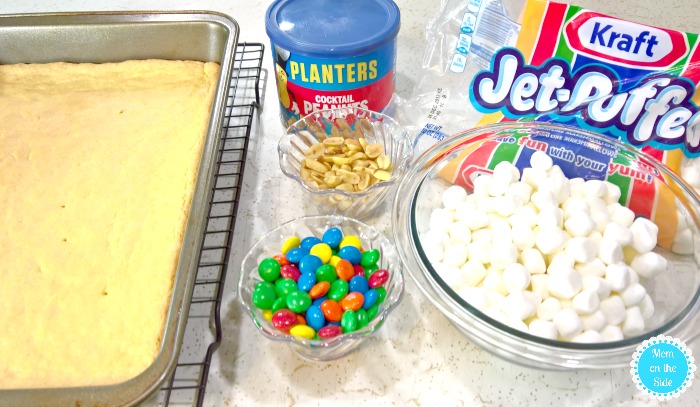 These Easy 4-Layer Bars are a dessert I will be making again, for sure! They're chewy, crunchy, chocolaty, and cakey all at the same time. I know right?!
Super easy to make too, hence the name. First, combine dry cake mix, butter and egg together. Spread onto the bottom of a 13×9-inch pan sprayed with cooking spray. Bake at 375°F for 16 to 18 minutes or until a toothpick inserted in the center comes out clean.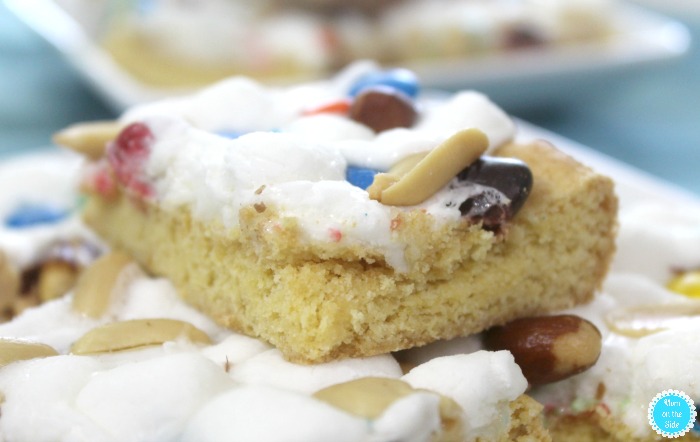 Top immediately with remaining ingredients and bake for 2 minutes, or until marshmallows begin to melt. Cool completely before cutting into bars and trust me when I tell you they will be the hit of the dessert table!
If you have someone in your family who doesn't like peanuts like one of my daughter's, first question their relation to you and then leave a few squares nut free, easy peasy.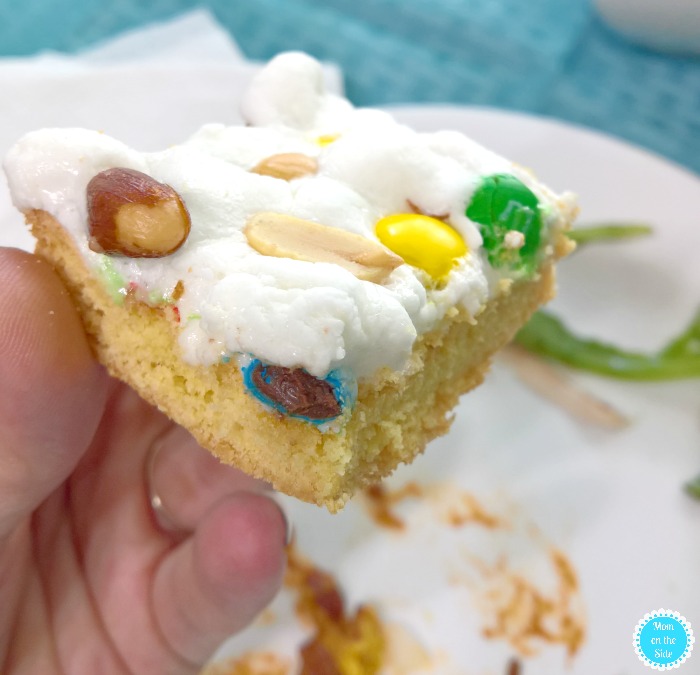 Moms, simplify life with delicious recipes to serve during Labor Day weekend or while watching your favorite team on the field.
You can find these and more at GrabGoWow.com. When you've chosen the perfect recipes, head to Walmart to find all the Kraft Heinz products for gatherings of every size.

Get all of your Labor Day weekend and game day needs at Walmart, and GrabGoWow.com