This post is sponsored by Playful Corp. Any opinions are 100% my own.
Any given night you will find a board game on the dining room table or living room rug or controllers in hands. Our family loves gaming in all types of ways.
Over thirty board games and almost as many video games provide us a variety of options on family game night. With four kids, we like adventures players of all ages and skill levels can enjoy.
Like new Super Lucky's Tale that I'm sharing today, as well as 4 reasons our family loves gaming!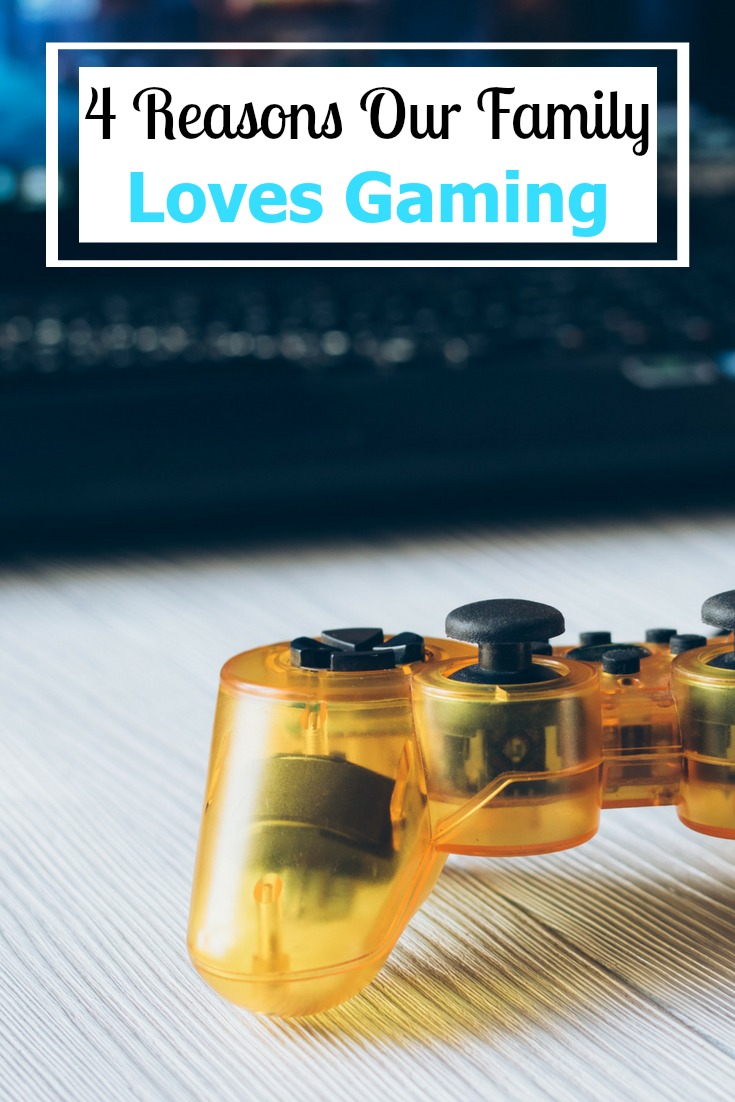 4 Reasons Why Our Family
Loves Gaming
#1 Family Time
Hands down the number one reason our family loves gaming is spending time together. There are very few times I can get all four kids in the same room without fighting.
One is my spaghetti and the other is game night. It can sometimes be a challenge finding games the whole family can play when you have 4-year-olds and a 16-year-old but we've managed to find several, like Super Lucky's Tale that is now available on Xbox One and Windows 10 PC.
#2 Friendly Competition
I don't know about your husband but mine loves a little friendly competition with his children. Racing down the sidewalk, arm wrestling, and setting high scores.
It's all in fun and most of the times the kids come looking for dad to challenge him to something. They enjoy it too even if he rarely lets them win.
#3 Open-Ended Conversations
Gaming opens up all kinds of conversations with my kids. From super powers they'd want to have, to what they'd do if they really won money, and even different careers they'd like to have. We often end up talking long after the last dice is rolled and the controllers are put down, and I really love those moments.
#4 Laughter and Giggles
Don't you just love hearing your child's genuine laugh? It's one of the best sounds in the world and when you pair that with gigantic smiles well, my heart just melts.
We've laughed ourselves to tears on many family game nights and those are memories to cherish. Lately, the laughter has been over Super Lucky's Tale!
Super Lucky's Tale" is a delightful, playground platformer for all ages that follows Lucky, the everoptimistic, energetic, and lovable hero, on his quest to find his inner strength and help his beloved sister rescue the Book of Ages from Jinx. Jinx is the scheming and mysterious villain trying to reshape the world, but for what reason?
Released on November 7th, Super Lucky's Tale is rated E for Everyone so all ages can play. In the game, Lucky must confront the nefarious Kitty Litter, Jinx's mischievous kids who are self-taught villains who might not be getting Jinx's plans quite right.
Along the way, Lucky meets friends and allies like misplaced Yetis, Kooky Spookies, a village of farming worms, and other colorful friends inhabiting the Book of Ages.
So far, my twins just love watching the characters while the rest of us play. I really love mini-games and Super Lucky's has them! There are carnival attraction mini-games and nerve-wracking hot air balloon obstacle courses.
What's even cooler are the surprise "Jinx Levels" that randomly pop up! If you're looking for a new game the whole family will enjoy, check out Super Lucky's Tale on Xbox One, Xbox Play Anywhere, and Windows 10 PCs with a retail price: $29.99.